The Orange Trees Of Baghdad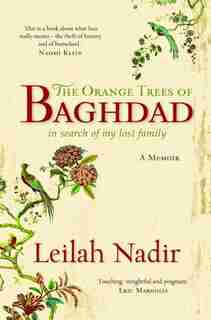 Find In Store
Prices and offers may vary in store
When the West invaded Iraq in 2003, Leilah Nadir felt as if she had been torn in two; both the occupier and the occupied coursed through her veins.
Born to an Iraqi father and an English mother, raised in Britain and Canada, she has always yearned to visit her father's family but has never set foot on Iraqi soil. Now, as the bombs land on Baghdad and more of her relatives flee the country forever, Leilah begins to uncover the story of her lost roots. At the same time, she gets rare first-hand insight into what Iraqis are experiencing through the invasion and its aftermath. Her father is forced to look back as well, after decades of closing his eyes to Iraq's pain.
The family home still stands intact, full of furniture, photographs and clothes still hanging in closets, all guarded by her great-aunt, who waits for someone to return and reclaim it. While American helicopters fly low overhead and suicide bombers shatter the calm, the date palms still sway in the heat of the day and jasmine continues to scent the Baghdad nights. The garden and its orange trees has changed beyond recognition, but still holds vivid nostalgic memories for the family.
Through her great-aunt and her cousins, Leilah learns what life is like in the embattled land as war becomes occupation and lawlessness takes hold. Leilah's friend, award-winning photographer Farah Nosh, brings home news of Leilah's family after her visits to Iraq as well as her own stories and photographs of Iraqis and their tragic stories.
And just as Leilah gives up hope of ever meeting her family, a surprise reunion takes place.
Title:
The Orange Trees Of Baghdad
Product dimensions:
336 pages, 8.5 X 5.5 X 0.68 in
Shipping dimensions:
336 pages, 8.5 X 5.5 X 0.68 in
Appropriate for ages:
All ages