The Paleo Diet for Athletes: The Ancient Nutritional Formula for Peak Athletic Performance
Paperback

|

October 16, 2012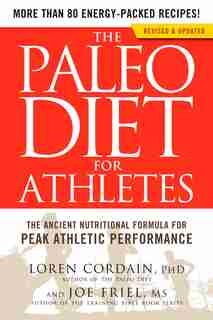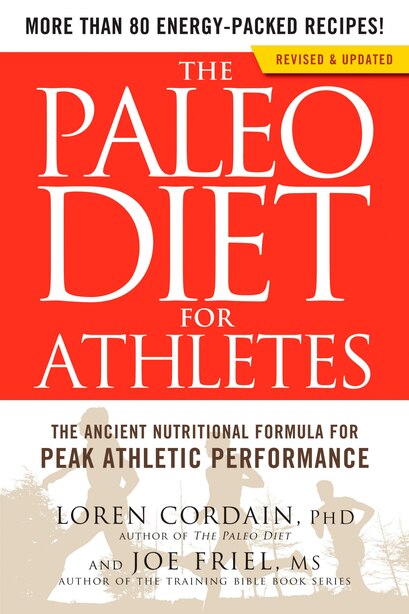 Prices and offers may vary in store
A breakthrough nutrition strategy for optimum athletic performance, weight loss and peak health based on the Stone Age diet humans were designed to eat.

Paleo-style diets are all the rage as fitness enthusiasts, including the booming nation of CrossFitters, have adopted high protein, low-processed-food diets to fuel their exercise. It all began with the publication of the book The Paleo Diet by renowned scientist Loren Cordain, Ph.D., who presented a breakthrough plan for weight loss and disease prevention without dieting or exercising. In 2005, Dr. Cordain joined with endurance coach Joe Friel to write The Paleo Diet for Athletes.

Now, the authors offer an updated and revised edition of The Paleo Diet for Athletes specifically targeting runners, triathletes, and other serious amateur athletes. Cordain and Friel show that by using the foods our bodies were designed to eat—protein, fruits and vegetables, healthy fats and even some saturated fats--anyone can achieve total-body fitness and dramatically improve the strength and cardiovascular efficiency. The Paleo Diet for Athletes gives specific guidelines for what to eat before, during and after a workout or competition along with simple, tasty recipes packed with power and wholesome ingredients.
Title:
The Paleo Diet for Athletes: The Ancient Nutritional Formula for Peak Athletic Performance
Format:
Paperback
Product dimensions:
352 pages, 8.97 X 5.99 X 0.92 in
Shipping dimensions:
352 pages, 8.97 X 5.99 X 0.92 in
Published:
October 16, 2012
Publisher:
Potter/Ten Speed/Harmony/Rodale
Language:
English
The following ISBNs are associated with this title:
ISBN - 10:160961917X
ISBN - 13:9781609619176
Look for similar items by category:
Preview Your Review
Your Review Has Been Submitted
NO, I do not recommend this product.
Educational/Developmental Value:
Thank you. Your review has been submitted and will appear here shortly.
Read from the Book
CHAPTER 1THE DIET REVOLUTIONWhen Joe and I began writing The Paleo Diet for Athletes in 2004, books on low-carbohydrate diets such as Dr. Atkins''s New Diet Revolution, Protein Power, the Zone, and the South Beach Diet had ruled the bestselling book lists for at least a decade. At the time, millions of Americans lost weight with diets that flew directly in the face of conventional medical and nutritional wisdom, which advocated low-fat, high-carbohydrate diets. If we fast-forward to 2012, most (but not all) things have remained the same. The USDA replaced its "Food Pyramid" with the "MyPlate" in June 2011; however, the change was only cosmetic in nature, as the same old low-fat, high- carbohydrate recommendations remained firmly in place. The Zone and Protein Power have disappeared from the bestseller lists, only to be replaced by the latest reincarnation of Atkins and The South Beach Diet. In the ensuing 7 years since our book was first published, a new concept has arrived on the dietary scene that threatens to displace not only the low-carb diets but also government-and institution-recommended low-fat, high-carbohydrate diets.In the past 2 years, Paleo diets have become internationally known, and books such as The Paleo Diet, The Paleo Solution, The Paleo Diet Cookbook, The Paleo Diet for Athletes, Paleo Comfort Foods, Everyday Paleo, The Paleo Answer, Make It Paleo, The Primal Blueprint, Well Fed: Paleo Recipes for People Who Love to Eat, and others have dominated the bestseller lists. In Figure 1.1 from Google Trends from a search of "Paleo Diet", it is apparent that, except for a small group of dedicated followers, the Paleo Diet concept was virtually unknown to the world in the 4 years following the publication of our book in 2005. In contrast, during the past 2 years, "Paleo" has literally become a household word and is perhaps the hottest new concept in diet, health, nutrition, and lifestyle. More important, as we will show you, the fundamental science behind contemporary diets based upon Stone Age food groups underlies their acceptance in both the scientific and popular literature.A similar revolution in dietary thinking has made waves in the sports world by athletes worldwide who happen to be privy to this way of eating that has dramatically improved their athletic performances. Their dietary formula for success was not accidentally stumbled upon by trial and error but resulted from a chance conversation between two old friends, Joe Friel and myself, in the spring of 1995.Fast-forward 17 years. Joe has become an internationally recognized coach of world-class athletes, has written 11 bestselling books on athletic training, and is a worldwide authority on endurance training. Meanwhile, Loren, a university professor, has become a leading international scientific authority on Stone Age (Paleolithic) diets, and has written more than 50 scientific papers on the topic as well as five popular diet books. Had Joe and I not had that conversation in the spring of 1995, the small ripple that eventually became a tidal wave concerning diet and athletic performance likely never would have surfaced.FIGURE 1.1LOREN''S CHALLENGE: THE PALEO DIET IN A NUTSHELLIn 1995, I challenged Joe to give the Paleo Diet a try. Joe had been a longtime adherent to the standard very high-carbohydrate diet for athletes and was skeptical of my claim that eating less starch would benefit performance. Nearly every successful endurance athlete that Joe had known ate as he did, with a heavy emphasis on cereals, bagels, bread, rice, pasta, pancakes, and potatoes. In fact, Joe had done quite well on this diet as an All-American duathlete (run-bike-run) in his age group, winning national races and finishing in the top 10 at World Championships. Joe had also coached many successful athletes, both professional and amateur, who ate the same way he did.I suggested Joe try eating a diet more in line with the Paleo Diet for 1 month. Joe took the challenge, determined to show me that eating as he had for years was the way to go. He started by simply cutting back significantly on starches and dairy and replacing those lost calories with fruits, vegetables, and lean meats. Although a simple formula, it wasn''t easy at first.For the first 2 weeks, Joe felt miserable. His recovery following workouts was slow, and his workouts were sluggish. He figured he was well on his way to proving that I was wrong. But in week 3, a curious thing happened. He noticed not only that he was feeling better but also that his recovery following workouts was speeding up significantly, and he decided to experiment to see how many hours he could train. Since his early forties (he was 51 at the time), he had not been able to train more than about 12 hours per week; whenever he exceeded that weekly volume, upper respiratory infections would soon set him back. In week 4, he trained 16 hours without a sign of a cold, sore throat, or ear infection. He was amazed--he hadn''t done that many hours in nearly 15 years. He decided to keep the experiment going. That year Joe finished third at the US National Championship with an excellent race and qualified for the US team for the World Championships. He had a stellar season, one of his best in years.Joe''s little experiment proved to have far-reaching effects. After making certain refinements to my basic Paleo Diet, Joe found this way of eating to be "ergogenic," a term exercise physiologists use to describe nutritional supplements that can enhance athletic performance. By the late 1990s, Joe was recommending the Paleo Diet to the athletes he coached, including Ryan Bolton, a member of the US Olympic Triathlon team in the 2000 Sydney Olympics and a winner of the Ironman USA Triathlon. Increasingly, by word of mouth and the Internet, athletes worldwide were becoming aware of the competitive edge they could gain by adopting a diet based upon my dietary principles and fine-tuned by Joe''s practical experience with it.The Paleo Diet for Athletes is not just for world-class performers like Ryan Bolton and Gordo Bryn (an ardent devotee of the Paleo Diet and past winner of the Ultraman Triathlon and the World''s Toughest Half-Ironman Triathlon) but also for everyday fitness enthusiasts like Don Moffat. Here''s Don''s story.I wish I had known about the Paleo Diet 5 years ago, when I was a sub-3- hour marathoner before my health started breaking down due to insulin resistance-related issues. Following a high-protein, low-carb diet for the last 2 months has created startling results in my fitness. I''ve lost 3 inches from my waist (down to 32), and I can''t believe how, at 38, I''m putting on muscle. My run times have dropped by 25 percent. (I''m still not fast again, but I''m seeing steady, week-to-week progress.) I find the increase in muscle strength particularly gratifying, as this was always a problem for me before, even in my early twenties. It''s sort of like getting some youth back.WHY IS THE PALEO DIET FOR ATHLETES ERGOGENIC?There is indeed a method to this madness, and I have uncovered the scientific basis for the effectiveness of the modification of the original Paleo Diet. In a nutshell, there are four basic reasons the Paleo Diet enhances athletic performance.1. Branched-chain amino acids. First, the diet is high in animal protein, which is the richest source of the branched-chain amino acids--valine, leucine, and isoleucine. Branched-chain amino acids (BCAA) are different from other amino acids that collectively make up protein in that they are potent stimulants for building and repairing muscle. This information is new and has been reported in the scientific literature only in the past decade. But the dig is this: These amino acids work best when consumed in the postexercise window.Lean meats and fish are far and away the greatest sources of BCAA. A 1,000- calorie serving of lean beef provides 33.7 grams of BCAA, whereas the same serving of whole grains supplies a paltry 6 grams. Because most endurance athletes focus on starches (breads, cereals, pasta, rice, and potatoes) and sugars at the expense of lean meats, particularly following a hard workout, they get precious little muscle-building BCAA in their diets. By consuming high amounts of animal protein (and hence BCAA) along with sufficient carbohydrate, athletes can rapidly reverse the natural breakdown of muscle that occurs following a workout and thereby reduce recovery time and train at a greater intensity at the next session. Joe''s advice for athletes to increase fresh meats along with plenty of fruits and vegetables now makes perfect sense and explains the athletes'' near-universal report of improved recovery with these dietary recommendations.2. Blood acidity versus alkalinity. In addition to stimulating muscle growth via BCAA, the Paleo Diet for Athletes simultaneously prevents muscle protein breakdown because it produces a net metabolic alkalosis. All foods, upon digestion, report to the kidney as either acid or alkali (base). The typical American diet is net acid producing because of its high reliance upon acid-yielding grains, cheeses, and salty processed foods at the expense of base-producing fruits and veggies. The athlete''s body is even more prone to blood acidosis due to the by-products of exercise. One way the body neutralizes a net acid-producing diet is by breaking down muscle tissue. Because the Paleo Diet for Athletes is rich in fruits and veggies, it reverses the metabolic acidosis produced from the typical grain- and starch-laden diet that many athletes consume, thereby preventing muscle loss.3. Trace nutrients. Fruits and vegetables are also rich sources of antioxidant vitamins, minerals, and phytochemicals and, together with fresh meats (excellent sources of zinc and B vitamins), promote op