The Scariest Place in the World: A Marine Returns to North Korea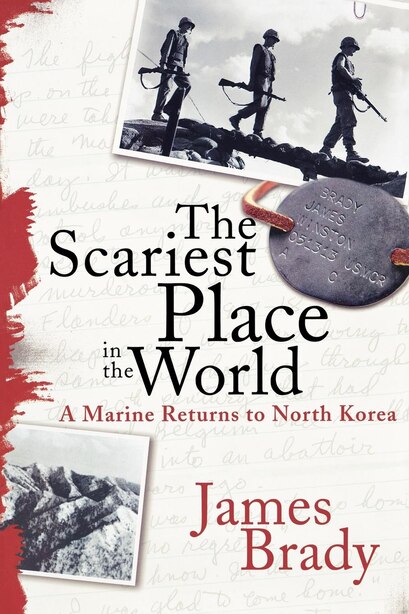 In-Store Availability
Prices and offers may vary in store
"This powerful narrative is an endearing piece of warrior's nostalgia, written with the accustomed skill by a seasoned writer."
---Publishers Weekly
"Graceful, even elegant, and always eloquent tribute to men at arms in a war that, in a way, never ended."
---Kirkus Reviews
"James Brady has done it again. A riveting and illuminating insight into a dark corner of the world."
---Tim Russert, NBC's Meet the Press
Half a century after he fought there as a young lieutenant of Marines, James Brady returns to the brooding Korean ridgelines and mountains to sound taps for a generation. It's been fifteen years since Brady first wrote of Korea in The Coldest War, drawing raves from Walter Cronkite and The New York Times, which called it "a superb personal memoir of the way it was."
In the spring of 2003, Brady and Pulitzer Prize-winning combat photographer Eddie Adams flew in Black Hawk choppers and trekked the Demilitarized Zone where it meanders into North Korea, interviewing four-star generals and bunking in with tough U.S. recon troops, in Brady's words, "raw meat on the point of a sharpened stick." Brady recalls that first time on bloody Hill 749, the men who died there, what happened to the Marines who lived to make it home, and experiences yet again the emotional pull of a lifelong love affair with the Corps in which they all served.
Brady summons up the past and illuminates the present, be it the Korea of "the forgotten war," the Yanks who fought there long ago, or today's soldiers standing wary sentinel over "the scariest place in the world." The result is uplifting, inspiring, often heartbreaking, and this new Brady memoir proves as powerful as his first.
Title:
The Scariest Place in the World: A Marine Returns to North Korea
Format:
Paperback
Product dimensions:
278 pages, 9.16 X 6.12 X 0.76 in
Shipping dimensions:
278 pages, 9.16 X 6.12 X 0.76 in
Published:
April 4, 2006
Publisher:
St. Martin's Press
Language:
English
The following ISBNs are associated with this title:
ISBN - 10:0312332432
ISBN - 13:9780312332433
Look for similar items by category: