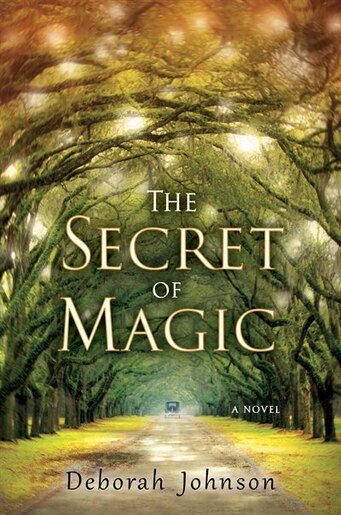 The Secret Of Magic
Hardcover

|

June 2, 2015
Pricing and Purchase Info
$31.00
Prices and offers may vary in store
In 1946, a young female attorney from New York City attempts the impossible: attaining justice for a black man in the Deep South.
Regina Robichard works for Thurgood Marshall, who receives an unusual letter asking the NAACP to investigate the murder of a returning black war hero. It is signed by M. P. Calhoun, the most reclusive author in the country.
 
As a child, Regina was captivated by Calhoun's The Secret of Magic, a novel in which white and black children played together in a magical forest.

Once down in Mississippi, Regina finds that nothing in the South is as it seems. She must navigate the muddy waters of racism, relationships, and her own tragic past. The Secret of Magic brilliantly explores the power of stories and those who tell them.
Title:
The Secret Of Magic
Format:
Hardcover
Product dimensions:
416 pages, 9.25 X 6.5 X 1.25 in
Shipping dimensions:
416 pages, 9.25 X 6.5 X 1.25 in
Published:
June 2, 2015
Language:
English
The following ISBNs are associated with this title:
ISBN - 10:0399157727
ISBN - 13:9780399157721
Look for similar items by category:
Preview Your Review
Your Review Has Been Submitted
NO, I do not recommend this product.
Educational/Developmental Value:
Thank you. Your review has been submitted and will appear here shortly.
Read from the Book
Regina Mary Robichard noticed the envelope as soon as sheentered her office. Fat and cream-colored, it lay there amongthe business letters, newspapers, and circulars on her small desk. Itlooked out of place, like an invitation. Not just any invitation, either,but an opening to something she might actually like to attend. Later,it was the photograph within that envelope that would capture herattention, and keep it. But for now the envelope itself was enough.She had come in on a Saturday with the idea of working for a fewhours and then, since she was downtown, rewarding herself with alittle shopping at Best & Co. or at Peck & Peck. There was a sale onhats at Gimbels, but she had a lot of hats and didn't really need more.She'd read about another good deal, this one for better suits, at MayD& F and a new movie, The Best Years of Our Lives, which was playingat the Rialto in Times Square. She thought about taking that inas well. If she was lucky, all of this might keep her out of her newstepfather's house, and her mother—or, rather, her parents—wouldbe asleep when she came in.It was a legend in the family how Regina, when she was little,under six, would go up to a man—any man—who had come to hearone of her famous mother's famous speeches and say, "Would youlike to marry my mommy? Would you like to be my daddy?" Oftenthe men she asked did not know how to take this. They'd duck.They'd turn away. Of course they all knew what had happened toOscar Robichard, not that long ago in Omaha, Nebraska. Theywouldn't have been there if they hadn't, and they were all sympathetic.But nobody wanted to be Regina's daddy. Nobody had wantedto marry her mother. Until now."Monday," Regina said aloud, "I've got to start looking for myown place." I've got a job now, and my own life. It's time.Behind her, she left the main door unlocked and opened a crackin case someone else came in, always a possibility on a Saturday hereat the LDF, or the NAACP Legal Defense Fund, as it was moreformally known. People worked late; they came in on weekends.There was always that much to do. Regina shared her space withthree other lawyers, all of them men, one of them white. None ofwhom exactly relished having a woman in their midst. They neversaid this, not outright, but it was implied in their stories that stoppedin mid-?sentence, in laughter that abruptly died when she came intothe room. She suspected that half the male lawyers thought she washere because her mother was Ida Jane Robichard, the other half becauseof the way that her father had died. They were all wrong. Reginaknew she was here because she was born to be here, born tovalue the law and its order. With her history, who wouldn't? But thisdidn't stop her from sometimes feeling . . . well, strange.Especially because she sat directly across from Edgar MorrisonMoseley III ("But my friends call me Skip"), hired as a staff lawyerthree weeks before she'd been, fully as ambitious as she was herself,and the nemesis of what she liked to call her "legal life." Skip hadnever been happy to have a woman in the office, a fact he madeabundantly clear. Invariably, the women lawyers he talked about hadsomething in common with Regina—"Hey, she looked exactly likeyou look. Graduated Columbia, too. I was astounded"—and they allended up in either a sad or bad way."War's over. Women need to do their duty, go back home andmake babies. A woman working takes a job away from a familyman." This was his continual refrain, called out whenever he thoughtRegina might be listening. Once he'd actually lectured her to herface while they were having sandwiches and coffee at the Forty-?secondStreet Automat. "You need to get yourself married, settledown." Ida Jane might have slugged him, but Regina didn't. She justmade her excuses and caught a cab home."Why do you even date such a jerk?" Ida Jane had looked up fromthe piece she was writing, her brow still creased in concentration,splotches of fountain-pen ink dotting her hand."It wasn't a date, not really," Regina answered. "We'd workedlate, decided to go out, that was all. Besides, Skip's got a right to hisopinion. I just can't let his opinion interfere with my life.""Got to change some laws if you want to make sure that doesn'thappen." Ida Jane rolled her eyes, shook her head. "But I guess that'swhy you're working over there at the Fund."Now Regina pulled off kid gloves and a veiled felt hat and putthem on a wooden chair. She glanced from the small room in whichshe stood to a smaller room next to it, which was stacked floor toceiling with alphabetized manila envelopes. This was her specialplace, the reason she'd come to work on such a sunny Saturdaymorning. "Reggie's Realm," the others called it, relieved that it washer responsibility and not theirs. These were her cases. Thousands ofthem, sent in by Negro servicemen who had been court-martialedor dishonorably discharged for doing what a white man had gottenaway with doing or been slightly reprimanded for doing."My name is Legion," Thurgood Marshall had said when he'dhanded them over while out of the corner of her eye Regina had seenSkip smirk. They were not considered a gift and had been assignedto her because she had been the last one hired, and could be the firstone fired, if she wasn't careful. If she didn't keep her nose to thegrindstone and work hard. But she had surprised herself by actuallyliking the cases—or "the causes," as she began calling them, thoughonly to herself. She looked forward to opening each new envelope,reading through its depositions and briefs, getting to know men whohad laid out their grievances in their own measured, carefullywritten-out words.Still, the fat, cream-colored envelope beckoned her first.She walked across the linoleum floor to take it into her hands, toweigh and measure it. Vellum, she thought, a good one. Being ableto distinguish standard bond from good vellum was something thatshe knew how to do.The writing on the envelope was in a spidery Palmer penmanshipand addressed to Thurgood Marshall, Regina's boss. The nameThurgood Marshall had no Mr. before it. There was no Esquire behindit. It had been sent to him care of something called the NegroLegal Office, 69 Fifth Avenue, New York 10, New York. The streetaddress, at least, was correct. The fact that it had been mandated toThurgood did not stop Regina from opening it. She had taken theNew York State bar examination two weeks before and was waitingfor the result. But before moving into a new position as staff attorney,she had clerked for Thurgood during her last year at ColumbiaLaw, and she was used to opening anything that came to the officeand was addressed to him. Even now, when he was out of town,which was often, the secretaries routinely brought his letters to her,and she went through everything that was not marked private. Thisenvelope was not marked private.The cleaning people had been in the night before, and the shadesand windows had been opened to let in the fresh air. This far downFifth Avenue there was little noise drifting up from the street on aSaturday morning, and from the other offices that surrounded theirs,even less. Not like Harlem, where she'd just come from and which,even at this early hour, was already alive to the full and syncopatedrhythm of its day. For a moment, Regina just stood there, listeningto the silence.She looked for but could not find her letter opener, and so sheused her fingertip to open the flap. This proved to be quite easy. Theglue had been licked down only on the tip, but Regina's nail polish—Elizabeth Arden's Montezuma Red, worn patriotically during thewar and still not abandoned—left a slender crimson wheal along theheavy ivory paper. Regina did not notice this. The envelope's contents,newspaper clippings, showered onto the tidy plane of her desk.She did not stop to study these. There was a snapshot as well, andshe paused over it.The photograph was of an old Negro man, his face ashy andworn, and gone not wrinkly but ropey in the way that black skinaged. He was smiling and holding on for dear life to a man youngerthan he was but who looked just like him. His son. The old man hadon a white shirt that was carefully ironed but obviously threadbare.Regina could tell this even in black and white. His son was deckedout in a splendid U. S Army–issue uniform, clearly brand-new. Even though the two of them were looking into the camera, they werebeaming at each other. She wondered, for a moment, where themother was, then decided that, of course, the mother was the onewho had taken the photograph. Who else could have captured suchlove? After a moment, Regina started reading.
Bookclub Guide
INTRODUCTIONRegina Robichard works for Thurgood Marshall, who receives an unusual letter asking the NAACP to investigate the murder of a returning black war hero. It is signed by M. P. Calhoun, the most reclusive author in the country.As a child, Regina was captivated by Calhouns The Secret of Magic, a novel in which white and black children played together in a magical forest.Once down in Mississippi, Regina finds that nothing in the South is as it seems. She must navigate the muddy waters of racism, relationships, and her own tragic past. The Secret of Magic brilliantly explores the power of stories and those who tell them.ABOUT DEBORAH JOHNSONDeborah Johnson The Air Between Us, which received the Mississippi Library Association Award for fiction. She now lives in Columbus, Mississippi, and is working on her next novel.DISCUSSION QUESTIONSWhy did Thurgood Marshall first hire Regina as a lawyer at the Legal Defense Fund? What does this say about his attitude toward equal rights in general and toward women in particular?What were Joe Howard Wilsons feelings toward the Calhoun family? What were his feelings toward his father, Willie Willie?At one point, Mary Pickett mentions rumors of a romance between Willie Willie and Peach. Why did they remain friends but never marry after Luther was disappeared?Regina pays a lot of attention to her clothes. Why does the author include this? What did you make of Mary Picketts changing her sweater once she sees Regina wearing the same one?Do you think Mary Pickett truly didnt notice that the teacup she gave Regina was chipped? Was it an honest mistake, or was she making a point?Regina comes to feel that in many ways the South in 1946 is more integrated than the North. In what ways does she feel this? Do you agree with her?Is Tom Raspberry an Uncle Tom, or is he a man who has realistically made his way forward in a world where the cards are stacked against him?Why did Wynne Blodgett kill Joe Howard Wilson, and why did he think he could get away with it? Could this kind of thing still happen today?Who owned the stories in M. P. Calhouns book The Secret of Magic? Was it Mary Pickett herself, or Willie Willie? Did Mary Pickett feel morally correct in publishing The Secret of Magic, or was she always at least a little ambivalent about what she had done? Why was she finally able to restart her writing career?How is Mary Pickett Calhoun the stereotypical ideal of a southern white woman? How is she different from that? Can you draw comparisons to other figures in literature, such as Scout in To Kill a Mockingbird and Scarlett OHara in Gone with the Wind?Who was the most courageous character in the book for you, and why? How do you measure courage?
Editorial Reviews
Reviews for The Secret of Magic by Deborah Johnson   "[A] riveting novel." —O, The Oprah magazine "There are a million metaphors I could use to describe Deborah Johnson''s writing in The Secret of Magic—but all of them are inadequate in conveying the ebb and flow of her phrasing or the care in crafting her characters.... If you liked The Help, you''ll love this one! ... [T]he cadence of Johnson''s writing is an absolute joy.... I can''t think of any other recent book in which I have so enjoyed an author''s actual stringing-together-of-words." —Entertainment Weekly "Johnson offers a completely engaging southern gothic with unforgettable characters..." —Booklist "A work of masterful storytelling, telling truth with fiction in a novel that comes alive with every word on the page. With as many curves as there are branches on magnolia trees, this novel will take you into the forest and leave a mark on you."—The Herald-Sun "[A] spellbinding novel of a young, female, black attorney trying to earn justice for a murdered World War II hero."—San Antonio Express-News "A passionate, nuanced drama about Southern race relations...provocative." —Kirkus Reviews, starred review "I found this story about race, The South, our country, part history, part mystery—never disappointing. Like The South she tragically portrays, The Secret of Magic is a layered tale of the best and worst of our history, beautifully wrought by a master storyteller." —Robert Hicks, New York Times bestselling author of Widow of the South and A Separate Country   "The secret (and magic) in The Secret of Magic is in Deborah Johnson's powerful writing, creating character and story that will linger long after the reading." —Terry Kay, author of To Dance with the White Dog and The Book of Marie   "Johnson's story brings authentic history to light, yet suggests a seed of reconciliation. Fantastic!" —Augusta Trobaugh, author of Sophie and the Rising Sun and The Tea-Olive Bird Watching Society "A spirited portrayal of the postwar South."—Publishers Weekly "Get a copy of Deborah Johnson's The Secret of Magic [and] expect the unexpected…A disturbing, but fair, look at life in Mississippi and the South in a turbulent time that lasted far too long. We need to know about that history, however, to move forward."—The Oxford Eagle