The Shepherd of Hermas in Latin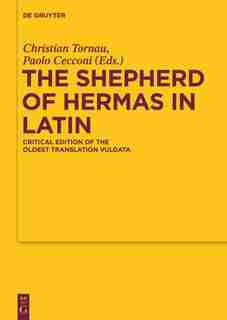 Buy In Store
Prices and offers may vary in store
The Shepherd of Hermas is a Greek visionary text written in Rome during the 2nd century CE with the aim to exhort men to change life and repent for their sins, taking advantage of the last chance given by the Lord before world's end. The Shepherd is a very important witness of history of the early Christian thought and it was so widely-read that it was immediately translated into Latin and other languages.
Despite the considerable amount of Greek textual witnesses of the Shepherd (more than twenty-five written between the 2nd and the 14th century), its complete text did not survive until today, therefore its translations in other languages are of crucial importance for the constitutio textus. Among the various translations, the Latin Vulgata stands out for its antiquity, accuracy and links with some important Greek witnesses like the Papyrus Bodmer 38 (4th/5th century) and the Codex Athous Grigoriou 96 (14th century).
The last critical edition of the Vulgata was made by H.A. Hilgenfeld in 1873 and is still quoted by scholars today. The Shepherd of Hermas in Latin offers a more modern and complete philological study through an investigation of new unknown textual sources from 9th to 14th century and gives new philological and textual data with the aim to replace the accurate but not updated edition of Hilgenfeld.
Title:
The Shepherd of Hermas in Latin
Product dimensions:
144 pages, 9.61 X 6.69 X 0.38 in
Shipping dimensions:
144 pages, 9.61 X 6.69 X 0.38 in
Published:
November 22, 2017
Publisher:
Walter de Gruyter Gmbh US SR
Appropriate for ages:
All ages