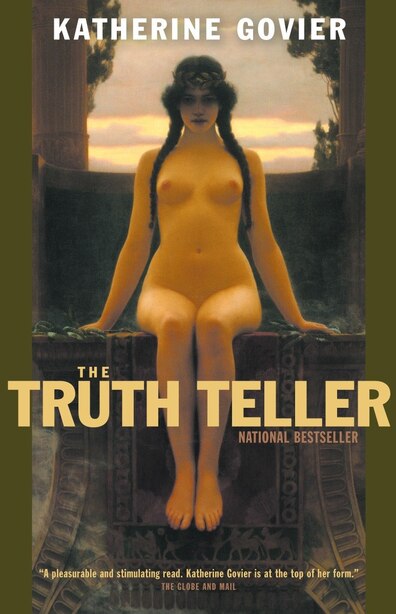 Find In Store
Prices and offers may vary in store
Katherine Govier was immersed in writing a magazine article for Toronto Life about violent girl gangs when she realized she wanted to use the material in a novel. Having two teenaged children at home allowed her to eavesdrop as she researched the characters for her novel. One character in particular intrigued her: Cassandra, the truth teller.

In The Truth Teller, the Manor School for Classical Studies is an exclusive private institution in a leafy enclave of Toronto, dedicated to redeeming the wayward children of the well-to-do. For generations, Headmaster Dugald Laird and his wife, Francesca Morrow, united by romance and a common purpose, have laboured to fill their students'' hearts and minds with the ideals of truth and beauty. Now, increasingly, the classes only divide the students'' time between cigarette breaks, graffiti wars and drug deals; the teenagers have "headphones clamped to their ears and rings pierced into their crotches," and a habit of carving their own flesh. Enter the new girl, Cassie. Overweight, unfashionable and nervous, she also has an annoying habit of blurting out uncomfortable truths. Offering assistance during a savage street fight, she is recruited into the rebel girl gang known as the Dead Ladies.

Meanwhile, cracks are beginning to show in the perfect marriage shared by Dugald and Francesca. Dugald is haunted by memories. As if waking from a dream, he realizes that, immersed in his love for ideals, the classics, and Francesca, he has left behind what now seems so real – the family he spurned fifty years ago. For her part, Francesca is convinced Dugald''s spirit will be revived during the school's annual pilgrimage to the ancient ruins of Delphi. Under the hot Greek sun, however, the fabric of illusion will be burned away.

The Truth Teller, Govier''s sixth novel, became a national bestseller. Reviewers describe her as a novelist at the height of her powers, whose skill and imagination were in full force as she fashioned a complex story around deeply drawn, memorable characters. With characteristic energy, wit and insight she explores today''s urban life, revealing the intimate moments that shape our lives and define our times. The novel is tinged by a subtle apocalyptic vision, revealed through the "junk world" of the teenagers, and set against the beauty of a culture two thousand years old.

The novel is also richly coloured by Govier''s travels in Greece and by allusions to classical literature. In ancient Greece, Cassandra was the young priestess of Apollo who foresaw Troy's doom; Apollo''s curse left Cassandra able to see the future but never to be believed by those she tried to warn. Govier casts her, in this contemporary tale, as a rebel girl, modelled on city squeegee kids with "turquoise hair and tattoos." Cassie carries the weight of her ancient past, reminding us, as Gary Draper noted in Books in Canada, that Govier''s stories often work simultaneously as naturalistic fiction and as fables.
Product dimensions:
416 pages, 8 X 5.1 X 0.9 in
Shipping dimensions:
416 pages, 8 X 5.1 X 0.9 in
Publisher:
Random House of Canada
Appropriate for ages:
All ages