The Urban Green Man: An Archetype of Renewal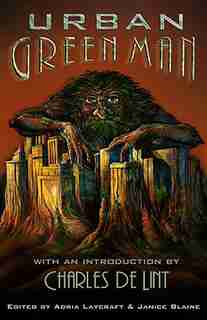 Prices and offers may vary in store
The stories in this anthology are ripe with magic of new beginnings and will change the way you look at life, forever.
Psychologist Carl Jung once suggested that an archetype will reappear in a new form to redress imbalances in society exactly when it is needed. Perhaps the Green Man is rising yet again just in time to help us cultivate a harmonious and sustainable relationship with Nature.
Your imagination will run wild.
The vibrant stories presented in this anthology are all new and original.
With an introduction by Charles de Lint The Urban Green Man is a large anthology of urban and contemporary short literature; from an international cast of authors.
Every story follows the theme of renewal surrounding the mythology of the Green Man.
The mystical face of the Green Man can be found on churches and other buildings throughout northern Europe. It is believed that the the Green Man mythology developed independently in various cultures and is a remnant of ancient pagan beliefs. The human face, hidden in the green foliage, shows a longing for the natural world and reminds us that we are dependent on a healthy planet not only for physical sustenance, but for our mental health as well.
Today's Green Man is no longer a forgotten mythology relegated to garden statuary. It is as relevant today as it was in ancient times, and these stories will remind you of the myths' importance.

Title:
The Urban Green Man: An Archetype of Renewal
Format:
Paperback
Product dimensions:
280 pages, 5.5 X 8.5 X 1 in
Shipping dimensions:
280 pages, 5.5 X 8.5 X 1 in
Published:
June 28, 2013
Publisher:
EDGE Science Fiction and Fantasy Publishing
Language:
English
The following ISBNs are associated with this title:
ISBN - 10:177053038X
ISBN - 13:9781770530386
Look for similar items by category: