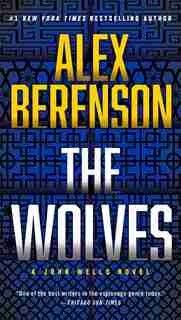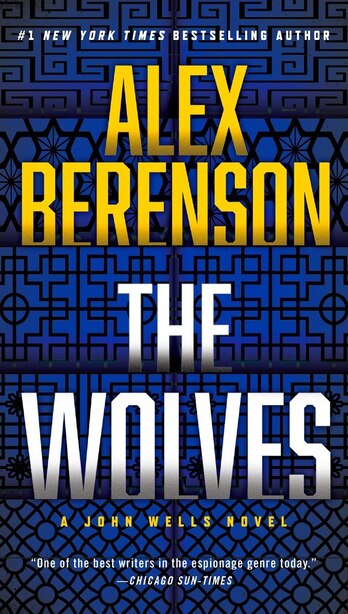 The Wolves
Paperback

|

January 31, 2017
Pricing and Purchase Info
$13.50
Prices and offers may vary in store
CIA agent John Wells refuses to let a privileged businessman walk away from a crime in this novel of modern suspense from the #1 New York Times-bestselling author.
 
John Wells has just barely managed to stop an operation designed to drive the United States and Iran into war, but the instigator himself disappeared behind an impenetrable war of security. Now it's time for him to pay, and Wells has made it his personal mission. There are plenty of crosscurrents at work, though. The White House doesn't want anybody stirring the pot; his old CIA bosses have their own agendas; other countries are starting to sniff around, sensing something unusual. It is when Russia and China enter the mix, however, that the whole affair is set to combust. With alarming speed, Wells is once again on his own...and the wolves are closing in.
Title:
The Wolves
Format:
Paperback
Product dimensions:
432 pages, 7.56 X 4.31 X 0.94 in
Shipping dimensions:
432 pages, 7.56 X 4.31 X 0.94 in
Published:
January 31, 2017
Publisher:
Penguin Publishing Group
Language:
English
The following ISBNs are associated with this title:
ISBN - 10:1101982764
ISBN - 13:9781101982761
Look for similar items by category:
Preview Your Review
Your Review Has Been Submitted
NO, I do not recommend this product.
Educational/Developmental Value:
Thank you. Your review has been submitted and will appear here shortly.
Read from the Book
PrologueWASHINGTON, D.C.  The President wanted to see John Wells.The feeling wasn't mutual. Wells sat in the emergency room at the Virginia Hospital Center in Arlington, waiting for a doctor to set the foot he'd broken a day before on another continent, when his phone buzzed. A blocked number. "Mr. Wells?" "If you say so." "Steve Lipsher at the White House. The President would like to invite you to a meeting in the Oval Office. Four p.m.""Shafer gonna be there?" Ellis Shafer, a CIA lifer and Wells's closest friend. Currently stuck inside a federal jail not five miles from this hospital, his reward for helping stop a war. "Just you, the President, and Ms. Green." Donna Green, the National Security Advisor. "Then no. I can't." The silence that followed suggested that no one had ever turned Lipsher down before. "Someone will call you," Lipsher finally said, and hung up. Wells was tempted to turn off the phone. Five minutes later, it buzzed again. "John. It's Donna Green. Justice is drafting the release order, but we have to find a judge, and it's Sunday, remember?" "You locked him up easy enough.""We'll get it done. Promise." "What about the senator? He coming, too?" Wells meant Vinny Duto, the former CIA director, now senator from Pennsylvania. For the last month, Wells, Shafer, and Duto had secretly worked together against a billionaire casino mogul named Aaron Duberman who'd tried to trick the United States into invading Iran. Duberman's plan had nearly succeeded. Shown false evidence that Iran wanted to smuggle a nuclear weapon into the United States, the President had set a deadline for Iran to open its borders or face invasion.But barely twelve hours before, Wells and Duto had delivered proof of Duberman's plot to Green, forcing the President to back down. In a midnight speech from the Oval Office, he called off the attack. Wells had expected that the President's next move would be to punish Duberman for what he'd done. Expected and hoped. Green's tone, simultaneously wary and pleading, suggested otherwise."No Duto," Green said now. "And that's not negotiable." Wells wasn't surprised. Green and the President had forced Duto out of the CIA two years before. Now Duto had the upper hand. He could destroy the President simply by revealing the truth about the way Duberman had suckered the United States. Though Duto had already hinted to Wells that he had another agenda. As a price for his silence, he would make the White House help him in the next presidential election. A straight power play, standard operating procedure for Duto, whom Wells imagined kept a shrine to Nixon in the basement of his mansion. "Fine," Wells said. If Green didn't know that Wells disliked Duto almost as much as she did, Wells saw no reason to enlighten her. "I'll see you at six. Give you time to get Ellis out, me to get my foot set." "You're picking the time for a meeting with the President?" "Come to an emergency room without hundred-dollar bills taped to your forehead, see how long it takes them to fix you." At 5:45 p.m., Wells offered his driver's license to the White House gate guards and limped toward the West Wing entrance. The worst of the winter was over. Wells wore only jeans and a bright red T-shirt that read Chicago Homicide: Our Day Starts When Your Day Ends. Hardly appropriate for meeting the President. But he couldn't make himself care. As Wells passed through the metal detectors, he knew he should feel good. He and Duto and Shafer had kept the United States out of war. Yet Duberman was still in his fortified mansion in Tel Aviv. Meanwhile, the President's back-and-forth had damaged the United States already. An hour after the President's announcement, Iran's Ayatollah Khamenei made his own speech. He thanked Allah for "defeating the Zionist-American crusaders" and promised that "American lies will not stop our mighty Islamic Republic from using its nuclear facilities as it sees fit." The last four words were new. In the past, Iran had insisted it would develop its nuclear program only for peaceful purposes. Then Russia and China said they would immediately lift all economic sanctions against Iran. "The United States must learn not to meddle with other nations," Russia's Foreign Minister said, in a fingerwagging lecture that was more than slightly ironic, given his own country's recent adventures in the Ukraine. The White House confined itself to repeating the points the President had made the night before. We will fully review the evidence that Iran was trying to smuggle weapons-grade uranium into the United States. The ultimatum for an invasion no longer serves either side. The Pentagon had already leaked plans to bring home the troops it had just flown to Turkey and Afghanistan. A New York Post headline summed up the popular view: "Thanks, Mr. President. We just lost a war we didn't even fight!" So Wells wasn't surprised that the mood inside the White House was grim. Though it was Sunday, the West Wing was crowded. Presidential aides trudged along the narrow hallways, staring at their phones for bad news. In the Oval Office anteroom, Wells found Shafer. He was freshly scrubbed and in his best suit, but the bags under his eyes suggested he hadn't enjoyed his time in jail. Or maybe Wells had just forgotten how old Shafer was. They had first met when Shafer was in his late forties. Wells supposed part of him still saw Shafer that way, thick curly hair and a cynic's smile. Now Shafer's hair had become a white horseshoe at the fringes of his skull. His shoulders were bent and narrow from too many years in front of a computer. He still had the smile, though, the one that warped the edges of his lips. He gave it to Wells. "Seriously? Chicago Homicide? I'm the one who goes for pointless acts of rebellion." "Learned it from you, Dad. So don't I get a hug? Or you got enough man-to-man contact the last few days?" Wells couldn't talk to anyone else on earth this way. "I was in there, no way of knowing what was happening, this siren came on like they were evacuating the place, then the intercom, a voice I'd never heard, We have decided to broadcast the President's speech tonight because of its importance. Five words in, I knew you won." "We won, Ellis." "Lucky us. Now we're here for our prize." The door to the Oval Office opened. "Gentlemen," Donna Green said. The President was in his mid-fifties, nearly as tall as Wells was, though not nearly as muscled. He wore a tailored blue suit and white shirt. No tie. He extended his hand and looked Wells over. His eyes were resigned, like Wells was an unwanted suitor marrying his daughter. No idea what she sees in you, but I guess we're stuck with you. Still, he radiated command and power, the arrogance of the man who always had the last word. Beside him, Green was small and frumpy, in a wrinkled blue sweater and a shapeless gray skirt. Like Shafer, she seemed almost aggressively unfashionable."Please." The President indicated the twin yellow couches in the center of the room. "Anyone need a drink?" Nothing formal, just a friendly chat. Wells and Shafer shook their heads. "I could ask about your foot," the President said to Wells. "Offer to sign that cast. But I have a feeling you're not in the mood." "Let's just stipulate that we've had the small talk," Shafer said. "You were charming." "As always. I want to apologize to you, Mr. Shafer. It goes without saying that we should never have detained you—" "But I'm guilty. I leaked that information, sir." The President's smile didn't waver. "You've both done a great service." "You're taking this well. Considering Ladbrokes is making book on when you'll resign." "Good for them. I can't say I was happy when Donna came to me last night. But I'm not angry at you. The CIA failed. I failed. We shouldn't have needed you. But we did. And for that, I thank you. At some point, I'd love to hear the story, how you did it, start to finish." Wells found himself impressed with the man's apparent sincerity. Then he heard Shafer. "Very good, sir." A parody of an English servant's accent. "Very, very good." Veddy veddy guhd. He golf-clapped. Twice. Until now, Wells hadn't realized the depth of Shafer's anger. He wondered how far Shafer would push. How much the President would take. "You're so happy, how com
Editorial Reviews
Praise for The Wolves"Exhilarating...when the call of duty summons, Wells rises to the occasion; his emotions may be mixed, but he still puts on a great show for readers."—Publishers Weekly "[An] adrenaline-filled thriller...Fans of the John Wells series won't be disappointed. They'll agree with his enemies that if Wells isn't Superman, he's super something."—Kirkus Reviews "As always, Berenson brilliantly blends global politics into an adrenaline-pulsing spy novel. But, most of all, there is Wells, a stone-cold killer who nevertheless does what we all wish we could do: stand up to the powerful and make them pay."—Booklist "Masterful...The Wolves is driven by a terrific and well-executed plot, but where Berenson truly shines is in his explanation of how certain parts of the world work. These would include spycraft and the dark tradeoffs made by governments at the highest and lowest levels."—Bookreporter.com "Berenson's John Wells series has lost none of its power, novelty, and excitement. Wells is unique in contemporary thriller fiction [and] has become a richer character with each new story."—Connecticut Post "Berenson's style is as seductive as his storytelling, and The Wolves has a bite that doesn't let go from the first page straight through to the last."—The Providence Journal