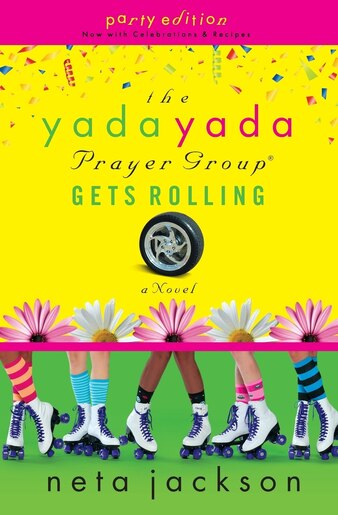 The Yada Yada Prayer Group Gets Rolling: Party Edition With Celebrations And Recipes
Paperback

|

January 28, 2008
Pricing and Purchase Info
$19.49
list price
save 11%
Prices and offers may vary in store
A devastating fire wakes up the Yadas to a new reality: God is on the move.
What I''d like to know is, why does God keep rearranging my comfort zone? It could have something to do with my Yada Yada prayer sisters, who aren''t afraid to get in each other''s faces and tend to expect big things from God.
But to move forward, sometimes we have to let go of what''s behind. In spite of the loss of two dear friends. In spite of the breakup of a teenage love. In spite of the curse of HIV. In spite of prison time hanging over the head of a beloved child. In spite of fire consuming the hopes of those who have nothing.
Yet out of the ashes, God is doing a new thing! It''s time for the Yadas to press on, pray on, and get rolling!
Title:
The Yada Yada Prayer Group Gets Rolling: Party Edition With Celebrations And Recipes
Format:
Paperback
Dimensions:
432 pages, 8.38 X 5.5 X 1.14 in
Published:
January 28, 2008
Publisher:
Thomas Nelson
Language:
English
The following ISBNs are associated with this title:
ISBN - 10:1595544445
ISBN - 13:9781595544445
Look for similar items by category:
Preview Your Review
Your Review Has Been Submitted
NO, I do not recommend this product.
Educational/Developmental Value:
Thank you. Your review has been submitted and will appear here shortly.
Read from the Book
Stepping over Willie Wonka''s inert body sprawled on the floor, I groped in the shadows behind the Christmas tree for the electric cord, felt for the outlet, and plugged it in. Instantly, a glittering fairyland replaced the early morning gloom. Framed neatly by the bay window in the front room of our first-floor apartment, the six-foot fir tree we''d found at Poor Bob''s Tree Lot winked and twinkled its multicolored minilights like little blessings. Shivering, I pulled Denny''s robe tighter around me and drank in the sight. If I had to choose between Christmas presents or a Christmas tree, I''d take the tree any day. Memories hung from every branch. Orange-juice-lid ornaments the kids made when they were in kindergarten bobbed nobly on the front branches. The ornaments we''d given both kids each year had multiplied until they actually filled up the tree. I smiled. That was a tradition I''d brought to our marriage from my family, who had carefully packed up my ornaments as a wedding present when I got married. As we would do when Josh and Amanda-- My smile faded. Ack! Didn''t want to go there. I dreaded the Christmas our tree would be denuded of our kids'' ornaments. I heard the coffee gurgling its last gasps as the pot filled. Scurrying back to the kitchen as fast as the stiffness in my left leg would let me, I poured my first mug of the day and then settled into the recliner facing the glittering tree for a few quiet moments before our Saturday began. It had been a nice Christmas--nothing spectacular, but nice. Leslie Stuart, our upstairs neighbor and one of my Yada Yada sisters, had invited her parents to visit her for a few days--a Christmas miracle big enough to warrant a few angels singing, "Glory! Hallelujah!" if you asked me. We''d met the senior Stuarts briefly when they''d arrived at our shared two-flat on Christmas Eve, but we''d officially invited the three of them for supper tonight. Which meant I had to get everything ready this morning, since Ruth and Ben Garfield had also asked us and the other Yada Yadas to their house for baby Isaac''s brit mila this afternoon. "Brit mila? What''s that?" I''d blurted when Ruth called me the day before Christmas. "Brit mila---the ritual circumcision ceremony. A newborn Jewish male is joined to the Jewish people on the eighth day. Read your Bible, Jodi." I had ignored the dig. "Don''t they do that in the hospital nowadays? With Josh--" "Is your Josh Jewish? Didn''t think so. So, are you coming?" "Wait a minute. The twins were born almost a month ago. What happened to the eighth day?" A long pause. Not like Ruth, who usually filled up gaps in conversation like rainwater flowing into sidewalk cracks. I had immediately regretted my blunt question and started to apologize, but Ruth had just sighed. "Pediatrician said we had to wait. Preemies, you know. But . . ." Her voice had brightened. "All is well. Havah and Isaac came home from the hospital on their due date---last Saturday. So this Saturday is the ''official'' eighth day. The eighth day of Hanukkah too. See? God is good." "All the time," I''d agreed. "Sure, we''ll be there." Should have checked with my family first. "Mo-om," Amanda had wailed. "That''s gross! If they gotta do that circumcision thing, at least do it in private. Not with everybody gawking at that poor naked baby. He''ll be so embarrassed when he''s thirteen and we all say, ''My, how you''ve grown! I was at your circumcision.''" I had ignored her. Sixteen-year-olds are embarrassed by everything. But even Denny had blanched. "Uh, I dunno, Jodi. I''m kinda squeamish. What if I faint?" Josh, however, was the only one with a real excuse. "Sorry, Mom. We''re doing a Christmas party at Manna House for the kids." Now it was Saturday. The Big Day for Ben and Ruth. I sipped the hot coffee, feeling its lingering warmth. The sky beyond the bay windows--more visible in winter through the bare tree branches lining our narrow street on Chicago''s north side--had begun to lighten. Well, God, I thought, this year is almost over, a new one about to begin. Didn''t I tell You I could use some "dull and boring" last year about this time? What happened, huh? Huh. Fact was, it had been a tough year for the Yada Yada Prayer Group all the way around. Nonyameko''s husband, Mark, beaten up after that racist rally . . . Chanda finding out she had breast cancer . . . Florida''s boy arrested and locked up in the juvenile detention center . . . Avis''s daughter ending up at the Manna House shelter for abused and homeless women . . . Ruth--childless, on her third husband, and pushing fifty--discovering she was pregnant with twins . . . Josh, our firstborn, refusing to go to college and falling in love with an "older woman" . . . Didn''t I walk with you every step of the way? The Voice in my spirit spoke gently but firmly. Have I brought you this far to leave you now? "Yes, Lord, thank You," I whispered. "And . . . I guess it''s a good thing You don''t show us everything that''s going to happen ahead of time." Because if this coming year was anything like the last year and a half since I''d met the rest of the Yada Yadas at that Chicago Women''s Conference, change was in the wind. Just then, Willie Wonka wheezed noisily to his feet and pushed his wet nose into my lap, rear end wiggling impatiently. Translated: I gotta go out--now. Yeah, well. Some things never change. ----------------------------- By the time the three of us Baxters squeezed into the Garfields'' compact living room that afternoon, there wasn''t much room to sit. Amanda--as I''d suspected--wouldn''t dream of being left behind, though her face fell when she realized Delores and Ricardo Enriques had left all the kids at home. Amanda never missed an opportunity to show up when Delores''s sixteen-year-old son José might be there. I spied Ruth standing by the front window holding one of the twins; Delores, standing beside her, was patting the other twin over her shoulder. Had to be the boy. Even from across the room I could see the large red birthmark covering a third of the baby''s face. I winced, not yet used to such a conspicuous raspberry. I quickly counted Yada Yada noses. Besides Ruth and Delores, I spied Hoshi Takahashi and Nonyameko Sisulu-Smith sitting on the couch--but not Nony''s husband, Mark, who was still recovering from his head injury. Yo-Yo Spencer, who''d been taken under the Garfields'' wing when she got out of prison after doing time for forgery, perched on the arm of the couch . . . was that it? Only five of us? Well, six, counting myself. Where was everybody? But I only had time to give the couch sitters a quick wave before a bearded man wearing a prayer shawl began to chant a prayer. Voices immediately hushed all around the cramped living room. This must be the mohel, who, according to Ruth, would perform the ceremony. "An expert he is, trained to do the circumcision with minimal discomfort," she''d told us on the phone. Then she''d muttered, "He''d better be." After the prayer, the mohel called out, "Kvatter!" Heads turned as Ruth nodded to Delores. "Delores Enriques is kvatterin, the child''s godmother," she announced with that stubborn tilt of her chin, daring anyone to disagree. My mouth dropped in delight, and I saw our Yada Yada sisters exchange astonished smiles as Delores, blushing up to her hair roots, tenderly cradled the little boy and made her way toward the other end of the room where she handed the baby to her husband, Ricardo. "And Ricardo Enriques is kvatter, the child''s godfather," Ruth announced. Again, little gasps of surprise and pleasure circled the room. Well, well, I thought. No one deserves it more than Delores; she stuck with Ruth through this pregnancy like white on rice. But Ricardo. That was a surprise--though, sure, it made sense to have husband and wife be the godparents. They were hardly Jewish, though. As Ricardo took the baby, the mohel with the prayer shawl said, "Baruch haba," while Ruth and several others responded, "May he who cometh be blessed." And then the mohel offered another prayer, mentioning God''s covenant with Abraham, the sign of which was circumcision. ". . . and through Abraham''s seed, all nations will be blessed." And we all said, "Amen." The mohel took the baby from Ricardo Enriques and handed him to someone sitting in a straight-back chair. Craning my neck, I saw Ruth''s husband, Ben--a brand-new daddy at sixty-something--take his tiny son and place him on a large pillow on his lap. Ruth, coming up behind me, muttered in my ear, "Huh. Would Ben let anyone else hold his only son for his brit mila? Lucy would let Charlie Brown kick the football first." I had to stuff my fist against my mouth to keep from laughing. "--Oh Lord, King of the universe," the mohel was praying once again, "who has sanctified us with Thy commandments, and commanded us concerning the rite of circumcision." And then there was murmuring and rustling. Backs closed in around Ben and the baby. This is it! I thought, looking away. I steeled myself for-- A wail broke the hush in the room. Ruth was fanning herself big-time. I could hear Ben''s growly voice soothing and shushing his child as the mohel finished his administrations. As Isaac''s wail subsided, sighs of relief and whispers filled the room. Then the mohel lifted his voice once more. "Creator of the universe, may it be Thy gracious will"--I leaned forward, trying to hear--"and give a pure and holy heart to Yitzak, to be called Isaac, the son of Ben and Ruth Garfield, who has just now been circumcised in honor of Thy great name. May his heart be wide open to comprehend Thy holy Law, that he may learn and teach, keep and fulfill Thy laws." Ben''s "Amen!" boomed out over all the others. I caught Denny''s eye--and saw that he had his handkerchief out and was blowing his nose. At least he didn''t faint. "One moment, please," the mohel added, finishing the ritual and actually smiling. "Today we have a double privilege, the honor of blessing and naming Isaac''s twin sister. Ruth, can you join us?" Beaming now, Ruth elbowed her way to the mohel and surrendered the baby in her arms. The bearded man took her gently and then held her up for all to see. A pink headband circled the tiny head, the bow on top matching the just-woke-up rosy cheeks. An ahh seemed to squeeze from the room, like the sigh of an accordion. And then the mohel prayed, "Lord of the universe, who created us both male and female, we ask your blessing on this little girl, to be called Havah, which means life. Help her to grow in joy and understanding of your gift of life to all people, even as she herself is a gift to her parents." Again we all cried, "Amen!" accompanied by much applause and laughter. And like all Jewish festivities Ruth had introduced us to, the brit mila was soon followed by food--lots and lots of food, spread out on the dining room table like its own deli. I sidled up alongside Yo-Yo, who was filling her plate. "Hey, Yo-Yo," I grinned. "Wasn''t that a neat ceremony?" "Yeah. I guess." Yo-Yo shrugged inside the bulky cotton sweater she was wearing over her overalls and moved to the other side of the table. I frowned. What was that about? But Yo-Yo ducked out and headed for a seat, just as Ruth appeared with little Havah in her arms. Clucking ladies--clones of Ruth, I thought--gathered around, oohing and ahhing over the pretty child, passing her from hand to hand. "Two minutes older than Isaac, she is," Ruth bragged. Ben, I noticed, anchored the straight-back chair in the other room with Isaac on the lap pillow, as if daring anyone to pluck away his son. After urging platefuls of macaroons, rugelach, and mandelbread on everyone--"Jewish biscotti, only better," Ruth said about the latter--Ruth followed several of us Yadas as we finally headed for the bedroom to retrieve our coats piled on the bed. "So," she said, "does this count as our Yada Yada meeting? Everybody in town was here--or else up to their eyeballs in family shtick." Yada Yada normally met on second and fourth Sundays, and this was the last weekend of the year. But she had a point. Stu''s parents were still here. Avis''s daughter and grandbaby were "home" for the holidays. (Avis couldn''t bear the thought of Rochelle and little Conny spending Christmas at the women''s shelter, where they''d been since Rochelle left her abusive husband a month ago.) Becky Wallace probably had Little Andy for the holidays, and-- "What about Chanda''s birthday?" Yo-Yo piped up. "She complained that we missed her birthday last year ''cause it falls between Christmas and New Year''s." "Do not worry about Chanda. She decided at the last minute to take the kids to Jamaica." Nony''s cultured South African accent made it sound like the queen of England had gone abroad. "Since her sister moved back to the island, Chanda has been--how do you say it?--sick for home." "Oh, si, Jamaica!" Delores closed her eyes dreamily. "Sunshine. Tropical breezes. No ice storms . . . Can''t blame her. Every Chicago winter I get homesick for Mexico." "Yeah, me too," Yo-Yo muttered. "And I''ve never been out of Illinois." We all laughed. "So, we cancel?" Ruth pushed, handing out the last of our coats. "Uh," I stalled. "If we don''t meet tomorrow, it''ll be another two weeks before we get together--practically a whole month since our last real meeting." Didn''t we all need a lot of prayer going into the New Year? "Excuse me." My husband poked his head (swathed in the overly long scarf my mother had knit him for Christmas) into our little huddle. "I hate to state the obvious, but why don''t you Yadas just meet the next week? Try first and third Sundays for a while. Half of you were complaining about meeting second Sundays anyway." Which was true. Now that Uptown Community Church and New Morning Christian had merged, half of us Yada Yadas were in the same church, and second Sundays already had a combined church potluck and business meeting until we ironed out all the bumps in the road. But I whacked him with my glove anyway. "Isn''t it a burden to be right all the time, Denny Baxter?"