They Don't Run Red Trains Anymore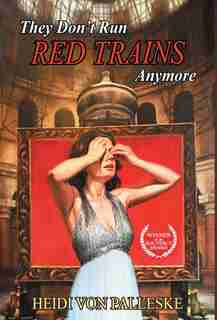 Find In Store
Prices and offers may vary in store
Set in the 1980's, They Don't Run Red Trains Anymore explores the nature of love, sexuality and the importance of art in our day to day life.
Alex Hoff is a young artist who witnesses a suicide at a subway station. That same day an exotic young woman comes to pose in her life drawing class at art college. An obsession takes over Alex's art and mind. Her teacher, Boris misconstrues her intentions and offers to give her extra tutoring. Alex soon finds out that the model, Premika, is his lover as well. The triangle becomes a competition, both in the art world and in the realm of each of their hearts.
Alex's obsession with Premika drives her to create. Too intimidated to carve in stone, she sets out to sculpt a life-sized terracotta replica of Premika, but in order to succeed she needs to know this beautiful but enigmatic woman thoroughly. She slowly peels away Premika's carefully constructed, yet superficial, layers to get to the essential core of her being only to expose a well hidden, rooted sorrow.
They Don't Run Red Trains Anymore is a love story that breaks the rules and labels of society. This is a love that does not limit itself to age, race or gender. It is the love of the idealist. The love of beauty, the love of art and the love of desire. They Don't Run Red Trains Anymore is thought provoking, philosophical and heart felt. It is a cry in the dark in defense of art, love and obsession.
They Don't Run Red Trains Anymore is a winner of the HR PERCY AWARD for best novel manuscript in Eastern Canada.
Recipient of Toronto Arts Council Award
Recipent of the Ontario Arts council Award
Toronto Star Critics choice
Title:
They Don't Run Red Trains Anymore
Product dimensions:
218 pages, 8.5 X 5.5 X 0.63 in
Shipping dimensions:
218 pages, 8.5 X 5.5 X 0.63 in
Publisher:
Smart House Books
Appropriate for ages:
All ages