Thomas Kinkade's Cape Light: Together For Christmas: A Cape Light Novel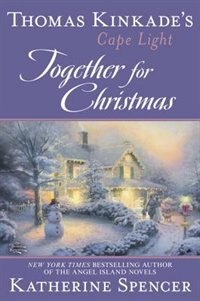 Buy In Store
Prices and offers may vary in store
From the New York Times bestselling author of the Angel Island series comes the sixteenth Christmas novel set in Thomas Kinkade's beloved town of Cape Light.
 
The holiday season finds one treasured relationship about to be torn apart...while another is just coming together.
 
As Christmas approaches, Molly Harding and her partner—and best friend—Betty Bowman are swept up in the annual holiday rush at Willoughby's Fine Food and Catering. With the business on shaky financial ground this year, the stakes are high. Suddenly, Betty must step back from the race to care for her husband, who is recovering from a serious injury. Molly is secretly overwhelmed but can't bring herself to burden her friend with bad news.
 
But Molly knows that, sooner or later, the truth will come out. Then what? Will her independent, "I can do it" attitude bring ruin to the business that means so much to them? Even more important, will it destroy her close and loving friendship with Betty?
 
Meanwhile, a single mother, Carrie Munro, and her son, Noah, have come to Cape Light with the dream of starting a new life. Out of work, Carrie can hardly believe her luck when she gets a job working for Reverend Ben. Noah likes his new school and he's especially happy with a new friend named Theo, whom Noah insists is an angel. Carrie is at first amused…then concerned. She hopes Dr. Jeffrey Carlson, a child psychologist, can help her son and help her understand the cause for Noah's need for this imaginary friend. But as Christmas draws closer, Carrie starts to wonder if she's the one who really needs Jeff's guidance—to help her see the world again with the open, trusting heart of a child, and with the faith that anything is possible. Even angels. Even love.
Title:
Thomas Kinkade's Cape Light: Together For Christmas: A Cape Light Novel
Product dimensions:
304 pages, 9.3 X 6.28 X 1 in
Shipping dimensions:
304 pages, 9.3 X 6.28 X 1 in
Published:
November 3, 2015
Publisher:
Penguin Publishing Group
Appropriate for ages:
All ages
Look for similar items by category: