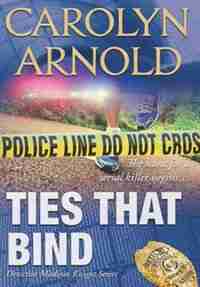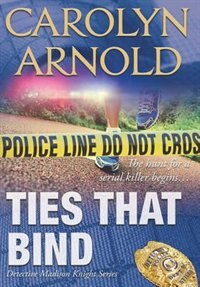 Buy In Store
Prices and offers may vary in store
Three victims. One method. One motive.
Grab a badge and a gun and strap in for a ride that's "full of suspense from the beginning to the end…" (Readers Abode). When dead bodies start piling up, Detective Madison Knight suspects that her city has a serial killer—but the quest for justice isn't going to be an easy one. Everyone—including her own partner, her sergeant, and the police chief—are working against her. 
"Arnold has written one of the best female cops that I've ever read… Madison is just one of those characters that will stay with you." –Harlie's Books
A woman is found strangled in her bed, and Detective Madison Knight doesn't think it's anything more than an isolated incident. But when another woman's body is discovered in a park, killed with the same brand of neckties, she can't ignore the similarities between the two murders. Still, it's not until a third victim surfaces that Madison really starts to fear the worst: the city of Stiles just may have a serial killer.
Catching the murderer isn't going to be easy, though. She's facing pressure from the sergeant and the chief to close the case—even if it means putting an innocent man behind bars—and a partner who is more interested in saving his marriage than doing his job. If there's justice to be had, Madison may have to go this alone.
Ties that Bind is a fast-paced crime novel with twists and turns you'll never see coming. Perfect for fans of the police procedural genre and authors such as James Patterson, Michael Connelly, and JD Robb. Buy this international bestselling book today and join the investigation! Uncover clues, follow leads, and catch a killer like thousands of readers have done before you. It doesn't matter if this is the first book you're reading in the Detective Madison Knight series or not; all the books stand alone!
What readers say about Ties that Bind:
????? "A good detective story with lots of twists and turns to an unexpected ending."
????? "This is one heck of a mystery!"
????? "Brace yourself for the ending! I didn't see that one coming."
????? "I loved Madison Knight and her sassy dialogue."
????? "I found myself unable to stop reading this book."
????? "A must-read for the mystery fan."
????? "So many twists and turns I never saw the ending coming!"
????? "A solid police procedure mystery."
????? "If you like true suspense, this is a book to read."
????? "Like watching an award-winning police drama in my mind."
????? "Intriguing, suspenseful, and full of surprises!"
????? "Well-written and researched on police procedures."
????? "It was very difficult to set this book aside to do something else."
????? "From the moment I began reading this book, I was hooked."
????? "The ending caught me by surprise."
Product dimensions:
328 pages, 9.21 X 6.14 X 0.88 in
Shipping dimensions:
328 pages, 9.21 X 6.14 X 0.88 in
Publisher:
Hibbert & Stiles Publishing Inc.
Appropriate for ages:
All ages