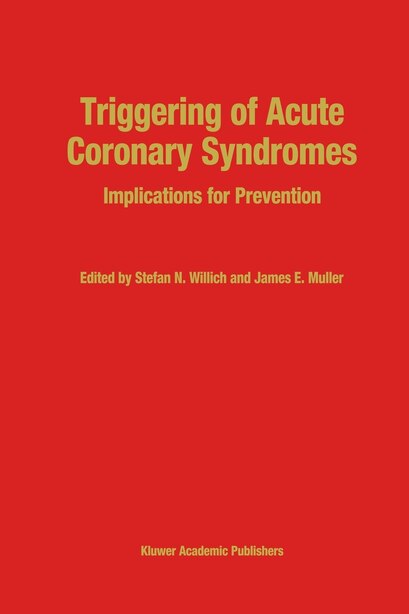 Triggering of Acute Coronary Syndromes: Implications for Prevention
Paperback

|

September 30, 2011
Pricing and Purchase Info
$344.95
Prices and offers may vary in store
Cardiovascular diseases account for about half of total mortality in industrialised societies. This figure has declined only slightly and in few countries over the past few decades, which is disturbing in view of our increasing insight into long-term risk factors of coronary heart disease and the dramatic improvement in the acute therapy of its manifestations. One important reason for this is the high fatality during the initial hours of a coronary event, i.e. before medical treatment can be provided. Approximately one quarter of all patients suffering an acute cardiac event die prior to admission to hospital.
As a result, the focus of current research has shifted from after-the-fact therapy to the triggering phase of acute coronary disease. Epidemiological observations of recent trends and newly identified determinants of coronary disease and the results of substantial pathophysiological studies of the conversion from chronic coronary disease to an acute event provide the basis for new hypotheses about the triggering mechanisms. The ultimate goal is to design more effective preventive strategies for these deadly diseases.
The present extensive summary of important scientific and clinical developments in the study of the triggering and prevention of coronary syndromes that have been seen over the last ten years contains the contributions of leading experts in the field. It presents a cooperative, balanced view derived from physicians and researchers in the U.S. and Europe.
Title:
Triggering of Acute Coronary Syndromes: Implications for Prevention
Format:
Paperback
Dimensions:
430 pages, 24 X 16 X 0 in
Published:
September 30, 2011
Publisher:
Springer Nature
Language:
English
The following ISBNs are associated with this title:
ISBN - 10:9401072051
ISBN - 13:9789401072052
Look for similar items by category:
Preview Your Review
Your Review Has Been Submitted
NO, I do not recommend this product.
Educational/Developmental Value:
Thank you. Your review has been submitted and will appear here shortly.
Table of Contents
Foreword; E. Braunwald. Introduction; S.N. Willich, J.E. Muller. Part one: Epidemiology. Magnitude of cardiovascular disease: impact and prevention in populations; D.E. Bild, L. Friedman. Secular trends and declining mortality rates from coronary heart disease in the United States; R.J. Goldberg. Circadian variation in the incidence of transient myocardial ischemia; D. Mulcahy, H. Purcell. Circadian variation in the onset of myocardial infarction and sudden cardiac death; J.E. Muller, S.N. Willich. Triggering of myocardial infarction by physical activity, emotional stress and sexual activity; M.A. Mittelman. Physical activity, time of awakening, and other possible triggers of sudden cardiac death; S.N. Willich, et al. Subacute psychobiological factors predisposing to triggering of coronary syndromes; S. Wassertheil-Smoller. Part two: Physiology. The genetic contribution to the onset of acute coronary heart disease; F. Cambien, et al. Hemostatic risk factors for cardiovascular disease; P.P. Jadhav, G.H. Tofler. The imbalance of coagulation and fibrinolysis in coronary heart disease and its known risk factors; K. Winther, et al. Mechanisms contributing to the abrupt conversion from stable to unstable angina and myocardial infarction; J.T. Willerson. Circadian fluctuation of fibrinolytic factors in blood. Investigation, importance and clinical consequences; F. Andreotti, A. Manzoli. The role of thrombosis in acute coronary heart disease; A. Fernández-Ortiz, V. Fuster. The role of coronary vasomotor tone in coronary artery disease; A.A. Quyyumi. Part three: Pathology. Models of the intracoronary pathogenesis of acute coronary heart disease; J.P. Liang, et al. Some thoughts on the causes ofcoronary thrombosis in atherosclerotic arteries and on the research necessary for their future exploration; P. Constantinides. Determinants of rupture of atherosclerotic coronary lesions; P.R. Moreno, et al. Part four: Prevention. Primary prevention of triggering of coronary heart disease; I.S. Ockene. Chronopharmacological aspects of coronary heart disease; B. Lemmer, K. Witte. Prehospital care of acute coronary heart disease; H.-R. Arntz, et al. Pharmacological and invasive therapy for acute myocardial infarction; R. Schröder. The role of electrophysiology and pharmacotherapy in prevention of factors triggering sudden cardiac death; R. Haberl, et al. Secondary prevention of myocardial infarction; the roles of &bgr;-adrenergic blockers, calcium-channel blockers, angiotensin converting enzyme inhibitors, and aspirin; W.H. Frishman. Gene therapy for the vulnerable atherosclerotic plaque; L.J. Feldman, J.M. Isner. Index.
Editorial Reviews
` ... concise and well written. References are up-to-date. ... can be recommended to all clinicians involved in the care of the acute coronary patient.''
Cardiologie, 3 (1996)