Twin voices: A Memoir of Polio, the Forgotten Killer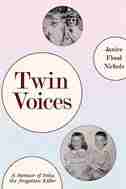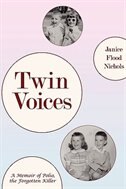 Prices and offers may vary in store
Today, more than fifty years after the Salk vaccine was declared safe and effective against polio, the virus remains an active killer and crippler in several Third World countriesa fact that most of us around the globe have forgotten. But Janice Flood Nichols will never forget. A childhood victim of the 1953 Dewitt, New York, polio epidemic, her personal and professional life have been profoundly shaped by her experience. Nichols lost her twin brother, Frankie, to the disease and suffered temporary paralysis, leading her to choose a career as a rehabilitation counselor. Despite setbacks, Nichols has never lost her optimism. In this heartwarming memoir, she offers an intimate account of her miraculous steps to healing, the simple ways she continues to celebrate her brother's short but joyous life, and her unwavering determination to help eradicate the virus from the world. "Twin Voices" provides a unique and timely glimpse into one of the twentieth century's most deadly diseases. Book Review: Twin Voices - A Memoir of Polio, the Forgotten Killer May 26, 2008 by Susan Heim For those of us born after the 1950s, we cannot imagine the terror that gripped families every summer as polio swept through their communities, killing and crippling hundreds and thousands of people, particularly children. For six-year-old Janice Flood, polio became an integral part of her family history. In 1953, her twin brother Frankie died of polio, and Jan was left temporarily crippled by the disease. Although she was fortunate to regain full movement after intensive therapy, she nearly lost her son during his birth due to her physical deformities brought on by polio, and Janice suffers today from many symptoms of post-polio syndrome. Worst of all, though, she will always mourn the loss of a twin brother who never reached his full potential. From the age of six, she would always be a "twinless twin." Thanks to the development of the Salk and Sabin vaccines, polio was nearly eradicated in most industrialized countries, but the disease continues to cripple and kill people in many third world countries where vaccines are scarce. Having experienced firsthand the devastation that can be inflicted by polio, Janice Flood Nichols knew she had to tell her story and push for further efforts to vaccinate all of the world's children. With that in mind, she wrote the moving book, "Twin Voices: A Memoir of Polio, the Forgotten Killer." Written through several "voices," including that of Janice, family members and friends, the doctor who cared for Janice and Frankie when they had polio, and even Frankie himself, "Twin Voices" is a fascinating read about the polio epidemic that swept the country, the frantic efforts to put a halt to its devastation, and the tragedy that befell the Flood family. This book brings home the fact that Frankie was a real little boy filled with a passion for life and all the joys that children experience. His family was, at first, shell-shocked following his death, but his twin sister Janice ultimately grew to find purpose in his passing through her work as a rehabilitation counselor for the physically disabled and her continued efforts to make sure that polio does not tragically alter the lives of more families like hers. It is also a haunting look at the "twin bond" that continues to connect Janice and her brother many years after their separation. Visit www.twinvoices.com for more information about "Twin Voices: A Memoir of Polio, the Forgotten Killer." I highly recommend this book."
Title:
Twin voices: A Memoir of Polio, the Forgotten Killer
Format:
Paperback
Product dimensions:
288 pages, 9 X 6 X 0.65 in
Shipping dimensions:
288 pages, 9 X 6 X 0.65 in
Published:
September 18, 2008
Publisher:
Iuniverse
Language:
English
The following ISBNs are associated with this title:
ISBN - 10:1605280305
ISBN - 13:9781605280301
Look for similar items by category:
Preview Your Review
Your Review Has Been Submitted
NO, I do not recommend this product.
Educational/Developmental Value:
Thank you. Your review has been submitted and will appear here shortly.