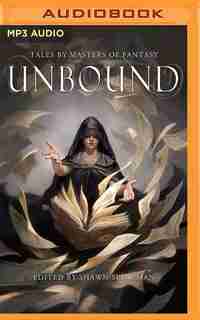 Find In Store
Prices and offers may vary in store
Not bound as a book. Free. Like Unfettered before it, the contributing writers of Unbound were allowed to submit the tales they wished fans of genre to hear - without the constraints of a shackling theme. The result is magical. Twenty-three all-original stories are sure to captivate you - some will move you to tears while others will keep you listening long into the night. The power of Unbound lies in its variety of tales and the voices behind them. If you are a fan of discovering new writers or hearing the works of beloved authors, Unbound is for you.
Return to Landover with Terry Brooks. Go to trial with Harry Dresden and Jim Butcher. Enter the Citadel, and become remade with Rachel Caine. Survive a plague with John Marco and his robot companion, Echo. Be painted among the stars by Mary Robinette Kowal. These tales and the others that comprise the anthology are bound only by how enchanting and enthralling they are.
Here is the lineup:
"Small Kindnesses" by Joe Abercrombie (Shev & Javre)
"An Unfortunate Influx of Filipians" by Terry Brooks (Landover)
"Mr. Island" by Kristen Britain
"Jury Duty" by Jim Butcher (Dresden Files)
"Madwalls "by Rachel Caine
"The Way into Oblivion" by Harry Connolly
"Uncharming" by Delilah Dawson
"All In a Night's Work" by David Anthony Durham
"Son of Crimea" by Jason M. Hough (Zero World)
"Dichotomy of Paradigms" by Mary Robinette Kowal
"A Good Name" by Mark Lawrence (Broken Empire)
"River and Echo" by John Marco
"Seven Tongues" by Tim Marquitz
"The Siege of Tilpur" by Brian McClellan (Powder Mage)
"Fiber" by Seanan McGuire
"Stories Are Gods" by Peter Orullian (Vault of Heaven)
"Heart's Desire" by Kat Richardson
"The Hall of the Diamond Queen" by Anthony Ryan (Raven's Shadow)
"The Dead's Revenant" by Shawn Speakman (Annwn Cycle)
"The Farmboy Prince" by Brian Staveley
"The Game" by Michael J. Sullivan
"The Ethical Heresy" by Sam Sykes
"The Rat" by Mazarkis Williams

Unbound is filled with spectacularly wonderful stories, each one as diverse as its creator. You will be changed upon finishing it. And that is the point.
Product dimensions:
6.75 X 5.25 X 0.68 in
Shipping dimensions:
6.75 X 5.25 X 0.68 in
Published:
January 3, 2017
Publisher:
Brilliance Audio
Appropriate for ages:
All ages