Understanding Psychology and Crime: Perspectives on Theory and Action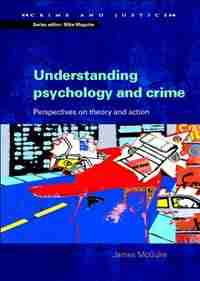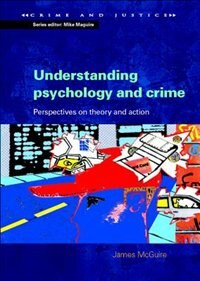 Find In Store
Prices and offers may vary in store
"This is an exceptional book that comprehensively covers the interface between psychology and criminology regarding an empirical understanding of crime. It is written in an engaging and accessible manner, nicely linking key themes in order to situate the contribution of psychology to theories of criminal behaviour, strategies for informed practice, and contemporary challenges. It should prove to be an incredible resource for students, but also be of interest to researchers and clinicians. I cannot recommend this text more heartily."
Dr Ralph Serin, Carleton University, Canada

"James McGuire is one of the leading international experts on what works in reducing reoffending, and he has written an extremely valuable and accessible textbook on psychology and crime. The book is a clearly written, well-researched and up-to-date survey of important contributions of psychology to key criminological issues. It is especially noteworthy for its illuminating reviews of cognitive-social learning theories, risk factors and longitudinal studies, risk assessment, cognitive-behavioural programmes and meta-analyses of treatment effectiveness."
Professor David Farrington, Institute of Criminology, University of Cambridge
What contributions can psychology make to our understanding of crime?
How can psychological models and research help to prevent crime and reduce repeat offending?
This highly readable book discusses the complex relationships between psychology, criminology and criminal justice. Challenging the assumptions of those who object to the use of psychology within criminology, this book shows how a methodical approach to the study of criminal behaviour can generate both systematic findings and practical solutions to problems.

McGuire argues for a broader understanding of crime, based on factors such as the individual's cognitive and emotional development, in addition to the influences of socialization, peer groups, and the social and economic environment. He highlights the value of understanding 'pathways' to offending behaviour, and the critical points at which choices are made. Topics include:
Theoretical and empirical research foundations of 'criminogenic risk factors'
Theory turned into practice – the development of offending behaviour programmes
A psychological perspective on some core concepts in criminology: retribution, deterrence and incapacitation
Major practical applications of psychology in policing, prosecution and sentencing
This authoritative and stimulating text is essential reading for students in criminology and psychology and for criminal justice practitioners and policy makers.
Title:
Understanding Psychology and Crime: Perspectives on Theory and Action
Product dimensions:
9.53 X 6.73 X 0.67 in
Shipping dimensions:
9.53 X 6.73 X 0.67 in
Published:
September 16, 2004
Publisher:
McGraw-Hill Education
Appropriate for ages:
All ages