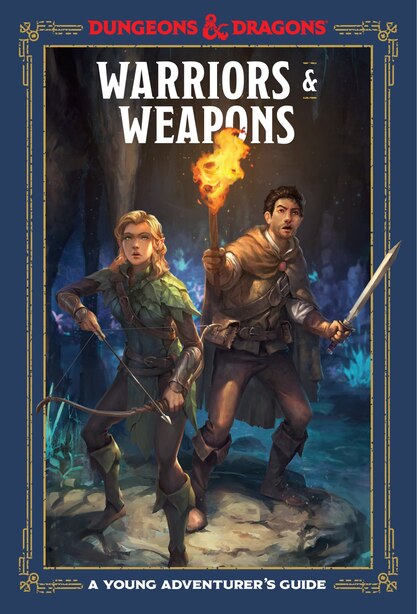 Warriors & Weapons (dungeons & Dragons): A Young Adventurer's Guide
Hardcover

|

July 16, 2019
Pricing and Purchase Info
$17.50
list price
save 10%
Prices and offers may vary in store
This introductory guide to DUNGEONS & DRAGONS is an illustrated primer to many of the characters you can play in D&D, along with their essential weapons and adventuring tools.

In this illustrated guide, you''re transported to the legendary and magical worlds of Dungeons & Dragons, where you are presented with one-of-a-kind entries for different types of warriors, as well as the weaponry these fighters need for D&D adventuring. This guide includes detailed illustrations of the weapons, armor, clothing, and other equipment that fighters use, and offers the tools young, aspiring adventurers need for learning how to build their own characters, including sample profiles, a flowchart to help you decide what type of warrior to be, and brainstorming challenges to start you thinking like an adventurer whether on your own or in the midst of an exciting quest with friends and fellow players.
Title:
Warriors & Weapons (dungeons & Dragons): A Young Adventurer's Guide
Format:
Hardcover
Product dimensions:
112 pages, 8.54 X 6.02 X 0.55 in
Shipping dimensions:
112 pages, 8.54 X 6.02 X 0.55 in
Published:
July 16, 2019
Publisher:
Potter/Ten Speed/Harmony/Rodale
Language:
English
The following ISBNs are associated with this title:
ISBN - 10:1984856421
ISBN - 13:9781984856425
Look for similar items by category:
Preview Your Review
Your Review Has Been Submitted
NO, I do not recommend this product.
Educational/Developmental Value:
Thank you. Your review has been submitted and will appear here shortly.
Read from the Book
INTRODUCTIONThis is a fantasy story. You are the main character. Who are you?What do you do? This book is a way to answer those two very important questions. It's a guide to the fascinating races that populate the world of Dungeons & Dragons and the combat-centered classes that define their role as adventurers. It gives you a wide range of options to choose from, along with armor, weapons, and other equipment to outfit your heroic persona. Read this book from start to finish, or open it to any spot, get pulled in by the exciting illustrations, and start brainstorming from there. The more you read, the more character ideas will spring from your imagination. Every character is unique. Even when two of them share the same race and class, the decisions they make will take them on an exclusive journey that is yours to tell. Dungeons & Dragons is all about building memorable characters, and the legends of your grand deeds are about to begin.FANTASY RACES Creating a new character involves understanding the traits they share with you and the traits they don't. Part of that comes from inside, their attitudes and personalities, but other parts are outward and physical because in this wondrous world of fantasy, you can be something other than human. By choosing a character's race, you gain a unique appearance and interesting abilities. Each of the twelve options presented here are filled with potential that you can unlock when you decide to make one of them yours and start to build your character's story.DWARF Do you value hard work and family? Do you sometimes hold a grudge? Are you always on the lookout for treasure? You might be a DWARF! AgeDwarves are recognized as adults by age twenty, but are still considered "young" until age fifty. They live to an average age of 350 years. SizeAdult dwarves stand four to five feet tall and weigh around 150 pounds. Stout and endlessly loyal, dwarves are a people who value tradition and the bonds of clan and family. They are short but strong as well as resilient due to a harsh life on the mountains, making them quite adept for their demanding work as miners. Dwarven culture is built around mining. Its rewards inform why dwarves have such a powerful appreciation for the splendor of gold and jewels (and the value of solid iron weapons), and its challenges explain why they form such tight-knit communities that are often hostile to possible rivals, most notably goblins and orcs. Dwarves can be stubborn and single-minded, which means feuds between rival clans can last for generations. Dwarves that bring their crafting skills to cities far from home will never forget where they come from. In fact, honoring a clan tradition or avenging an ancient wrong are common reasons for dwarves to head out on adventures, though they might also go exploring for the sake of personal glory, in service to one of their industrious gods, or simply for the chance to get more gold!Dwarvven FeudsDwarves have a strong sense of justice and deep loyalty to their clan traditions. A wrong done to one dwarf is considered a slight against the entire clan, which means one insult, if not apologized for quickly enough, can become a full-blown clan feud lasting for generations. Attributes Tough Physically robust, dwarves can take a lot of hits, and they have a natural resistance to poison. Handy Dwarves love to develop their expertise in certain crafts, whether it's forging weapons or cutting stone. They know the tools of their trade inside out. Strong Dwarves that live in tough terrain, like cold and rugged mountains, are particularly noted for their physical strength. Wise Dwarves that live in less hostile terrain tend to be highly perceptive. Away from the shelter of their mines, they've learned to keep their wits about them.
Editorial Reviews
"This book is creative idea fuel. . . . WotC and Ten Speed really hit it out of the park with these books"—Bleeding Cool  "As more and more new players find D&D, it's books like these that can help the game continue to grow by introducing younger players to the game."—Geek Dad  "This beautifully-illustrated publication (the first of several companions) is your one-stop shop for spotting and identifying the fauna of the D&D universe, from dragons to Demogorgons. . . . You probably shouldn''t venture into a storyline without it at your side."—SyfyWire   "No matter how old you are if you have ever had an interest in D&D these Young Adventurer's Guides are something you need to check out."—The NerdyGirl Express  "With all-new illustrations and explanations of Dungeons & Dragons's rules, character creation, monsters, and more for ages eight and up, there's never been a better time to bring your kids to the table."—Geek & Sundry    "They provide a useful starting point, with background on characters and creatures. The books are well-designed and easy to read; my son is now officially hooked."—The Film Stage    "However, if you're new or someone you know is new and possibly interested in playing, especially if they're a middle school or high school aged person, then this is a great way to get an easier to read version of the flavor text from the Player's Handbook."—Geek Tyrant