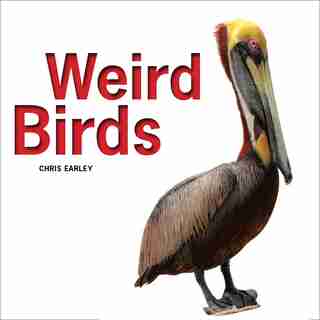 Find In Store
Prices and offers may vary in store
Praise for Weird Insects:
"A gallery of brilliantly clear, color photos gives intimate, close-up looks at just 59 of the millions of insects crawling, flying, scurrying, and burrowing on our planet, but Worek''s choices open up a visual treasure house of the class Insecta. From metallic armored beetles to lacy-winged flies to spiny caterpillars, the pictures glow on the crisp white pages... This is not a book for in-depth research, but for the curious of mind and those with an understanding of biological diversity and evolutionary differentiation, it''s a visual feast and -- oh my -- those pictures!" -- School Library Journal
Some birds look bizarre. Some behave that way. In almost all cases, their appearance has an important function -- in evolution or every day. This colorful book exposes more than 50 strange birds, preening, stretching, and showing their strange bodily adaptations.
Weird Birds features:
Beautiful photographs that show the birds in sharp, clear detail
Informative captions that provide fascinating details about the lives of these intriguing creatures.
Available in hardcover and paperback, the book will appeal to middle school students exploring topic ideas, younger students interested in wildlife and advanced readers who enjoy picture books.
Product dimensions:
64 pages, 9 X 9 X 0.25 in
Shipping dimensions:
64 pages, 9 X 9 X 0.25 in
Published:
September 11, 2014