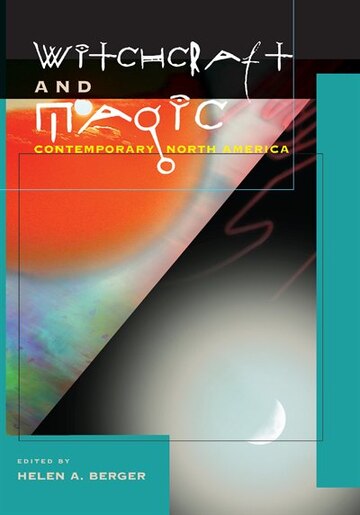 Witchcraft and Magic: Contemporary North America
Paperback

|

September 25, 2006
Pricing and Purchase Info
$32.99
list price
save 36%
Prices and offers may vary in store
Magic, always part of the occult underground in North America, has experienced a resurgence since the 1960s. Although most contemporary magical religions have come from abroad, they have found fertile ground in which to develop in North America. Who are today''s believers in Witchcraft and how do they worship? Alternative spiritual paths have increased the ranks of followers dramatically, particularly among well-educated middle-class individuals. Witchcraft and Magic conveys the richness of magical religious experiences found in today''s culture, covering the continent of North America and the Caribbean.
These original essays survey current and historical issues pertinent to religions that incorporate magical or occult beliefs and practices, and they examine contemporary responses to these religions. The relationship between Witchcraft and Neopaganism is explored, as is their intersection with established groups practicing goddess worship. Recent years have seen the growth in New Age magic and Afro-Caribbean religions, and these developments are also addressed in this volume.
All the religions covered offer adherents an alternative worldview and rituals that are aimed at helping individuals redefine themselves and make their interactions with the environment more empowered. Many modern occult religions share an absence of dogma or central authority to determine orthodoxy, and have become a contemporary experience embracing modern concerns like feminism, environmentalism, civil rights, and gay rights. Afro-Caribbean religions such as Santería, Palo, and Curanderismo, which do have a more developed dogma and authority structure, offer their followers a religion steeped in African and Hispanic traditions. Responses to the growth of magical religions have varied, from acceptance to an unfounded concern about the growth of a satanic underground. And, as magical religions have flourished, increased interest has resulted in a growing commercialization, with its threat of trivialization.
Title:
Witchcraft and Magic: Contemporary North America
Format:
Paperback
Product dimensions:
216 pages, 9 X 6 X 0.56 in
Shipping dimensions:
216 pages, 9 X 6 X 0.56 in
Published:
September 25, 2006
Publisher:
University of Pennsylvania Press, Inc.
Language:
English
The following ISBNs are associated with this title:
ISBN - 10:0812219716
ISBN - 13:9780812219715
Look for similar items by category:
Preview Your Review
Your Review Has Been Submitted
NO, I do not recommend this product.
Educational/Developmental Value:
Thank you. Your review has been submitted and will appear here shortly.
Read from the Book
IntroductionHelen A. BergerMagic, always part of the occult underground in North America, has experienced a resurgence since the 1960s. Religions such as Witchcraft, Neopaganism, Goddess Worship, the New Age, and Yoruba (also known as Santería), which incorporate magic or mystical beliefs, have gained adherents, particularly among well-educated middle-class individuals. Some of these religions, such as Witchcraft and Neopaganism, openly embrace magic. Others, most notably Yoruba, do not define their practices as magical, although outsiders have viewed the religion as incorporating and using magic. For example, healing within the Yoruba tradition involves both herbal remedies and divination to determine and address the underlying spiritual cause of the illness.Magic and religion have traditionally been conceptualized as two separate entities (Malinowski 1954; Durkheim 1965). Religion is viewed as more complex than magic, involving the worship of and prayer to the divine, who can choose either to answer or deny those prayers. Magic, to the contrary, has been perceived as a series of techniques to control or manipulate the spirit world. The distinction is flawed, as magic neither in traditional societies nor in contemporary magical religions is solely a matter of manipulation. Shamans in traditional societies have always practiced their techniques within a larger spiritual framework. Similarly, contemporary magical religions define their practices within a religious or spiritual cosmology, not separate from it. There are some exceptions to this. Most notably, some non-Native American Shamans and some branches of the New Age believe their techniques can be separated from a larger spiritual cosmology. For these groups, magical techniques form an alternative technology that relies on tapping into natural sources that have been overlooked by science. The distinction between magic and religion is further blurred by the fact that mainline religions often have magical components—such as the belief in miracles or angels. For magical religions, the interweaving of magic and religion is stronger than it is in more mainline religions. Most of the religions discussed in this volume openly embrace magic as an important element of their spiritual path that empowers the individual and puts him or her in touch with the forces of nature and/or the divine.The terms magic and occult are often used interchangeably by contemporary practitioners of magical religions. Magic has traditionally been seen as distinct from the occult, which literally means "hidden knowledge." The occult defines a series of beliefs and practices that are outside standard scientific reasoning. The purpose of occult practices, like magic, is to influence the normal course of events through nonordinary means. Occultists, however, view their practice as either the forerunners of new scientific paradigms or as consistent with present scientific theory but misunderstood or overlooked by traditional scientists. Books such as The Tao of Physics (Capra 1984) help to justify the view that today''s occult or magical practices can ultimately be explained by the new physics.Contemporary magical religions, which developed and grew in the second half of the twentieth century, initially seemed to be an enigma as they came on the heels of a period in which science appeared to be replacing religion, at least among the educated. In most instances contemporary magical religions have come from abroad, but they have found fertile ground in which to develop in North America. Witchcraft traveled to the United States from the United Kingdom in the 1960s and attracted men and women who were influenced by the counterculture. Once on American soil, the antiauthoritarianism, environmentalism, and feminism that were part of the social movements of that era transformed the religion, which spread quickly across the United States and into Canada. As there is no central authority in Witchcraft that determines orthodoxy or even membership, a number of sects have developed directly or indirectly from Witchcraft that now fall under the umbrella of Neopaganism. Some of these forms of Neopaganism differ only subtly from Witchcraft. Others, such as Odinism and Druidism are distinct forms that have their own history. Possibly the most important sect is feminist Witchcraft—or women-only groups that venerate the goddess or goddesses to the exclusion of gods (Eller 1993).The emphasis on the Goddess in her three aspects—maid, mother, and crone—as a symbol of women''s empowerment in feminist Witchcraft has subsequently influenced the larger Witchcraft and Neopagan movement to, on the whole, become more openly feminist. Witchcraft, because of the veneration of the Goddess, as well as the god force was always attractive to women. Feminist Witchcraft, however, radicalized this image and made groups that are inclusive of women and men think about inherent sexism and heterosexism in their practices and rituals. Feminist Witchcraft has also influenced the larger women''s spirituality movement, which is a diverse group incorporating those who explore goddess images as the main part of the spiritual quest and those who incorporate it into more mainline religions. In some instances, the women''s spirituality movement has fought for and won more inclusive God language, female images of the divine, and greater inclusion of women in leadership roles in mainline churches and synagogues. At other times, divisions have developed in religious organizations because of women''s quest for the inclusion of goddess imagery and language in rituals and liturgy.Although movements in their own right. New Age spirituality and "urban" shamans—that is, non-Native Americans who define themselves as Shamans—are influenced by the Witchcraft movement as well as by Native American spirituality. Interest in Native American spiritual traditions has blossomed in the past thirty years and has resulted in the growth of a pan-American concept of Native American spirituality, which focuses on the similarities and ignores the differences among Native American peoples. A division has developed among Native Americans between those who teach their religious and magical wisdom to outsiders and those who view the practice as a form of cultural imperialism. While the debates continue among Native Americans and those who are sympathetic to their cause, religious synchrony remains unabated (Rose 1992).The New Age tends to be a catchall for those people who practice a series of techniques taken from Native Americans, Eastern philosophies, and the Western occult tradition that are aimed at enhancing the individual''s consciousness. Many of the same techniques that are practiced by members of the New Age, such as astral projection, meditation, sending healing energy, are also practiced by Witches, Neopagans, and Shamans. Although there are important overlaps, there are, nonetheless, differences among these groups. The most important difference lies in how each group defines its activities. For most Neopagans and Witches, the focus of their practices is on the celebration of nature. Magic is viewed as part of that celebration and as a form of self-empowerment. Non-Native American Shamans are more concerned with techniques of power and control, and less with the larger spiritual system from which these techniques are taken. The New Age is in some ways the most diverse group. Some members are minimally involved; others view their practices as part of a larger spiritual path and lifestyle.The New Age, Witchcraft, Neopaganism, Non-Native American Shamanism, and women''s spirituality have mostly attracted white middle-class individuals. Afro-Caribbean religions, such as Yoruba, Palo, Curanderismo, and Voodoo, have primarily attracted immigrants from the Caribbean and African Americans. Yoruba in particular is appealing to African Americans in search of a spiritual expression that has its roots in Africa. Yoruba came to North America from the Caribbean. The religion, which was developed by slaves, combines elements of West African spiritual traditions and Catholicism. Tensions have developed in the United States between African American and Latino/Latina, practitioners each of whom focuses on a different aspect of the religion''s history—emphasizing respectively the religion''s African or Hispanic background.All magical religions that have come to North America have been modified—sometimes in subtle, but sometimes in more dramatic ways—by their emigration. This is true as well for Afro-Caribbean religion. These religions in some instances have greater interaction with one another in North America than they did in their countries of origin. Practitioners of many different forms of Afro-Caribbean religion, as well as Witches, Neopagans, non-Native American Shamans, often shop at the same botánicas for herbs, candles, and other ritual materials, resulting in individuals learning about and at time incorporating elements of others'' religious practice. Neopagans have attempted to engage in a dialogue and integration with Afro-Caribbean religions. Some Neopagans have studied with Afro-Caribbean spiritual teachers, and members of Afro-Caribbean religions have been invited to participate on Neopagan panels and in Neopagan study groups. However, the two traditions continue to be largely separate.Satanism and Neo-NazisThe terms witchcraft, magic, and occult are loaded words that for many conjure a set of images derived largely from popular culture. Witchcraft has traditionally been associated with evil. Contemporary Witches and practitioners of the New Age, Yoruba, and Voodoo have all been accused at some point of being Satanists or in league with the devil. All of these groups note that they are not Satanists. The Church of Satan in California, however, does take the label Satanist. Members of this group participate in magical acts and curses, but not in the worship of the devil, whom they see as within, not without. Their practices are largely an inversion of Christianity and a celebration of self-interest. For example, they celebrate the seven deadly sins as virtues and extol an extreme form of individualism. Although the group has received attention for its open avowal of Satanism, it does not advocate or participate in ritual murders, stealing, or any other illegal acts. The group is mostly of interest because it accepts the label of Satanist, a label rejected by most other groups (Moody 1974).The belief in a satanic underground that participates in stealing babies, raping children, and murdering innocent people became widespread in the 1980s in the United States, Canada, and the United Kingdom. Although no longer taken as seriously, there continues to be outbreaks of communities worried about an organized satanic underground. The movement has been fueled by the religious right and one wing of radical feminism. The Federal Bureau of Investigation has concluded, after a thorough search for evidence of a satanic underground, that none exists. Nonetheless, the religious right, which believes that Lucifer''s influence can be seen in daily life, continues to argue that powerful satanic groups exist nationwide and are involved in immoral and illegal acts. The satanic scare is also fueled by some radical feminists who have been influenced by the recovered-memory movement in psychology. This movement contends that all so-called recovered memories of childhood sexual and physical abuse are literally true. Some women, with the help of specialists in recovered memory, have claimed that their parents, their parents'' friends, and prominent members of their community raped them in their childhood and murdered infants as part of satanic rituals. To date, no such case has been confirmed by evidence, such as records of missing babies or corpses in the areas where these women claim the rituals were performed. Some recovered-memory specialists have such a high proportion of clients who develop recovered memories that other psychologists have raised the concern that vulnerable individuals are being manipulated into creating memories. Nonetheless, throughout the United States and Canada, local police continue to receive reports of satanic groups (Victor 1993).Although there is no evidence for a satanic underground, and those who do claim to be Satanists embrace only self-centeredness and not evil, another group—Neo-Nazi Pagans—is more problematic, as they have incorporated Nazi racism into their religious practice. Neo-Nazi Neopagans are distinct from other Neopagan groups, which emphasize the celebration of diversity in nature and among people and which tend to be politically liberal (Berger et al. 2003). White male prisoners and other disenfranchised men populate Neo-Nazi Neopagan groups.Presently, although there are very few of these groups in North America (Kaplan 1996), they have gained the attention of the FBI which included them in their Megiddo report about potentially dangerous doomsday groups as the new millennium was arriving. The very existence of these groups raises questions for the Neopagan movement, which has traditionally avoided setting clear boundaries of who is and is not a member of the group. If Neo-Nazi Neopagans grow either in number or in notoriety, they may ultimately force the larger Neopagan movement to rethink their own openness as these right-wing groups may tarnish the image of the larger movement. This would be particularly irksome to those groups who have been working to have Witchcraft and Neopaganism recognized as a legitimate religion by participating in the World Parliament of Religions and other interfaith councils.Commercialization and GrowthAlthough it is almost impossible to prove, there is a sense among researchers that all forms of magical religion are becoming more popular. The lack of bureaucratic structure of many of these religions makes it impossible to know the number of participants they each have today and whether or not there were fewer in the past. Nonetheless, both participants and those researching these groups have noted an increasing interest in them. There is a growing number of books, movies, television shows, and news stories about Witchcraft and other magical religions. These are indications of both increased interest in these religions and a growing commercialization.The commercialization is most clearly seen in Salem, Massachusetts. Contemporary Salem has developed a tourist industry that capitalizes on the trials that occurred there in the seventeenth century. Salem calls itself "Witch City," and the local high school''s football team is named the Salem Witches. There are shops selling T-shirts, witch dolls, and magical potions. This commercialization is symbolic of the larger process of selling the mystique of witchcraft and magic that may be seen in popular movies and television shows, which have increased interest in the occult among some segments of the population. For example, tarot cards are available at Barnes and Noble and other mainstream bookstores, as are books on horoscopes, love magic, and reading runes. There is an increasing belief in paranormal events in the general population (Berger et al. 2003). But there has also been a backlash. The most recent example of this is the response of the religious right to the Harry Potter books. In some communities, particularly in the more religiously conservative areas of the United States, there has been an attempt to ban these popular children''s books from school and public libraries because they are viewed as presenting too positive a view of magic and witchcraft—even though the books do not advocate contemporary Witchcraft, Satanism, or evil. Magical religions, commercialization of magic, and a fear of magical religions have all been growing since the 1960s in North America.Contemporary Magical ReligionsThe growing interest in magical religions and the occult in the second half of the twentieth and early twenty-first centuries has many sources. The social movements of the late 1960s and 1970s resulted in the questioning of all authority, including that of science and traditional religions. Changes in employment have resulted in individuals repeatedly transforming themselves to fit into new communities, new jobs, and new careers. Magical religions, which tend to focus on self-transformation, provide rituals and a worldview for their adherents that make this process central. Furthermore, these new religions speak to the social and political concerns of the current generation (Beckford 1984, 1992). Religions that have come most immediately from the Caribbean but have African roots appeal to African Americans interested in reclaiming their African heritage. For women, all forms of goddess worship provide a feminist form of spirituality, which creates empowering metaphors and images. All of these religions call for a renegotiation of our relationship with nature, in which people come to view nature as sacred. Contemporary magical religions, are bringing into question Weber''s prediction that rationalization and bureaucratization would result in the disenchantment of the world. For practitioners of magical religions the world is enchanted, the earth is alive, and magic is real. These magical religions look to the past for inspiration, but their practices and beliefs are clearly shaped by contemporary concerns and worldviews.There are variations among contemporary magical religions. Those of Afro-Caribbean origin differentiate themselves to the greatest degree from the other religions that are discussed in this volume. Like the other religions, Afro-Caribbean religions view the world as enchanted and venerate multiple deities. The use of herbal healing and rituals to invoke power and to change the world are used by Afro-Caribbean religions, Neopagans, New Age practitioners, urban Shamans, and Goddess Worshipers alike. Within Afro-Caribbean religions, neophytes must be trained by elders in the community. Other forms of magical religions can be practiced alone or with others. A growing industry that supplies books and spiritual paraphernalia has developed that helps to create and maintain these solitary practitioners. The non-Afro-Caribbean magical religions emphasize individual religious expression. The way in which magic is practiced, the spirits worshiped, or nature celebrated is viewed as a matter of individual choice. Nonetheless, for all these religions, a community of practitioners exists that influences their practice and to which even solitary practitioners belong. This community may no longer be a face-to-face community but one that is realized on the Internet, through reading the same books, and by occasionally interacting at open rituals and other gatherings. Although these religions share some similarities with earlier movements, such as Theosophy and Spiritualism, they provide a religious form that is consistent with the social and cultural trends at the end of the twentieth and beginning of the twenty-first centuries.
Table of Contents
Introduction
—Helen A. Berger
New Age and Magic
—Michael York
Witchcraft and Neopaganism
—Helen A. Berger
Webs of Women: Feminist Spiritualities
—Wendy Griffin
Shamanism and Magic
—Michael York
Lucumí: the Second Diaspora
—Ysamur M Flores-Peña
Satanic Cults, Ritual Abuse, and Moral Panic: Deconstructing a Modern Witch-Hunt
—Stuart A. Wright
The Commodification of Witchcraft
—Tanice G. Foltz
Notes
Works Cited
List of Contributors
Index