Worship Resources For Special Sundays
Contribution by

Stan Purdum

,

Pamela J Abbey

,

Elaine M Ward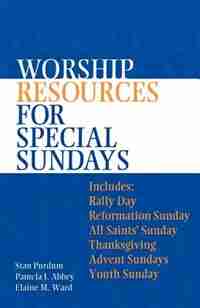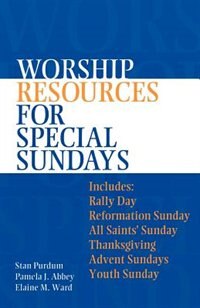 Find In Store
Prices and offers may vary in store
Here''s a practical collection of thoughtful material to help you celebrate several special occasions during the fall and winter months: Rally Day, Reformation Sunday, All Saints'' Day, Thanksgiving, Advent, and Youth Sunday. Included are:

• "The Saga Of Bobby Wildgoose," a service and sermon specifically tailored for the fall kick-off of Sunday school and commissioning of new Sunday school teachers. The message relates the inspirational story of the beginnings of the Sunday school movement, illustrating the difference that one person can make in the lives of young people.

• "Facing The 21st Century With A 16th Century Faith," a message and service for Reformation Sunday that examines what motivated Martin Luther in his disagreements with the established church and suggests that Luther''s ideas about the authority of the Bible, the priesthood of all believers, and justification by faith alone remain the durable bedrock of our Christian faith today.

• "Running With The Cloud," a stirring All Saints'' Day sermon and service reminding us that we who are living are only a small segment of the church universal, and noting that we can draw great strength from the lives of the "saints" who have gone before us.

• "A Solid Place To Stand," a Thanksgiving message and service that explores how the Bible''s promise of God''s presence with us gives us a firm foundation to base our lives on.

• "The Measure Of A Man," "A Heart Prepared," "Night Watch," and "Tidings," a set of four first-person monologue sermons for Advent that tell the old, old story with a twist. We see the birth of the Christ Child unfold through the eyes of Joseph, the innkeeper''s wife, a shepherd, and an angel. Key Advent themes such as watching, preparation, and righteous action are raised as each character struggles to make sense of extraordinary events.

• A Youth Sunday worship service with a charming children''s story honoring the presence and participation of the church''s young people. The service celebrates their fresh vision and courage in risking, praying, and creating the future.

Stan Purdum is the pastor of Centenary United Methodist Church in Waynesburg, Ohio. He is also the editor of the preaching journal Emphasis, and has written extensively for both the religious and secular press. Purdum is the author of Roll Around Heaven All Day and Playing In Traffic, both accounts of his long-distance bicycle journeys, as well as New Mercies I See (CSS), a collection of parish stories revealing God''s grace.

Pamela J. Abbey is a United Methodist minister whose early working years were spent in professional theater. She is currently the pastor of Concord United Methodist Church in Concord, California, and has previously served three other congregations in northern California. Abbey holds degrees in theater from the University of Indianapolis (BA) and the University of Minnesota (MA) as well as an MDiv degree from Pacific School of Religion in Berkeley, California.

Elaine M. Ward is a storyteller/writer/preacher who served for nearly twenty years as Minister of Children at University Park United Methodist Church in Dallas, Texas. She is a graduate of Capital University, Union Theological Seminary (New York City) and Lancaster Theological Seminary, where she was writer-in-residence for seven years. Now a resident of Austin, Texas, Ward is the author of Asking For Wonder, And The Sea Lay Down, Alleluia! and Story Time At The Altar (CSS), as well as Love In A Lunchbox: Poems And Parables For Children''s Worship (Abingdon).
Title:
Worship Resources For Special Sundays
Product dimensions:
76 pages, 8.5 X 5.5 X 0.16 in
Shipping dimensions:
76 pages, 8.5 X 5.5 X 0.16 in
Published:
January 1, 2003
Appropriate for ages:
All ages