Write to Influence!: Personnel Appraisals, Resumes, Awards, Grants, Scholarships, Internships, Reports, Bid Proposals, W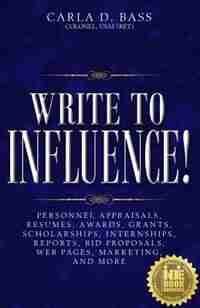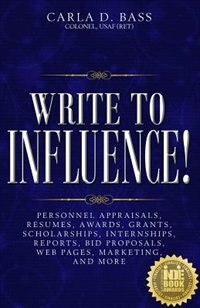 Find In Store
Prices and offers may vary in store
Write to Influence!
Personnel Appraisals, Resumes, Awards, Grants, Scholarships, Internships, Reports, Bid Proposals, Web Pages, Marketing, and More
Powerful writing can change your life!
You may be the best candidate for a competitive opportunity—hands down—but if the competition is better at telling a story, you lose. Powerful writing correlates directly to success, personal and professional.
Opportunity knocking? Choose Write to Influence! when powerful writing is paramount to your goals. With this book you will:
• Write to win—Make every word count and every second of the reader's time play to your advantage
• Achieve your goals through persuasive communication in legal and many other applications
• Write a resume that stands out … for the right reasons. Uncomfortable with self-promotion? No problem—twelve tips make job hunting less daunting
• Compose performance reviews—clear, powerful, compelling—for military and civilian writing
• Persuade the reader—Tips on strategic thinking will help you assemble hard-hitting facts to make your case
• Refine your presentation skills. Write and deliver a corporate speech?  Learn to give a spot-on power point briefing
• Maximize your internet promotion—leverage powerful words to do just that
• Craft professional email—polished, succinct, and effective communication
• Make the grade (pun intended) with academic essays for high school thru graduate school degrees, e.g., an MBA
• Improve business writing skills—Avoid the ten most common errors with this correspondence how-to guide
Attention employers! Write to Influence! is perfect for your employees! Have you read a paragraph in a report again and again … unable to understand it?  Bureaucratic, textual muck is time consuming, frustrating, counterproductive, and the bane of today's business products. 
Accurate, clear, and concise writing is the lifeblood for effective operations … in private business, corporations, NGOs, government agencies and the military, in particular. 
Early Reviews:
"Write to Influence! is a gem … Anyone interested in not just adequate but powerful, super-charged writing will appreciate this clear discussion of how to produce effective, attention-grabbing pieces in all kinds of business and real-world scenarios … where standout writing means the difference between success and failure." —D. Donovan, Senior Reviewer, Midwest Book Review
"Write to Influence! is an essential guide for anyone seeking to improve their writing skills and inform or influence others with the written word. I write daily and constantly seek ways to improve my writing skills. Write to Influence will be on my desk to help me on that journey." —Mark Amtower, Managing Partner, Amtower & Company
"This book should be in every professional's library. I heartily recommend Write to Influence!" —Baba Zipkin, Former Senior Counsel, IBM
Title:
Write to Influence!: Personnel Appraisals, Resumes, Awards, Grants, Scholarships, Internships, Reports, Bid Proposals, W
Product dimensions:
300 pages, 8.5 X 5.5 X 0.63 in
Shipping dimensions:
300 pages, 8.5 X 5.5 X 0.63 in
Published:
November 15, 2016
Publisher:
Price World Publishing
Appropriate for ages:
All ages