Wrong Place, Wrong Time: A Rafferty P.I. Mystery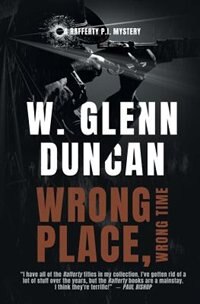 Buy In Store
Prices and offers may vary in store
Rafferty's Rule 19: When you can't tell the bad guys from the good guys, it's time to get the hell out.
It hurts to admit it, but Toby Wells played Rafferty like a bar-room fiddle, and Luis Ortega is dead. And while the cops know Rafferty didn't pull the trigger, that cold comfort won't stop him from looking for the sonofabitch who did.
Only problem is, he's a little occupied right now trying to get the neighborhood vandals to lay off Thorney, Honeybutt's recalcitrant great-uncle. Plus, Ortega's past offers no clues as to why someone wanted him dead, and besides, Wells is nowhere to be found.
Just when Rafferty thinks he's getting somewhere, the paint bombs on Thorney's porch escalate to rifle shots. It'd all make more sense if Rafferty could just work out who's behind the gun: Wells or someone else?
Now he's got to keep Thorney alive, and find the shooter, too.
Because whoever they are, they're still out there, still trigger-happy, and don't show any signs of stopping their murderous vendetta.
If you're a fan of Spenser, Mike Hammer or Matt Scudder, then this hardboiled pulp thriller, from Shamus Award Winner W. Glenn Duncan, will keep you reading late into the dark night.
WRONG PLACE, WRONG TIME is a hardboiled P.I. mystery in the tradition of the best pulp thrillers.
Rafferty's a Dallas P.I. and an ex-cop who spent enough time on the streets to understand how things work. And when they don't, Rafferty's the guy you'll want on your side. He may quote Latin occasionally, smoke too much and be a cynical sonofabitch, but when it all hits the fan and you need someone you can trust, you'll be glad you called Rafferty.
Originally published by Ballantine, this 30th Anniversary release of WRONG PLACE, WRONG TIME marks the first time that W. Glenn Duncan's work has been available in digital format. We doubt that Rafferty would quietly accept the ongoing march of technology that provides this opportunity, but even a grizzled P.I. has to grow up sometime.
This hardboiled PI series will continue with the first new Rafferty story in nearly three decades. FALSE GODS, written by W. Glenn Duncan Jr. (son of the original author) sees Rafferty looking for a missing girl, up to his ass in religious fundamentalists and needing all the help he can get from his old pals Cowboy and Mimi--and a few new ones--to make sure he gets out alive.
Join the Rafferty Readers' Group at RaffertyPI.com to get the latest news on the upcoming release of FALSE GODS.
Praise for W. Glenn Duncan:
"Sometimes it seemed W. Glenn Duncan's Texas P.I. Rafferty had a rule for everything, but the fact remains that most of them were a hoot. And, of course, a further irony is that "Rafferty's Rules" is, in fact, an Australian football term for "no rules at all." - Thrilling Detective Website
"I have all of the Rafferty titles in my collection." - Paul Bishop
"Duncan truly captured the pure essence of the definitive smart-ass private eye in his character Rafferty. Take part Sam Spade with a little Mike Hammer, mix in some Spenser and you have an awesome character." - Cliff Fausset
"At first sniff, it may smell like Spenser with a cowboy hat, but take a good whiff: W. Glenn Duncan's Dallas, Texas private eye RAFFERTY was actually a blast of fresh air in what was rapidly becoming a glut of sensitive, soul-searching, overly politically-correct cookie cutter P.I.s in the late eighties. Of course, it helps that Dallas ain't Boston." - Kevin Burton Smith
Title:
Wrong Place, Wrong Time: A Rafferty P.I. Mystery
Product dimensions:
284 pages, 8 X 5.25 X 0.64 in
Shipping dimensions:
284 pages, 8 X 5.25 X 0.64 in
Published:
November 10, 2017
Publisher:
d squared publishing
Appropriate for ages:
All ages