Bambino Plus Automatic Espresso Machine
Click twice to zoom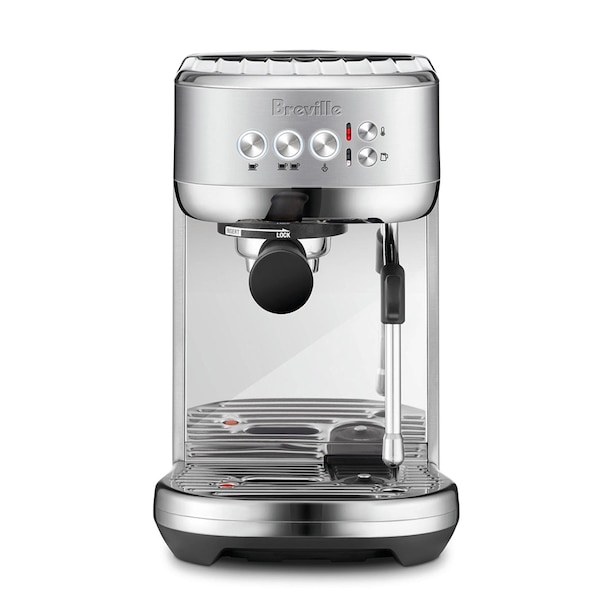 Find In Store
Prices and offers may vary in store
The Bambino Plus doesn't compromise on the 4 key elements of cafe quality coffee. Delivering barista quality performance using a 54mm portafilter with 19 grams for full flavour and automatic milk texturing. With a 3 second heat up time and precise espresso extraction, you go from bean to cup, faster than ever before. Just like your local cafe.
Model #: BES500
More Info
Automatic Microfoam Milk Texturing. The automatic steam wand allows you to adjust the milk temperature and texture to suit your taste. Delivering barista quality micro-foam that enhances the flavour of the coffee and is essential for creating latt art.
Faster heat up time. Innovative ThermoJet heating system achieves the optimum extraction temperature in 3 seconds. Ready to make your best coffee without the wait.
19 grams dose for full flavour. Achieve a consistent and balanced espresso using the right amount of ground coffee. The 54mm porta-filter with 19 grams is the key for full flavour and caf quality coffee.
Low pressure pre-infusion. Low pressure pre-infusion gradually increases pressure at the start and helps ensure all the flavours are drawn out evenly during the extraction for a balanced tasting cup.
Precise espresso extraction. Digital temperature control (PID) delivers water at precisely the right temperature, ensuring optimal espresso extraction.
Specifications
Included in the Box54 mm tamper, the Razor Precision Dosing Tool, 480ml stainless steel milk jug, 1 & 2 cup dual wall filter baskets, cleaning tool, cleaning discModel NumberBES500BSS1BCA1Milk OptionAutomatic or Manual Steam WandGrinderNoHeating SystemThermoJet Heating SystemWater Filter CompatibilityBreville Charcoal Water FilterWater Tank Capacity1.9 L (64 fl oz)Pump Pressure9 bar (15 bar Italian pump)User InterfaceButtonsBeverage VarietiesDouble & Single Espresso, Hot Milk, Hot WaterOther SettingsProgrammable shot volume, adjustable milk froth texture (3 levels), adjustable milk temperature (3 levels), steam buttonTemperature SettingsPID temperature control for optimal brewing temperature. Temperature 195ºC - 200ºCHeat Up Time3 secondsGrinder SettingsN/ACoffee Grinds Hopper CapacityN/ACoffee Grounds Container CapacityN/ACoffee Powder OptionN/AE.S.E. Pod CompatibilityNoDouble CupNoMilk Double CupNoRemovable Brew GroupNoRemovable Drip TrayYesCleaning RoutineDescale, flush processCertificationsN/AAuto OffNo, machine will go into stand-by modeDimensions19.5 cm W x 32 cm D x 31 cm HPower / Voltage1560 W / 120 VMaterialsStainless SteelCountry of OriginChina
Use & Care
For detailed care instructions, please refer to your machine's user manual. We recommend that you also incorporate the following into your cleaning routine:
Descale every 2-3 months. We recommend using Breville The Descaler.
Soap out water tank (if applicable) and drip tray every few days
Keep the stainless steel casing shiny with a microfiber cloth
Optional: Perform backflush routine and clean the filter basket each week
Warranty
2 year warranty from Breville.
For warranty questions & claims, call Breville at 1-855-683-3535 or visit the Breville Website for Breville Support.For faster service when you call, please have the following readily available: Provide the product model number (listed above) and the batch code (this is a 3 to 4 digit number). These numbers are usually located on the back or underside of the product, either on a sticker or an imprinted graphic.Have an original or a copy of the sales receipt.
Product name:
Bambino Plus Automatic Espresso Machine
Product dimensions:
12.598" H × 7.677" W × 11.811" L
Shipping dimensions:
16.535" H × 8.74" W × 15.748" L
Shipping weight:
15.212 lbs.
Appropriate for ages:
All ages