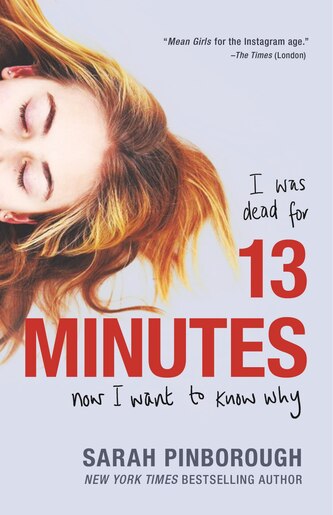 13 Minutes: A Novel
Couverture rigide

|

3 octobre 2017

|

anglais
Détails sur le prix et l'achat
24,99 $
Obtenez

125

points privilègeᴹᴰ
Les prix et les offres peuvent différer de ceux en magasin
"Mean Girls for the Instagram age." -The Times (London)
The New York Times bestselling author known for her thrilling twists is back:
They say you should keep your friends close and your enemies closer, but when you''re a teenage girl, it''s hard to tell them apart.
Natasha doesn''t remember how she ended up in the icy water that night, but she does know this-it wasn''t an accident, and she wasn''t suicidal. Her two closest friends are acting strangely, and Natasha turns to Becca, the best friend she dumped years before when she got popular, to help her figure out what happened.
Natasha''s sure that her friends love her. But does that mean they didn''t try to kill her?
13 Minutes is a psychological thriller with a killer twist from the #1 internationally bestselling author Sarah Pinborough.
Titre :
13 Minutes: A Novel
Format :
Couverture rigide
Dimensions de l'article :
352 pages, 8.41 X 5.74 X 1.23 po
Dimensions à l'expédition :
352 pages, 8.41 X 5.74 X 1.23 po
Publié le :
3 octobre 2017
Publié par :
Flatiron Books
Langue :
anglais
Les ISBN ci-dessous sont associés à ce titre :
ISBN - 10 :1250123852
ISBN - 13 :9781250123855
Recherche d'articles semblables, par catégorie :
prévisualiser votre critique
Votre critique a été soumise
NON, je ne recommande pas ce produit.
Valeur éducative/de développement :
Merci. Votre critique a été soumise et apparaîtra ici sous peu.
Critiques
"A psychological thriller perfect for fans of Gone Girl and The Girl on the Train. 13 Minutes takes a haunting look at the dark side of teenage friendships.Pinborough''s sharp prose drives the novel through a series of incredible twists and turns."-BookPage"Readers drawn to the kind of debauched chicanery made popular in novels such as Gillian Flynn''s Gone Girl will tear through this edgy thriller." -Booklist"Pinborough''s thrilling murder mystery is filled with twists and turns... But at its most basic level, this is a story of petty high school betrayals, popularity contests with toxic frenemies, and vividly depicted peer pressure, all of which combine to create a painfully real novel."-Publishers Weekly"13 Minutes is an undeniable page-turner, but don''t turn too quickly or you''ll risk missing Pinborough''s crackling language and nuanced depiction of the thrill-and terror-of adolescent friendships." -Tara Altebrando, author of The Leaving and The Possible"Darkly fascinating.Red herrings lead to a satisfying conclusion." -Kirkus"An intricately plotted, fast-paced crime story...Mean Girls meets Donna Tartt''s The Secret History for the Instagram age." -The Times (London)"Juicy and involving.Sociopathic and garden-variety mean girls, unreliable narration, sexy bits, over-the-top cruelty, and tragic consequences combine here to please many thriller readers."-The Bulletin of the Center for Children''s Books"Sophisticated and twisty enough to please adults of all ages." -The Irish Times"Masterfully crafted.The book''s evocation of the dark world of school, with all its petty betrayals, casual cruelties and toxic friendships, is painfully spot on." -The Telegraph"Perspective is everything in this clever tale." -Financial Times"An unsettling psychological thriller, the book plunges you into the frankly scary world of teenage girls." -Fabulous, Sun on Sunday"Many, many thrillers have been compared to Gillian Flynn''s 2012 bestseller Gone Girl, but Sarah Pinborough''s masterfully crafted YA novel 13 Minutes might be one of the few to actually merit the comparison. The book''s evocation of the dark world of school, with all its petty betrayals, casual cruelties and toxic friendships, is painfully spot on." -The Telegraph