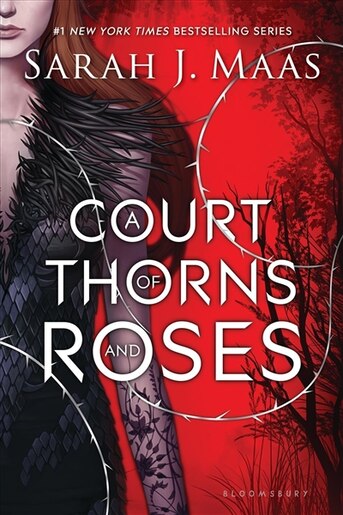 A Court Of Thorns And Roses
Couverture souple

|

3 mai 2016

|

anglais
Détails sur le prix et l'achat
15,99 $
Obtenez

80

points privilègeᴹᴰ
Les prix et les offres peuvent différer de ceux en magasin
THE INSTANT NEW YORK TIMES BESTSELLER

Perfect for fans of Kristin Cashore and George R.R. Martin, this first book in a sexy and action-packed new series is impossible to put down!
When nineteen-year-old huntress Feyre kills a wolf in the woods, a beast-like creature arrives to demand retribution for it. Dragged to a treacherous magical land she only knows about from legends, Feyre discovers that her captor is not an animal, but Tamlin--one of the lethal, immortal faeries who once ruled their world.
As she dwells on his estate, her feelings for Tamlin transform from icy hostility into a fiery passion that burns through every lie and warning she''s been told about the beautiful, dangerous world of the Fae. But an ancient, wicked shadow over the faerie lands is growing, and Feyre must find a way to stop it . . . or doom Tamlin--and his world--forever.
Titre :
A Court Of Thorns And Roses
Format :
Couverture souple
Dimensions de l'article :
448 pages, 8.15 X 5.65 X 1.19 po
Dimensions à l'expédition :
448 pages, 8.15 X 5.65 X 1.19 po
Publié le :
3 mai 2016
Publié par :
Bloomsbury USA
Langue :
anglais
Les ISBN ci-dessous sont associés à ce titre :
ISBN - 10 :1619635186
ISBN - 13 :9781619635180
Recherche d'articles semblables, par catégorie :
prévisualiser votre critique
Votre critique a été soumise
NON, je ne recommande pas ce produit.
Valeur éducative/de développement :
Merci. Votre critique a été soumise et apparaîtra ici sous peu.
Critiques
"A gorgeously written tale as lush and romantic as it is ferocious. Absolutely spellbinding." -Alexandra Bracken, NEW YORK TIMES bestselling author"Simply dazzles. . . . the clamor for a sequel will be deafening. . . . Maas'' Throne of Glass series has been a smash hit. . . this new series is primed to follow in its footsteps." -starred review, Booklist"Readers will find the author''s trademark blend of action, romance, and witty banter as well as a sexier, edgier tone. " -School Library Journal"Sarah J. Maas delivers what may be her best work to date. . . . Enchanting, spellbinding and imaginative. . . . The world-building is stellar, as only Maas can imagine it." -USA Today"Suspense, romance, intrigue and action. This is not a book to be missed!" -The Huffington Post"[T]he sexual tension and deadly action are well-supported by Maas'' expertly drawn, multidimensional characters and their nuanced interpersonal dynamics. . . . Sexy and romantic." -Kirkus Reviews"Elements from ''Beauty and the Beast,'' ''East o'' the Sun, West o'' the Moon,'' the myth of Persephone, and the legend of Tamlin are seamlessly interwoven with clever allusions." -BCCB"A dazzling world, complex characters and sizzling romance." -RT Book Reviews"A well-developed world. . . . [Feyre''s] grit and boundless loyalty demand that her foes--and readers--sit up and pay attention." -Publishers Weekly"I was afraid to put the book down!" - Tamora Pierce, NEW YORK TIMES bestselling author, on HEIR OF FIRE"The pages fly by." - Booklist on HEIR OF FIRE"Will leave readers ravenous for more." - Kirkus Reviews on HEIR OF FIRE"Readers will devour Maas''s latest entry . . . A must-purchase." - School Library Journal on HEIR OF FIRE"An epic fantasy readers will immerse themselves in and never want to leave. - starred review, Kirkus Reviews on CROWN OF MIDNIGHT"Series fans . . . will be thrilled by the prospect of deepening adventures in the next volume." - Booklist on CROWN OF MIDNIGHT"A thrilling read." - starred review, Publishers Weekly on THRONE OF GLASS"A must-read for lovers of epic fantasy and fairy tales." - USA Today Happy Ever After on THRONE OF GLASS"Fans of Tamora Pierce and George R.R. Martin, pick up this book!" - RT Book Reviews on THRONE OF GLASS