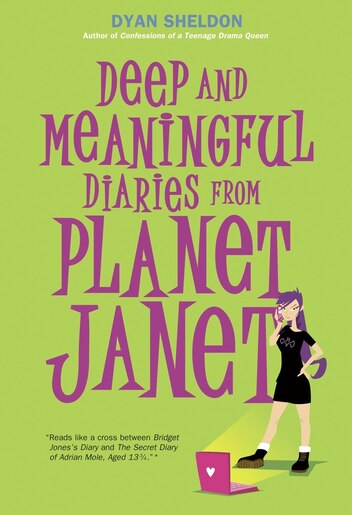 Deep And Meaningful Diaries From Planet Janet
Couverture souple

|

23 janvier 2007

|

anglais
Détails sur le prix et l'achat
12,50 $
Obtenez

63

points privilègeᴹᴰ
Les prix et les offres peuvent différer de ceux en magasin
From Dyan Sheldon, author of the best-selling CONFESSIONS OF A TEENAGE DRAMA QUEEN, two hilarious diaries in one satisfying volume!

"The fast-paced, clever writing will keep teens eagerly reading and sharing passages with each other to the end." — BOOKLIST

"Funny dialogue and a wacky setting, while still delivering a smart story." — KIRKUS REVIEWS
Titre :
Deep And Meaningful Diaries From Planet Janet
Format :
Couverture souple
Dimensions de l'article :
464 pages, 8 X 5.5 X 1.18 po
Dimensions à l'expédition :
464 pages, 8 X 5.5 X 1.18 po
Publié le :
23 janvier 2007
Publié par :
Candlewick Press
Langue :
anglais
Les ISBN ci-dessous sont associés à ce titre :
ISBN - 10 :0763632163
ISBN - 13 :9780763632168
Recherche d'articles semblables, par catégorie :
prévisualiser votre critique
Votre critique a été soumise
NON, je ne recommande pas ce produit.
Valeur éducative/de développement :
Merci. Votre critique a été soumise et apparaîtra ici sous peu.
Extrait du livre
THURSDAY 21 DECEMBERTalk about self-centered! Me! Me! Me! Me! ME! That''s all anybody in this house cares about. I was trying to have a normal conversation over supper (the way people do in films, etc.), not some Great Intellectual Discussion (I know my family''s limits, believe me), when I realized that no one was listening to me. I stopped dead right in the middle of explaining about what happened at lunch (which was v dramatic and emotionally stressful), and no one so much as glanced my way. Sigmund (my male parent) was messing around with his electronic organizer, as per usual, and the Mad Cow (my female parent) was staring at him with her eyes squinted like she was trying to work out whether or not he was going to blow us all up. Also as per usual, my parents'' OTHER child was reading some book like the rude, antisocial boil that he is. (Tomato sauce was dripping down his chin in a particularly revolting way. You''d think at his age he''d at least be housetrained.) Anyway, I just sat there watching them for a few seconds. They were chomping away like lions round a dead zebra, oblivious to anyone but themselves (for a change, right?!!). And it suddenly hit me not just how Spiritually Alone I am, but how easy it would be for me just to GIVE UP and become like them: shallow . . . superficial . . . more boring than asphalt. I recovered from this DEVASTATING realization and asked them very sweetly if they were aware of the fact that I was trying to have a conversation. I''d''ve got more of a personal response if I''d farted. Still staring at Sigmund, the Mad Cow asked him did this mean he was going out again tonight and, still staring at his organizer, Sigmund said he was just checking his schedule, and was that a crime now or something? I could tell that they were about to start another fight, which is pretty much the only thing they do together lately. If you ask me, it''s just as well Sigmund''s hardly ever home, or the flat would be like war-torn Beirut or one of those places. So, for the sake of Peace, I cleared my throat and tried again. "Hello? Hello?" I shouted. "Is anybody there?" Which was when Justin suddenly looked up and made his one joke about Planet Janet trying to communicate with Earth. That, of course, caught the parents'' attention. The three of them laughed like a pack of demented hyenas. . . . So that''s why I decided it''s definitely time to start the Dark Phase. Disha (My v Best Friend in the Universe and Forever) and I have been talking about it since September. I REALLY don''t want to end up having a trivial life like everyone else, especially everyone I''m related to. I want to LIVE, not just exist. I mean, life isn''t about what''s on telly or who left the toilet seat up, is it? It''s full of ANGST (meaning suffering and deep emotions) and PASSION. I want to be in touch with the REAL stuff. The DEEP pain and joy. The TRUE Essence and Substance. I have a Questing, Artistic Soul, and if I don''t get away from all this mundane crap, it will wither and die like a flower in the desert. . . .FRIDAY 22 DECEMBER. . . Went round to Disha''s after school to discuss the Dark Phase. Disha agrees that since we both turn seventeen next year (D''s Libra and I''m Scorpio), it''s an excruciatingly important time for us and if we''re ever going to REALLY LIVE and not just go through the motions like our parents, we''d better start preparing for it now. Also we''re both very Creative and Artistic, and it''s the Great Artists and Writers who have always known how to suffer. If they''re not killing themselves or hacking off body parts, then they''re full of DOOM AND GLOOM and muttering about how awful everything is (Disha says she reckons Shakespeare was always in a Dark Phase). We owe it to ourselves to explore the Deep End of the Pool of Life. D and I decided the Dark Phase will begin on the Stroke of Midnight on New Year''s Eve. We''re going to be intense, serious, intellectually and spiritually curious and adventurous, and spend a lot of time nurturing our Souls. To do this we''re going to read poetry and great literature, really get into art and serious films, and wear mainly black clothes and makeup so everyone will know how deeply we experience things, etc. I''m v glad I changed my mind about chucking this diary. The Dark Phase and all its revelations, understandings, and epiphanies MUST be recorded!!!The Mad Cow and Sigmund were arguing again at supper. (If things go on like this much longer, I''m going to demand combat pay.) The MC was all wound up because when Sigmund said he''d take her Christmas shopping tonight she didn''t think he was going to bring along half of the single parents group he runs as well (this, of course, was a GROSS exaggeration on the MC''s part; it was only Mrs. Kennedy). Anyway, when they broke for air, I took the opportunity to make my announcement re the Dark Phase. It really is the season of miracles, because for once (to my utter amazement) they were all listening. Sigmund said, "Does this mean you''re leaving Earth''s orbit for good?" The Mad Cow said I could forget getting any money from HER for a new wardrobe (as if!), and Justin, keeping to his policy of being as difficult and bloody-minded as possible, said that it wasn''t the Great Artists and Writers who understood suffering; it was the poor sods nobody''d ever heard of. CAN YOU BELIEVE IT? My brother the philistine Neanderthal. Justin said that if I wanted to get in touch with the deepest levels of human angst I should try living on the streets! I didn''t even stay for pudding after that. I went straight to my room. Obviously I''m starting the Dark Phase not a moment too soon!!!PLANET JANET by Dyan Sheldon. Copyright (c) 2003 by Dyan Sheldon. Published by Candlewick Press, Inc., Cambridge, MA.