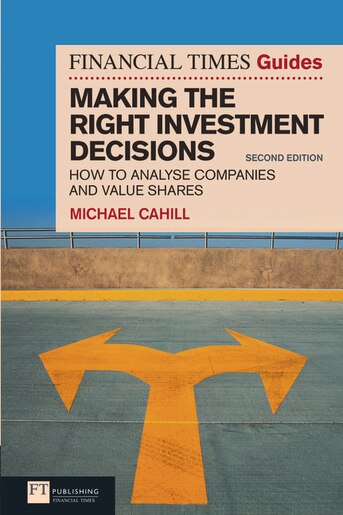 Financial Times Guide To Making The Right Investment Decisions: How To Analyse Companies And Value Shares
Couverture souple

|

11 mars 2010

|

anglais
Détails sur le prix et l'achat
54,99 $
prix courant
rabais 39 %
Obtenez

167

points privilègeᴹᴰ
Les prix et les offres peuvent différer de ceux en magasin
Do you want to feel more confident about your investment decisions?
Do you need to have a better understanding of how the stock markets value a business?
Do you want to know what the key ratios are that drive share price performance?
The Financial Times Guide to Making the Right Investment Decisions is the insider's guide to how the market examines companies and values shares. It helps you understand the factors that drive long term wealth creation as well as highlighting the key risks that lead to value being destroyed.
Originally published as Analysing Companies and Valuing Shares, this new edition has been fully revised and includes a new and easy to follow framework for understanding valuation. Perfect for investors at all levels, it guides you through the investment maze, and highlights the key issues you need to consider to invest successfully.
The Financial Times Guide to Making the Right Investment Decisions:
· Gives you an easy to follow framework to guide your decision-making
· Explains clearly and concisely key financial concepts and how they drive valuation
· Shows you the key ratios to monitor and how they affect share prices
· Illustrates the key risks and warning signals that will help you avoid losses
· Identifies the qualities of company management and governance that differentiates winners from losers
· Brings the issues and numbers to life with real examples and case studies
In a challenging economic and stock market environment, the need to take better informed decisions is vital. This clear, common sense guide provides a comprehensive and accessible framework for understanding the valuation of a business and what drives its share price. Knowing the key numbers, ratios and techniques that professional investors use will help you to reduce your risk and invest more profitably.
Titre :
Financial Times Guide To Making The Right Investment Decisions: How To Analyse Companies And Value ...
Format :
Couverture souple
Dimensions de l'article :
372 pages, 9.1 X 6.1 X 1.1 po
Dimensions à l'expédition :
372 pages, 9.1 X 6.1 X 1.1 po
Publié le :
11 mars 2010
Publié par :
Pearson Education
Langue :
anglais
Les ISBN ci-dessous sont associés à ce titre :
ISBN - 10 :0273729845
ISBN - 13 :9780273729846
Recherche d'articles semblables, par catégorie :
prévisualiser votre critique
Votre critique a été soumise
NON, je ne recommande pas ce produit.
Valeur éducative/de développement :
Merci. Votre critique a été soumise et apparaîtra ici sous peu.
Table des matières
Introduction
1 The Valuation Villa
2 Sector and Market background
3 Management and Strategy
4 Performance and Returns
5 Financial Position
6 The Outlook
7 Absolute Valuation – Discounted Cash flow (DCF)
8 Relative Valuation
9 The Investment Decision – buy or sell?
Glossary
Index
Critiques
''An excellent guide to the practical analysis of the value and risks of companies. Very well written and easy to comprehend whilst not avoiding real-life difficulties - the best book on company analysis and valuation I've read.'' Jon Moulton, Chairman, Better Capital ''Excellent. A comprehensive and insightful view of the world of stock market investment. Fully deserves to become the investors'' vade mecum.'' David Webster, Chairman, InterContinental Hotels Group ''Impressive. Value consists of inherent qualities but also what the market makes of those qualities. Michael Cahill's book successfully describes how professionals value companies, how the market works and the issues investors must consider to reach a decision.'' Sir John Egan, Chairman, Severn Trent