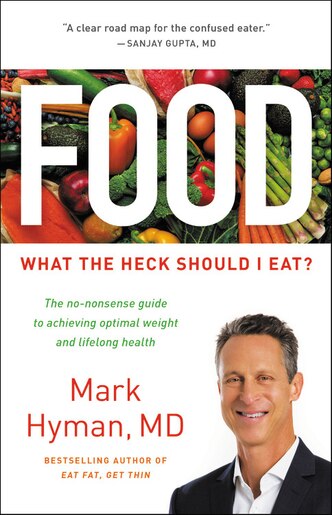 Food: What The Heck Should I Eat?
Couverture rigide

|

27 février 2018

|

anglais
Détails sur le prix et l'achat
36,50 $
Obtenez

183

points privilègeᴹᴰ
Les prix et les offres peuvent différer de ceux en magasin
#1 New York Times bestselling author Dr. Mark Hyman sorts through the conflicting research on food to give us the skinny on what to eat.

Did you know that eating oatmeal actually isn''t a healthy way to start the day? That milk doesn''t build bones, and eggs aren''t the devil?

Even the most health conscious among us have a hard time figuring out what to eat in order to lose weight, stay fit, and improve our health. And who can blame us? When it comes to diet, there''s so much changing and conflicting information flying around that it''s impossible to know where to look for sound advice. And decades of misguided "common sense," food-industry lobbying, bad science, and corrupt food polices and guidelines have only deepened our crisis of nutritional confusion, leaving us overwhelmed and anxious when we head to the grocery store.

Thankfully, bestselling author Dr. Mark Hyman is here to set the record straight. In Food: What the Heck Should I Eat? -- his most comprehensive book yet -- he takes a close look at every food group and explains what we''ve gotten wrong, revealing which foods nurture our health and which pose a threat. From grains to legumes, meat to dairy, fats to artificial sweeteners, and beyond, Dr. Hyman debunks misconceptions and breaks down the fascinating science in his signature accessible style. He also explains food''s role as powerful medicine capable of reversing chronic disease and shows how our food system and policies impact the environment, the economy, social justice, and personal health, painting a holistic picture of growing, cooking, and eating food in ways that nourish our bodies and the earth while creating a healthy society.

With myth-busting insights, easy-to-understand science, and delicious, wholesome recipes, Food: What the Heck Should I Eat? is a no-nonsense guide to achieving optimal weight and lifelong health.


Titre :
Food: What The Heck Should I Eat?
Format :
Couverture rigide
Dimensions de l'article :
400 pages, 9.55 X 6.4 X 1.55 po
Dimensions à l'expédition :
400 pages, 9.55 X 6.4 X 1.55 po
Publié le :
27 février 2018
Publié par :
Little, Brown And Company
Langue :
anglais
Les ISBN ci-dessous sont associés à ce titre :
ISBN - 10 :0316338869
ISBN - 13 :9780316338868
Recherche d'articles semblables, par catégorie :
prévisualiser votre critique
Votre critique a été soumise
NON, je ne recommande pas ce produit.
Valeur éducative/de développement :
Merci. Votre critique a été soumise et apparaîtra ici sous peu.
Critiques
"In Eat Fat, Get Thin, Dr. Hyman explains how we got into our current dietary disaster zone, and delivers his own potent and practical prescription that can make a world of difference. For many people, this book could be a life-saver."-Ocean Robbins, CEO, The Food Revolution Network