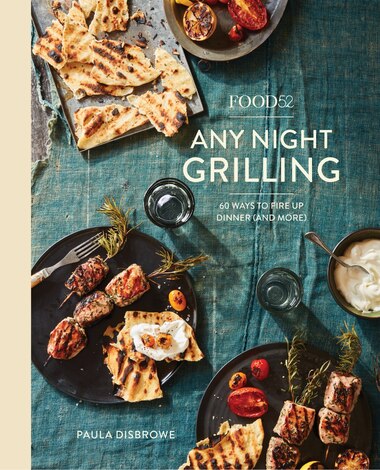 Food52 Any Night Grilling: 60 Ways To Fire Up Dinner (and More)
Couverture rigide

|

27 mars 2018

|

anglais
Détails sur le prix et l'achat
33,99 $
prix courant
rabais 34 %
Obtenez

111

points privilègeᴹᴰ
Les prix et les offres peuvent différer de ceux en magasin
This innovative collection of recipes will have you grilling deeply flavorful dishes for lunch, dinner, or any time.

In Food52's Any Night Grilling, author (and Texan) Paula Disbrowe coaches you through the fundamentals of cooking over fire so the simple pleasure of a freshly grilled meal can be enjoyed any night of the week—no long marinades or low-and-slow cook times here. Going way beyond your standard burgers and brats, Disbrowe offers up streamlined, surprising recipes for Crackly Rosemary Flatbread, Grilled Corn Nachos, and Porchetta-Style Pork Kebabs, alongside backyard classics like Sweet & Smoky Drumsticks, Gulf Coast Shrimp Tacos, and Green Chile Cheeseburgers. You'll also be charring fruits and vegetables in coals for caramelized sweetness, bringing day-old bread back to life, and using lingering heat to cook ahead for future meals. Filled with clever tips, lush photography, and what will surely become your favorite go-to recipes, Any Night Grilling is the only book you and your grill need.
Titre :
Food52 Any Night Grilling: 60 Ways To Fire Up Dinner (and More)
Format :
Couverture rigide
Dimensions de l'article :
224 pages, 9.5 X 7.7 X 1.3 po
Dimensions à l'expédition :
224 pages, 9.5 X 7.7 X 1.3 po
Publié le :
27 mars 2018
Publié par :
Potter/Ten Speed/Harmony/Rodale
Langue :
anglais
Les ISBN ci-dessous sont associés à ce titre :
ISBN - 10 :1524758965
ISBN - 13 :9781524758967
Recherche d'articles semblables, par catégorie :
prévisualiser votre critique
Votre critique a été soumise
NON, je ne recommande pas ce produit.
Valeur éducative/de développement :
Merci. Votre critique a été soumise et apparaîtra ici sous peu.
Extrait du livre
Party Wings with Cholula Butter Serves 4 I wasn't a wing enthusiast until I cooked them on the grill—then I was hooked. The high heat renders the fat, crisping the skin and making them taste both rich and improbably light (unlike the gut-bomb sports bar variety). Of course, wings are the quintessential party snack, something spicy and messy to entertain you while you're sipping cocktails and swapping one-liners. They can also be the attraction, join other small plates, or provide a hearty snack for friends waiting on something with a longer cooking time, like a smoked whole turkey or brisket. A two-zone fire is essential here because it provides nice heat for an initial char, as well as a moderate zone to cook the meat through without scorching the skin. I use drumettes because they're meaty and easier to eat, and Cholula for the hot sauce. It's a smoky Mexican hot sauce that's delicious on eggs, tacos, and just about everything. 3 pounds (1.4kg) chicken wing drumettes Olive oil, for drizzling Kosher salt and freshly ground black pepper 1⁄4 cup (60ml) Cholula hot sauce 3 tablespoons freshly chopped parsley 2 tablespoons unsalted butter, at room temperature 2 tablespoons fresh lemon juice 2 cloves garlic, minced    1. Place the drumettes in a large bowl, drizzle with enough olive oil to lightly coat, generously season with salt and pepper, and toss to combine.   2. Prepare a charcoal grill for two-zone cooking and build a medium-high fire, or heat a gas grill to high. Carefully wipe the preheated grill grates with a lightly oiled paper towel. Using a grill brush, scrape the grill grates clean, then carefully wipe with a lightly oiled towel again.   3. While the grill heats, in a separate bowl, stir together the Cholula, parsley, butter, lemon juice, and garlic.   4. Grill the drumettes over direct heat, flipping and rotating as needed for even cooking, until nicely charred on all sides, 5 to 7 minutes. Move the drumettes to indirect heat, close the grill, and continue to cook, turning the drumettes often (and closing the grill lid in between), until cooked through and the juices run clear (if you're uncertain, cut into one to check), 20 to 25 minutes.   5. Place the hot drumettes in the bowl with the Cholula butter, toss vigorously until well coated, and serve immediately.
Critiques
"More gourmet than a basic guide, these recipes bring to mind laid-back gatherings laden with crisp cocktails and freshly grilled foods. ... If you're intimidated by heavy-handed barbecue bibles, opt for this inviting collection instead. Highly recommended."-- Library Journal "Finally, a grilling book that's not bro-y."-- Bon Appétit"With her effortless approach to grilling, Disbrowe will inspire home cooks to grab a pair of tongs on any given night of the week."-- Publishers Weekly"The cookbook spans crowd favorites like tacos and hot dogs, as well as unexpected additions, like smoky eggplant dip and seafood paella, proving that the grill might be the most underrated, underused item in your cooking arsenal."-- MyDomainePraise for Food52 Genius Recipes and Food52 A New Way to Dinner: "Genius Recipes is the hands-down winner of the dog-eared page contest--because it instantly dismisses what might be the most important question asked by a cook confronting a new recipe. Namely, will this work? Of course it will." --New York Times "From breakfast to meaty and meatless mains to desserts, the more than 100 recipes included here are sure to inspire and amaze." --Publishers Weekly "It occurred to me that [A New Way to Dinner] had a certain Marie Kondo quality to it: the life-changing magic of planning your week." --New York Times