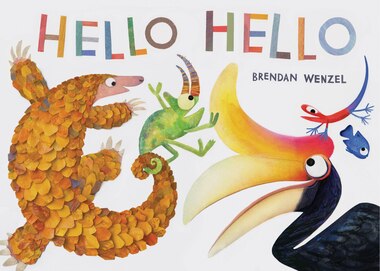 Hello Hello
Illustrateur

Brendan Wenzel
Livre d'images

|

20 mars 2018

|

anglais
Détails sur le prix et l'achat
22,99 $
prix courant
rabais 9 %
Obtenez

104

points privilègeᴹᴰ
Les prix et les offres peuvent différer de ceux en magasin
Named a Best Children''s Book of the Year by The Washington Post, Amazon, Working Mother and more: A new picture book from Brendan Wenzel, the New York Times bestselling and Caldecott Honor-winning author of They All Saw a Cat !

Hello, Hello! is an interactive book for kids. Beginning with two cats, one black and one white, a chain of animals appears before the reader, linked together by at least one common trait. From simple colors and shapes to more complex and abstract associations, each unexpected encounter celebrates the magnificent diversity of our world-and ultimately paints a story of connection.

Brendan Wenzel''s joyous, rhythmic text and exuberant art encourage readers to delight in nature''s infinite differences and to look for-and marvel at-its gorgeous similarities in this children''s nature book. It all starts with a simple Hello.""
Titre :
Hello Hello
Format :
Livre d'images
Dimensions de l'article :
52 pages, 12.5 X 9 X 0.5 po
Dimensions à l'expédition :
52 pages, 12.5 X 9 X 0.5 po
Publié le :
20 mars 2018
Publié par :
Chronicle Books
Langue :
anglais
Les ISBN ci-dessous sont associés à ce titre :
ISBN - 10 :1452150141
ISBN - 13 :9781452150147
Recherche d'articles semblables, par catégorie :
prévisualiser votre critique
Votre critique a été soumise
NON, je ne recommande pas ce produit.
Valeur éducative/de développement :
Merci. Votre critique a été soumise et apparaîtra ici sous peu.
Critiques
A celebration of the myriad forms of animal life this planet hosts . . . a joyful way to deliver a message about the fragility of life on Earth and what would be lost if more of it disappeared." - Publishers Weekly, starred review"Vivacious, utterly appealing." - Booklist, starred review "This uplifting visual delight will inspire a new generation of youngsters to love the natural world." -Shelf Awareness, starred review"Readers again take a visual journey that opens the door to deeper thought." - The Virginia-Pilot "Our number one choice of picture books from the first half of 2018 is Hello Hello, a gorgeous and cheerful celebration of animals of all shapes and sizes that will inspire children to care for all the world''s wild creatures." - Working Mother "One of 2018''s must-haves for children." - Entertainment Weekly "Hello Hello spreads its arms wide, introducing the staggering range of species that share the earth - many of them endangered or threatened. Wenzel''s vibrant collaged art and simple rhythms call to mind Eric Carle, with a factual-minded touch." - The New York Times "Greet 92 creatures, great and small, pictured in this whirlwind, worldwide tour." - The San Francisco Chronicle "Fun and bright and sure to be a favorite among kids and parents alike." - Book Riot "Exuberant and captivating." - The Washington Post "Dynamic images cavorting, reclining, flying, or dancing across and around stark white pages snag both emotions and imaginations . . . that will delight readers everywhere." - Kirkus Reviews, starred review "Delight in nature''s differences and similarities." - Learning Magazine "Deceptively simple but gorgeously realized, with a powerful statement about celebrating and protecting the Earth''s fauna in all its diverse (yet interconnected) splendor." - School Library Journal "An enchanting introduction to the vibrant diversity of the animal kingdom." - Common Sense Media "A visually strong layout that encourages animal comparisons using concepts like size and color." - Charlotte News & Observer "A vibrant book with fantastic colors and a important message.." - Book Riot "A subtle exhortation to notice the beauty and variety of animals, especially rare and endangered ones." - The Wall Street Journal "A satisfyingly complex and immersive experience." - The Horn Book Magazine "A rollicking take about truth, lies and school!" - Learning Magazine "