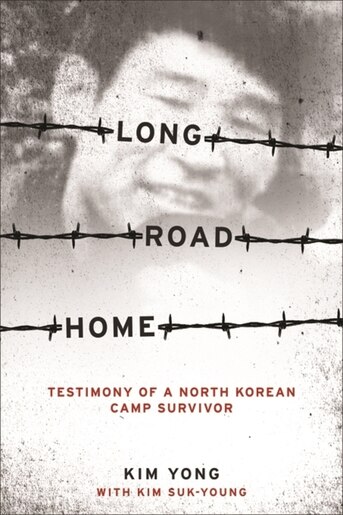 Long Road Home: Testimony of a North Korean Camp Survivor
Couverture souple

|

7 février 2017

|

anglais
Détails sur le prix et l'achat
31,00 $
Obtenez

155

points privilègeᴹᴰ
Les prix et les offres peuvent différer de ceux en magasin
Kim Yong shares his harrowing account of life in a labor camp?a singularly despairing form of torture carried out by the secret state. Although it is known that gulags exist in North Korea, little information is available about their organization and conduct, for prisoners rarely escape both incarceration and the country alive. Long Road Home shares the remarkable story of one such survivor, a former military official who spent six years in a gulag and experienced firsthand the brutality of an unconscionable regime.
As a lieutenant colonel in the North Korean army, Kim Yong enjoyed unprecedented privilege in a society that closely monitored its citizens. He owned an imported car and drove it freely throughout the country. He also encountered corruption at all levels, whether among party officials or Japanese trade partners, and took note of the illicit benefits that were awarded to some and cruelly denied to others.
When accusations of treason stripped Kim Yong of his position, the loose distinction between those who prosper and those who suffer under Kim Jong-il became painfully clear. Kim Yong was thrown into a world of violence and terror, condemned to camp No. 14 in Hamkyeong province, North Korea''s most notorious labor camp. As he worked a constant shift 2,400 feet underground, daylight became Kim''s new luxury; as the months wore on, he became intimately acquainted with political prisoners, subhuman camp guards, and an apocalyptic famine that killed millions.
After years of meticulous planning, and with the help of old friends, Kim escaped and came to the United States via China, Mongolia, and South Korea. Presented here for the first time in its entirety, his story not only testifies to the atrocities being committed behind North Korea''s wall of silence but also illuminates the daily struggle to maintain dignity and integrity in the face of unbelievable hardship. Like the work of Solzhenitsyn, this rare portrait tells a story of resilience as it reveals the dark forms of oppression, torture, and ideological terror at work in our world today.
Titre :
Long Road Home: Testimony of a North Korean Camp Survivor
Format :
Couverture souple
Dimensions de l'article :
184 pages, 8.25 X 5.5 X 0 po
Dimensions à l'expédition :
184 pages, 8.25 X 5.5 X 0 po
Publié le :
7 février 2017
Publié par :
Columbia University Press
Langue :
anglais
Les ISBN ci-dessous sont associés à ce titre :
ISBN - 10 :0231147473
ISBN - 13 :9780231147477
Recherche d'articles semblables, par catégorie :
prévisualiser votre critique
Votre critique a été soumise
NON, je ne recommande pas ce produit.
Valeur éducative/de développement :
Merci. Votre critique a été soumise et apparaîtra ici sous peu.
Table des matières
PrefaceAcknowledgmentsAuthor''s NoteIntroduction, by Kim Suk-Young1. Coming of Age2. Living for the Great Leader3. Downfall of a Model Citizen4. In the Mouth of Death5. Escape6. Across the ContinentAfterword: Unfinished StoryNotes
Critiques
A reminder of the brutality of the North Korean regime.