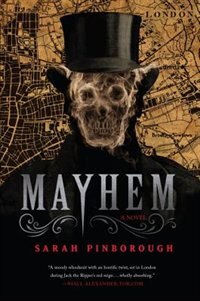 Mayhem
Couverture rigide

|

14 janvier 2014

|

anglais
Détails sur le prix et l'achat
24,95 $
Obtenez

125

points privilègeᴹᴰ
Les prix et les offres peuvent différer de ceux en magasin
"a new supernatural-whodunit-polyphonic thriller for those not of the faint of heart" --Fort Worth Telegram




"Pinborough''s fiction moves at a breakneck pace. Once you start, you can''t stop." --Sarah Langan, author of The Keeper and The Missing




Already frustrated in their attempts to capture serial murderer Jack the Ripper, the detectives of Scotland Yard are suddenly confronted with a new monster, dubbed the Torso Killer for his habit of leaving behind neatly wrapped parcels of his victims'' body parts, minus the heads.




With the terrible increase in mutilated corpses to examine, the highly regarded police surgeon Dr. Thomas Bond has lost the ability to sleep. True, a growing dependency on opium affords him some solace in his loneliest and most desperate hours, but he also fears the grip of the drug.

During Dr. Bond''s nightly tours of London''s underbelly in search of pharmaceutical respite from the horrors that plague him by day, he encounters a mysterious Jesuit priest scouring the opium dens himself, clearly in search of someone--or something. The doctor at first rejects the strange priest''s unnatural theories about the Torso Killer as an affront to scientific thought. But over time Dr. Bond''s opium-addled mind begins to crumble under the growing impression that there might be some awful truth to the Jesuit''s ideas.

As the police struggle to capture two serial killers, the troubled forensics expert begins to suspect that he may actually know the Torso Killer personally. If he is right, Dr. Bond will need all the strength he can muster to save his small circle of loved ones from falling victim to the bloody depravities of this twisted creature.


Titre :
Mayhem
Format :
Couverture rigide
Dimensions de l'article :
320 pages, 9.38 X 6.38 X 1.12 po
Dimensions à l'expédition :
320 pages, 9.38 X 6.38 X 1.12 po
Publié le :
14 janvier 2014
Publié par :
Quercus
Langue :
anglais
Les ISBN ci-dessous sont associés à ce titre :
ISBN - 10 :1623650860
ISBN - 13 :9781623650865
Recherche d'articles semblables, par catégorie :
prévisualiser votre critique
Votre critique a été soumise
NON, je ne recommande pas ce produit.
Valeur éducative/de développement :
Merci. Votre critique a été soumise et apparaîtra ici sous peu.
Conseils de votre groupe de lecture
READING GROUP GUIDE   1.  Does Dr. Bond's opium habit end up being an asset or a liability in his mission to find the Thames Torso Killer?   2.  The real-life Aaron Kosminski was (and remains) a suspect in the Jack the Ripper murders. Does Sarah Pinborough's depiction of him make him seem like a potential murderer?   3. Discuss why the chapters focusing on Dr. Bond are written in the first person, while the chapters focusing on other characters are written in the third person.   4. What are some of the techniques Sarah Pinborough uses to evoke a sense of place in 19th-century London in MAYHEM?   5. What genre would you place MAYHEM in? Is it supernatural horror? Police procedural? Both?   6.  At what point in the story does it become clear who (or what) is responsible for the murders? Do you prefer to know "whodunit" before the end of a suspense novel, or do you prefer a twist in the final pages?   7.  Discuss the priest. Why does Pinborough never reveal his name? And why, unlike the other main characters, are there no chapters that focus on him?   8.  Discuss the tension between science and the supernatural in MAYHEM. Dr. Bond is a man of reason, but he is suddenly forced to confront the existence of things that can't be explained by science. How does he react to this overwhelming situation?   9.  At the end of Chapter 18, Dr. Bond prepares a briefing outlining his theories about the Torso Killer and his methods. After finishing the book, look at it again and evaluate its accuracy.   10.  To what degree do you feel sympathy for James Harrington by the end of the novel?
Critiques
"Mayhem is a disturbingly engrossing Victorian horror with a standout, menacing villain. Never have I known a smile to be so sinister and rancid, but Pinborough''s prose prove the gesture to be something terrifyingly palpable. This genre-defying novel is a ravenous read and will have you as insatiable as the malicious mischief-maker that awaits you in its pages."-BookPage