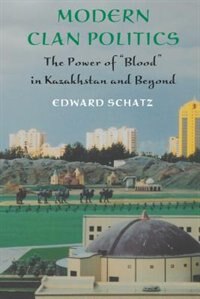 Modern Clan Politics: The Power of Blood in Kazakhstan and Beyond
Couverture souple

|

1 décembre 2004

|

anglais
Détails sur le prix et l'achat
34,95 $
Obtenez

175

points privilègeᴹᴰ
Les prix et les offres peuvent différer de ceux en magasin
Edward Schatz explores the politics of kin-based clan divisions in the post-Soviet state of Kazakhstan. Drawing from extensive ethnographic and archival research, interviews, and wide-ranging secondary sources, he highlights a politics that poses a two-tiered challenge to current thinking about modernity and Central Asia. First, asking why kinship divisions do not fade from political life with modernization, he shows that the state actually constructs clan relationships by infusing them with practical political and social meaning. By activating the most important quality of clans - their "concealability" - the state is itself responsible for the vibrant politics of these subethnic divisions which has emerged and flourished in post-Soviet Kazakhstan.
Subethnic divisions are crucial to understanding how group solidarities and power relations coexist and where they intersect. But, in a second challenge to current thinking, Schatz argues that clan politics should not be understood simply as competition among primordial groups. Rather, the meanings attributed to clan relationships - both the public stigmas and the publicly proclaimed pride in clans - are part and parcel of this contest.
Drawing parallels with relevant cases from the Middle East, East and North Africa, and other parts of the former USSR, Schatz concludes that a more appropriate policy may be achieved by making clans a legitimate part of political and social life, rendering them less powerful or corrupt by increasing their transparency.
Political scientists, sociologists, anthropologists, policy makers, and others who study state power and identity groups will find a wealth of empirical material and conceptual innovation for discussion and debate.
Titre :
Modern Clan Politics: The Power of Blood in Kazakhstan and Beyond
Format :
Couverture souple
Dimensions de l'article :
280 pages, 9.21 X 6.14 X 0.67 po
Dimensions à l'expédition :
280 pages, 9.21 X 6.14 X 0.67 po
Publié le :
1 décembre 2004
Publié par :
University Of Washington Press
Langue :
anglais
Les ISBN ci-dessous sont associés à ce titre :
ISBN - 10 :0295984473
ISBN - 13 :9780295984476
Recherche d'articles semblables, par catégorie :
prévisualiser votre critique
Votre critique a été soumise
NON, je ne recommande pas ce produit.
Valeur éducative/de développement :
Merci. Votre critique a été soumise et apparaîtra ici sous peu.
Table des matières
PrefaceA Note on TransliterationIntroduction: Modern Clan Politics
Part One | The Reproduction of Clans1. Kinship and Modernity2. Nomads, Diffuse Authority, and Sovietization3. Two Faces of Soviet Power4. Continuity and Change after the Soviet Collapse
Part Two | The Political Dynamic of Informal Ties5. Clan Conflict6. Clan Megaconflict
Part Three | Managing Clans7. A Vicious Cycle? Kinship and Political Change
Conclusions: Kinship and "Normal" PoliticsAppendix: MethodsNotesBibliographyIndex
Critiques
Edward Schatz explores the politics of kin-based clan divisions in the post-Soviet state of Kazakhstan. Drawing from extensive ethnographic and archival research, interviews, and wide-ranging secondary sources, he highlights a politics that poses a two-tiered challenge to current thinking about modernity and Central Asia. First, asking why kinship divisions do not fade from political life with modernization, he shows that the state actually constructs clan relationships by infusing them with practical political and social meaning. By activating the most important quality of clans - their "concealability" - the state is itself responsible for the vibrant politics of these subethnic divisions which has emerged and flourished in post-Soviet Kazakhstan.Subethnic divisions are crucial to understanding how group solidarities and power relations coexist and where they intersect. But, in a second challenge to current thinking, Schatz argues that clan politics should not be understood simply as competition among primordial groups. Rather, the meanings attributed to clan relationships - both the public stigmas and the publicly proclaimed pride in clans - are part and parcel of this contest.Drawing parallels with relevant cases from the Middle East, East and North Africa, and other parts of the former USSR, Schatz concludes that a more appropriate policy may be achieved by making clans a legitimate part of political and social life, rendering them less powerful or corrupt by increasing their transparency.Political scientists, sociologists, anthropologists, policy makers, and others who study state power and identity groups will find a wealth of empirical material and conceptual innovation for discussion and debate.Schatz?s analysis is all the more important in an age in which virtually everyone agrees that globalization is the most significant feature of the age and, consequently, the unexpected endurance of bonds of clanship at a level below the state is indeed counter intuitive. - Gregory W. Gleason, University of New Mexico