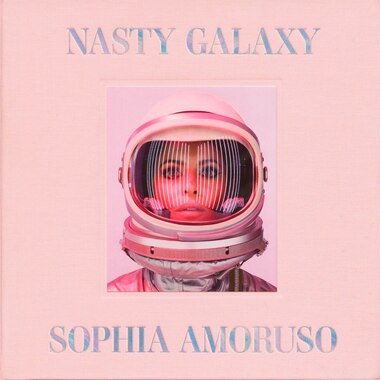 Nasty Galaxy
Couverture rigide

|

4 octobre 2016

|

anglais
Détails sur le prix et l'achat
50,00 $
prix courant
rabais 22 %
Obtenez

194

points privilègeᴹᴰ
Les prix et les offres peuvent différer de ceux en magasin
From Sophia Amoruso, the New York Times–bestselling author of #GIRLBOSS, a lushly illustrated embodiment of the collective spirit of the Nasty Gal brand, Sophia's own personal brand, and girlbosses everywhere, with a foreword by Courtney Love. Warning: this is not a style book. It's not about how to mix prints—it's about how to leave yours on everything you touch.
 
Highly graphic and visual, filled with illustrations, photos and short essays, Nasty Galaxy is part scrapbook, part inspo-journey, with moments of frivolity scattered throughout. Tactical and entertaining, envelope-pushing and conventional, surprising and refreshingly straightforward, Nasty Galaxy is a dive into Sophia's philosophies on work, relationships, balance, friendships, and more. It is a celebration of her roots in vintage clothing, punk attitude, fringe characters, and don''t-give-a-fuck thought leadership. 

Nasty Galaxy is Amoruso's newest life bible, approaching style, music, philosophy, and advice in the same way #GIRLBOSS approached business—unconventionally. Oversized and in full color, this is the newest, coolest, must-have accessory.
Titre :
Nasty Galaxy
Format :
Couverture rigide
Dimensions de l'article :
272 pages, 10.25 X 10.25 X 1.12 po
Dimensions à l'expédition :
272 pages, 10.25 X 10.25 X 1.12 po
Publié le :
4 octobre 2016
Publié par :
Penguin Publishing Group
Langue :
anglais
Les ISBN ci-dessous sont associés à ce titre :
ISBN - 10 :0399174885
ISBN - 13 :9780399174889
Recherche d'articles semblables, par catégorie :
prévisualiser votre critique
Votre critique a été soumise
NON, je ne recommande pas ce produit.
Valeur éducative/de développement :
Merci. Votre critique a été soumise et apparaîtra ici sous peu.
Critiques
 "Nasty Galaxy is as much a visual tell-all of the self-made star's work, style and friendship philosophies as it is the chicest scrapbook of them all." —Teen Vogue"Come for the peek inside Sophia's home, her frank confessions, and pics—so many pics. Stay for the Q&As with women at the top of their game." —Cosmopolitan "A colorful, provocative mood board of the images that inspire her, along with the anecdotes and the offbeat life wisdom that make her the original #GIRLBOSS." —Harper's Bazaar"Nasty Galaxy has bucket bags of more wisdom to drop" –Time Out New York"If #Girlboss was a manual to making it as a self-made business woman, Nasty Galaxy is part coffee table book, part mood board of Amoruso's inspirations...But don't be mistaken, Nasty Galaxy is not deprived of Amoruso's and Nasty Gal's signature voice." —Nylon.com"Like a fancy Instagram mood board."—The Cut"A look-book, a memoir and a guide to being the boss of your life."‎ —CNBC.com"A colorful and eclectic collection of photos and stories that have influenced the Nasty Gal brand." —Metro US"Amoruso [takes] us even further inside of her stylish world with the release of her second tome, Nasty Galaxy. . . The gorgeous coffee table book showcases some of Amoruso's own inspirations, interior shots of her airy California home, and life hacks and advice from women she admires." —Instyle.com"Equal parts bad behavior and modern-day class, Nasty Galaxy is a glut of cool."--Bookpage"Part memoir, part scrapbook, this tell-all from the original #girlboss will leave you feeling inspired to take a seat at the head of the table." --InStyle.com Holiday Gift Guide "In the pages of this book the #girlboss herself opens up the doors to her empire with a peek into 70's-style home, shag rugs and all, tributes to her heroines like Siouxsie Sioux and the like, life advice you won't forget, and interviews with all her most awe-inspiring friends —GP included. With its mix of interviews, interiors and portraits the book takes on a definite scrapbook-like feel, which makes it all the more enticing." –Goop.com Holiday Gift Guide"This cool adult picture book is packed with bold graphics, photos and short essays that embody the essence and attitude of the Nasty Gal brand…a winning gift for folks who embrace fashion but don't take themselves too serious."—Los Angeles Times "A sort of scrapbook for [Sophia's] millennial audience. It reads like a mood board for fashion inspo, Instagram creatives, and young entrepreneurs."--The Cut's "13 Greatest Fashion Books to Give This Year"