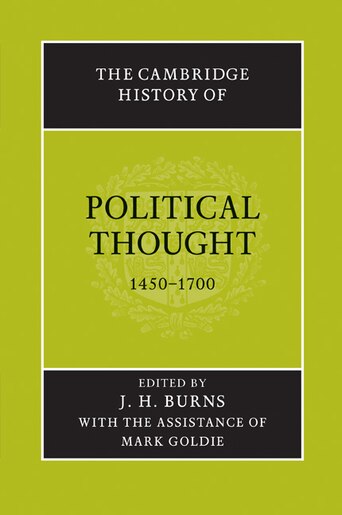 The Cambridge History of Political Thought 1450-1700
Couverture souple

|

27 janvier 1995
Détails sur le prix et l'achat
99,48 $
Obtenez

497

points privilègeᴹᴰ
Les prix et les offres peuvent différer de ceux en magasin
The companion volume to the highly successful Cambridge History of Medieval Political Thought, this book presents a comprehensive account of the development of European political thinking through the Renaissance and the Reformation to the "scientific revolution" and political upheavals of the seventeenth century. Recent decades have seen intensive historical investigation and reappraisal in this field. Many established perspectives have changed; and while it would still be generally accepted that something distinctly "modern" took shape in the political thought of the sixteenth and seventeenth centuries, there have been important changes in our understanding of what is "medieval" and what is "modern" and of the relationship between these concepts. A highly distinguished team of contributors present a unique, authoritative guide to these developments. Full bibliographical and biographical information is provided for those wishing to pursue specific topics in greater detail.
Titre :
The Cambridge History of Political Thought 1450-1700
Format :
Couverture souple
Dimensions :
812 pages, 8.98 X 5.98 X 1.81 po
Publié le :
27 janvier 1995
Publié par :
Cambridge University Press
Les ISBN ci-dessous sont associés à ce titre :
ISBN - 10 :0521477727
ISBN - 13 :9780521477727
Recherche d'articles semblables, par catégorie :
prévisualiser votre critique
Votre critique a été soumise
NON, je ne recommande pas ce produit.
Valeur éducative/de développement :
Merci. Votre critique a été soumise et apparaîtra ici sous peu.
Table des matières
Introduction J. H. BURNS; PART I. RENAISSANCE AND COUNTER-RENAISSANCE: 1. Humanism and political theory ANTHONY GRAFTON; 2. Italian political thought, 1450-1530 NICOLAI RUBINSTEIN; 3. Law DONALD R. KELLEY; 4. Transalpine humanism BRENDAN BRADSHAW; 5. Scholasticism: survival and revival J. H. BURNS; PART II. RELIGION, CIVIL GOVERNMENT, AND THE DEBATE ON CONSTITUTIONS: 6. Christian obedience and authority, 1520-50 FRANCIS OAKLEY; 7. Calvinism and resistance theory, 1550-80 ROBERT KINGDON; 8. Catholic resistance theory, ultramontanism, and the royalist response, 1580-1620 J. H. M. SALMON; 9. Constitutionalism HOWELL A. LLOYD; 10. Sovereignity and the mixed constitution: Bodin and his critics JULIAN H. FRANKLIN; 11. Utopianism J. C. DAVIES; PART III. ABSOLUTISM AND REVOLUTION IN THE SEVENTEENTH CENTURY: 12. Absolutism and royalism J. P. SOMMERVILLE; 13. England: ancient constitution and common law Corinne C. Weston; 14. Leveller democracy and the puritan revolution DAVID WOOTTON; 15. English republicanism BLAIR WORDEN; PART IV. THE END OF ARISTOTELIANISM: 16. Tacitism, scepticism, and reason of state Peter Burke; 17. Grotius and Selden RICHARD TUCK; 18. Hobbes and Spinoza NOEL MALCOLM; PART V. NATURAL LAW AND UTILITY: 19. Pufendorf ALFRED DUFOUR; 20. The reception of Hobbes MARK GOLDIE; 21. Locke JAMES TULLY.
Critique de chapters.indigo
A standing resource for early modern historians and students of political thought.
Critiques
"...valuable volume..new scholarship on the history of political thought...essays by an impressive group of scholars...The volume reflects the current interpretations and interests of preeminent historians. It constitutes an important contribution to historical scholarship and should be read by all students of modern political thought." The Sixteenth Century Journal