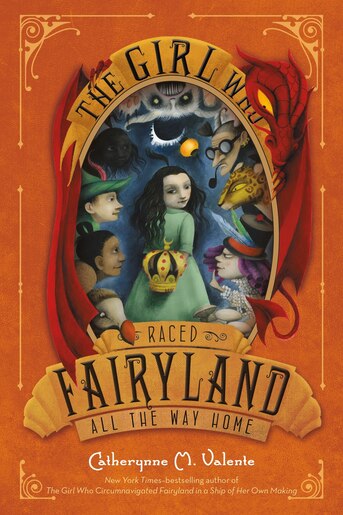 The Girl Who Raced Fairyland All The Way Home
Couverture souple

|

7 mars 2017

|

anglais
Détails sur le prix et l'achat
11,99 $
prix courant
rabais 12 %
Obtenez

53

points privilègeᴹᴰ
Les prix et les offres peuvent différer de ceux en magasin
This final book in the New York Times-bestselling Fairyland series finds September accidentally crowned the Queen of Fairyland. But there are others who believe they have a fair and good claim on the throne, so there is a Royal Race-whoever wins will seize the crown.
Along the way, beloved characters including the Wyverary, A-Through-L, the boy Saturday, the changelings Hawthorn and Tamburlaine, the wombat Blunderbuss, and the gramophone Scratch are caught up in the madness. And September''s parents have crossed the universe to find their daughter.
Who will win? What will become of September, Saturday, and A-Through-L? The answers will surprise you, and fans of the bestselling Fairyland series won''t want to miss this incredible conclusion in The Girl Who Raced Fairyland All the Way Home, by Catherynne M. Valente.
Titre :
The Girl Who Raced Fairyland All The Way Home
Format :
Couverture souple
Dimensions de l'article :
320 pages, 8.32 X 5.4 X 0.85 po
Dimensions à l'expédition :
320 pages, 8.32 X 5.4 X 0.85 po
Publié le :
7 mars 2017
Publié par :
Square Fish
Langue :
anglais
Les ISBN ci-dessous sont associés à ce titre :
ISBN - 10 :1250104017
ISBN - 13 :9781250104014
Recherche d'articles semblables, par catégorie :
prévisualiser votre critique
Votre critique a été soumise
NON, je ne recommande pas ce produit.
Valeur éducative/de développement :
Merci. Votre critique a été soumise et apparaîtra ici sous peu.
Critiques
Praise for the Fairyland Series"One of the most extraordinary works of fantasy, for adults or children, published so far this century." -Time magazine, on the Fairyland series"The rules of realism in Valente''s universe are not simply bent or ignored, but systematically and gleefully reversed." -The New Yorker"A glorious balancing act between modernism and the Victorian Fairy Tale, done with heart and wisdom." -Neil Gaiman, Newbery Award-winning author of The Graveyard Book"September is a clever, fun, stronghearted addition to the ranks of bold, adventurous girls. Valente''s subversive storytelling is sheer magic." -Tamora Pierce, author of The Immortals series"A mad, toothsome romp of a fairy tale -- full of oddments, whimsy, and joy." -Holly Black, author of Zombies vs. Unicorns and the Spiderwick Chronicles"When I say that this book reminds me simultaneously of E. Nesbit, James Thurber, and the late Eva Ibbotson, I don''t mean to take anything away from its astonishing originality. It''s a charmer from the first page, managing the remarkable parlay of being at once ridiculously funny and surprisingly suspenseful. Catherynne Valente is a find, at any age!" -Peter S. Beagle, author of The Last Unicorn"This is a kind of The Wonderful Wizard of Oz by way of Alice''s Adventures in Wonderland-it''s the sort of book one doesn''t want to end." -Publishers Weekly, Starred Review"[Fairyland creates] a world as bizarre and enchanting as any Wonderland or Oz and a heroine as curious, resourceful and brave as any Alice or Dorothy. Complex, rich and memorable." -Kirkus, Starred Review"This book is quite simply a gold mine." -Booklist, Starred Review"Amusing, wrenching, and thought-provoking." -The Horn Book