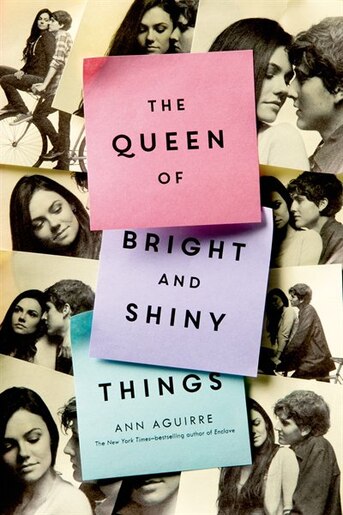 The Queen Of Bright And Shiny Things
Couverture rigide

|

8 décembre 2016

|

anglais
Détails sur le prix et l'achat
20,50 $
Obtenez

103

points privilègeᴹᴰ
Les prix et les offres peuvent différer de ceux en magasin
Sage Czinski is trying really hard to be perfect. If she manages it, people won''t peer beyond the surface, or ask hard questions about her past. She''s learned to substitute causes for relationships, and it''s working just fine . . . until Shane Cavendish strolls into her math class. He''s a little antisocial, a lot beautiful, and everything she never knew she always wanted.
Shane Cavendish just wants to be left alone to play guitar and work on his music. He''s got heartbreak and loneliness in his rearview mirror, and this new school represents his last chance. He doesn''t expect to be happy; he only wants to graduate and move on. He never counted on a girl like Sage.
But love doesn''t mend all broken things, and sometimes life has to fall apart before it can be put back together again. . . .
Titre :
The Queen Of Bright And Shiny Things
Format :
Couverture rigide
Dimensions de l'article :
336 pages, 8.53 X 5.93 X 1.1 po
Dimensions à l'expédition :
336 pages, 8.53 X 5.93 X 1.1 po
Publié le :
8 décembre 2016
Publié par :
Feiwel & Friends
Langue :
anglais
Les ISBN ci-dessous sont associés à ce titre :
ISBN - 10 :1250047501
ISBN - 13 :9781250047502
Recherche d'articles semblables, par catégorie :
prévisualiser votre critique
Votre critique a été soumise
NON, je ne recommande pas ce produit.
Valeur éducative/de développement :
Merci. Votre critique a été soumise et apparaîtra ici sous peu.
Critiques
"Two teens with tortured pasts are irresistibly drawn to each other. Sage lives with her aunt after a horrific incident . . . Shane lives in a trailer provided by his dad after his mother''s death. Dad is then guilt-free to carry on with his long-distance trucking job. No one except Sage realizes that Shane is alone. Sage''s beauty shines through her habit of leaving Post-it notes of encouragement on the lockers of her classmates. . . . This could be a tale of heartbreak but instead the tone is one of learning to accept life as it comes. [These teens] could be found in any high school along with a Post-it note stating, ''It will be all right in the end.''" -VOYA"For teens who can''t get enough of YA romance." -School Library Journal". . . for fans of lightweight romance." -Kirkus Reviews"Aguirre offers a satisfying romance while eloquently conveying a message about facing the truth and not giving up on oneself or others." -Publishers Weekly"[Enclave] is a young adult dystopian novel and has been compared to the hit series The Hunger Games. To say we''re excited is a major understatement...." -ElleGirl.com on Enclave"In her first young adult novel, Aguirre (the Sirantha Jax series) has created a gritty and highly competent heroine, an equally deadly sidekick/love interest, and a fascinating, if unpleasant, civilization. This series is likely to hold considerable appeal for fans of The Hunger Games." -Publishers Weekly on Enclave"Enclave is dark and thrilling, fast-paced and intense. With some graphic and gross imagery and a hard look at a post-apocalyptic world, Aguirre has taken themes from Scott Westerfeld and an assortment of zombie literature and created something that is very much her own--and a very engaging read." -RT Book Reviews on Enclave"This well-paced zombie-esque adventure in an urban wasteland will keep fans happy." -Kirkus Reviews on Enclave"Aguirre''s young adult debut is a gripping survival story set in an apocalyptic future. . . . This is a tense, action-packed dystopia with intriguingly gray characters." -Booklist on Enclave"Deuce''s passion for life, even in her bleakest moments, is contagious, and that passion exemplifies the nebulous force that has driven all of these individuals to persist in the face of awful options." -The Bulletin on Enclave