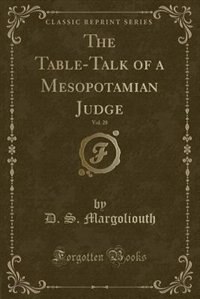 The Table-Talk of a Mesopotamian Judge, Vol. 28 (Classic Reprint)
Couverture souple

|

29 novembre 2018

|

anglais
Détails sur le prix et l'achat
20,50 $
Obtenez

103

points privilègeᴹᴰ
Les prix et les offres peuvent différer de ceux en magasin
Excerpt from The Table-Talk of a Mesopotamian Judge, Vol. 28

For one matter an apology must be added. A few stories have been omitted from the Arabic text on the ground of their obscenity, and some of those left there have not been translated in this. As my friend Mr. Kurd ''ali in the Journal of the Academy of Damascus has found fault with this procedure, I venture to assign a reason. One of the educational authorities in Cairo pleaded the cause of expurgated editions on the ground that it was desirable to provide good literature in Arabic for those whose literary language it is and many a work in classical Arabic contains matter which it is not desirable for the young to see. It may be added that it is frequently of a sort which has no scientific value either; for there is nothing to be learned from e.g. The bulk of the matter contained in that Baghdader Sittenbild which Prof. Mez thought proper to publish. N ow the Table-talk is precisely the sort of book which, it might be hoped, would be read with interest, pleasure and appreciation in educated families in those countries where education is in Arabic. I should very much prefer that in such households the book might without danger be left about. The benefit which will thereby accrue outweighs to my mind any disadvantage which arises from the expurgation.

In translating the verses of which considerable numbers are cited I have followed the example of Dr. Nicholson, who at tirnes renders such passages in prose, at times reproduces them in verse. I have not endeavoured, as he occasionally has done, to reproduce the original metres the natural rhythms of the two languages are so Very different that it is difficult for the reader to perceive what the rhythm is intended to be.

About the Publisher

Forgotten Books publishes hundreds of thousands of rare and classic books. Find more at www.forgottenbooks.com

This book is a reproduction of an important historical work. Forgotten Books uses state-of-the-art technology to digitally reconstruct the work, preserving the original format whilst repairing imperfections present in the aged copy. In rare cases, an imperfection in the original, such as a blemish or missing page, may be replicated in our edition. We do, however, repair the vast majority of imperfections successfully; any imperfections that remain are intentionally left to preserve the state of such historical works.
Titre :
The Table-Talk of a Mesopotamian Judge, Vol. 28 (Classic Reprint)
Format :
Couverture souple
Dimensions :
312 pages, 9 X 6 X 0.65 po
Publié le :
29 novembre 2018
Publié par :
FB&C Ltd
Langue :
anglais
Les ISBN ci-dessous sont associés à ce titre :
ISBN - 10 :1331916534
ISBN - 13 :9781331916536
Recherche d'articles semblables, par catégorie :
prévisualiser votre critique
Votre critique a été soumise
NON, je ne recommande pas ce produit.
Valeur éducative/de développement :
Merci. Votre critique a été soumise et apparaîtra ici sous peu.