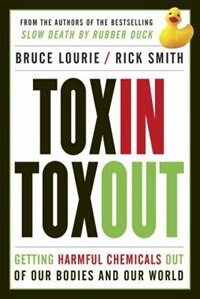 Toxin Toxout: Getting Harmful Chemicals Out Of Our Bodies And Our World
Couverture rigide

|

10 décembre 2013

|

anglais
Détails sur le prix et l'achat
29,95 $
Obtenez

150

points privilègeᴹᴰ
Les prix et les offres peuvent différer de ceux en magasin
The Rubber Duck boys are back, and after showing us all the ways that toxins get IN our bodies, now they give us a guide for scrubbing those toxins OUT.

Following the runaway success of their first book, 2 of Canada''s leading environmental activists give practical and often surprising advice for removing toxic chemicals from our bodies and homes. There are over 80,000 synthetic chemicals in commerce today, including hormone-disrupting phthalates and parabens, cancer-causing pesticides, heavy metals and air pollutants. Rick Smith and Bruce Lourie use their outrageous experiments (they and their brave volunteers are the guinea pigs) to prove how easily our bodies absorb these chemicals from the foods we eat, the air we breathe, and the products we smear on our skin--day after day. Then they give us the good news about what is in our control and the steps we can take for reducing our toxic burden. They investigate the truth behind organic foods, which detox methods actually work, if indoor air quality is improving, and how we dispose of waste (where do those chemicals go?). The result is nothing short of a prescription for a healthier life.
Titre :
Toxin Toxout: Getting Harmful Chemicals Out Of Our Bodies And Our World
Format :
Couverture rigide
Dimensions de l'article :
304 pages, 8.56 X 5.78 X 0.95 po
Dimensions à l'expédition :
304 pages, 8.56 X 5.78 X 0.95 po
Publié le :
10 décembre 2013
Langue :
anglais
Les ISBN ci-dessous sont associés à ce titre :
ISBN - 10 :0307402207
ISBN - 13 :9780307402202
Recherche d'articles semblables, par catégorie :
prévisualiser votre critique
Votre critique a été soumise
NON, je ne recommande pas ce produit.
Valeur éducative/de développement :
Merci. Votre critique a été soumise et apparaîtra ici sous peu.
Critiques
NATIONAL BESTSELLER"Ruthlessly probing and logical, Bruce Lourie and Rick Smith take the reader on a whirlwind tour of the myriad toxins that we encounter in cosmetics, water, paints, electromagnetic devices—all the things that cross our paths as we just live our lives. If you've ever wondered whether the shampoo you use might contribute to cancer risk, or whether there was any merit to all those 'detox' program ads you see, then this book will help you understand the real story. These authors have created a truly indispensable and enlightening guide to living in the twenty-first century." —William Davis, MD, author of the #1 New York Times bestseller Wheat Belly: Lose the Wheat, Lose the Weight, and Find Your Path Back to Health and Wheat Belly Cookbook "Everyone concerned about hazardous chemicals should read Toxin Toxout. This informative and amusing book provides a much-needed road map through the varied detox approaches on the market today and the challenges posed by ever-growing mountains of waste. But the most important takeaway is that we must protect ourselves from toxins by engaging as citizens and not just as responsible consumers, to prevent 'toxIN' while we 'toxOUT' the economy." —Annie Leonard, creator, The Story of Stuff "Toxin Toxout admirably demonstrates how important our everyday product choices are—from the food we buy to the cars we choose to drive. I truly believe that you cannot achieve hormonal balance without reducing your toxin exposure and improving your internal detoxification systems. Toxin Toxout provides us with a much-needed guide on how to live—and maintain—a toxin-free lifestyle." —Dr. Natasha Turner, author of the #1 national bestsellers The Hormone Diet and The Supercharged Hormone Diet"We all owe a debt of gratitude to Bruce Lourie and Rick Smith for slowly poisoning themselves for our benefit. And perhaps even more, for figuring out how to unpoison themselves. This is a fascinating book that has made me change my daily routines." —A.J. Jacobs, New York Times bestselling author of Drop Dead Healthy, My Life as an Experiment and The Know-It-All