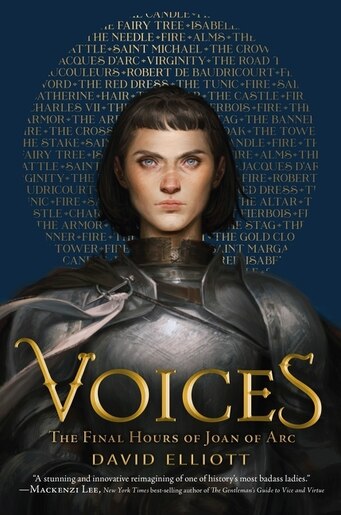 Voices: The Final Hours Of Joan Of Arc
Couverture rigide

|

26 mars 2019

|

anglais
Détails sur le prix et l'achat
25,50 $
prix courant
rabais 7 %
Obtenez

118

points privilègeᴹᴰ
Les prix et les offres peuvent différer de ceux en magasin
Bestselling author David Elliott explores how Joan of Arc changed the course of history and remains a figure of fascination centuries after her extraordinary life and death. Joan of Arc gets the Hamilton treatment in this evocative novel.

Told through medieval poetic forms and in the voices of the people and objects in Joan of Arc''s life, (including her family and even the trees, clothes, cows, and candles of her childhood), Voices offers an unforgettable perspective on an extraordinary young woman. Along the way it explores timely issues such as gender, misogyny, and the peril of speaking truth to power. Before Joan of Arc became a saint, she was a girl inspired. It is that girl we come to know in Voices .
Titre :
Voices: The Final Hours Of Joan Of Arc
Format :
Couverture rigide
Dimensions de l'article :
208 pages, 8.39 X 5.92 X 0.82 po
Dimensions à l'expédition :
208 pages, 8.39 X 5.92 X 0.82 po
Publié le :
26 mars 2019
Publié par :
Houghton Mifflin Harcourt
Langue :
anglais
Les ISBN ci-dessous sont associés à ce titre :
ISBN - 10 :1328987590
ISBN - 13 :9781328987594
Recherche d'articles semblables, par catégorie :
prévisualiser votre critique
Votre critique a été soumise
NON, je ne recommande pas ce produit.
Valeur éducative/de développement :
Merci. Votre critique a été soumise et apparaîtra ici sous peu.
Critiques
Early praise for Voices: The Final Hours of Joan of Arc : A stunning and innovative reimagining of the life and death of one of history''s most badass ladies. Captivating from start to finish and unlike anything I''ve ever read." -Mackenzi Lee, New York Times best-selling author of The Gentlemen''s Guide to Vice and Virtue "By giving Joan of Arc voice, Elliott manages to give her agency and makes her passion, faith, and determination live and breathe on the page. Compelling, engaging, and triumphant, Joan the maiden warrior shines far brighter than her fiery fate." -Robin LaFevers, New York Times best-selling author of Courting Darkness and the His Fair Assassin trilogy "Elliott enchants. Voices will draw a new generation to the mystery of the peasant girl whose conviction and audacity shattered all conceptions of class and gender." -Kirsten Cappy, Children''s Book Consultant, Curious City "Elliott''s exquisite detail and imagery lift this tale of female valor into an almost mystical dimension." -Pat Lowery Collins, author of The Fattening Hut and Hidden Voices, The Orphan Musicians of Venice "The implicit call-to-action in Elliott''s tender but searing novel-in-verse is perhaps the clearest voice of all: the fire within each of us can be an unstoppable force for change in a world that continually seeks to burn what it cannot control." -Amy Cherrix, Malaprop''s Bookstore "This book is a marvel. Each poem is so pure, so intense, so full of story-moving energy that I couldn''t put it down and read the whole book in a gulp. I loved it." -N. Griffin, author of The Whole Stupid Way We Are "A clever and searing page-turner story told by a master." -Patricia Hruby Powell, author of Loving Vs. Virginia and Josephine "