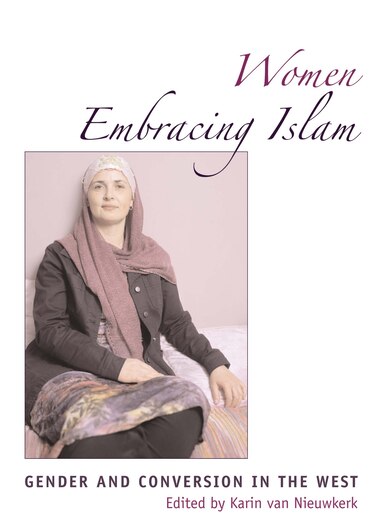 Women Embracing Islam: Gender and Conversion in the West
Couverture souple

|

1 août 2006

|

anglais
Détails sur le prix et l'achat
36,50 $
Obtenez

183

points privilègeᴹᴰ
Les prix et les offres peuvent différer de ceux en magasin
Many Westerners view Islam as a religion that restricts and subordinates women in both private and public life. Yet a surprising number of women in Western Europe and America are converting to Islam. What attracts these women to a belief system that is markedly different from both Western Christianity and Western secularism? What benefits do they gain by converting, and what are the costs? How do Western women converts live their new Islamic faith, and how does their conversion affect their families and communities? How do women converts transmit Islamic values to their children? These are some of the questions that Women Embracing Islam seeks to answer.
In this vanguard study of gender and conversion to Islam, leading historians, sociologists, anthropologists, and theologians investigate why non-Muslim women in the United States, several European countries, and South Africa are converting to Islam. Drawing on extensive interviews with female converts, the authors explore the life experiences that lead Western women to adopt Islam, as well as the appeal that various forms of Islam, as well as the Nation of Islam, have for women. The authors find that while no single set of factors can explain why Western women are embracing Islamic faith traditions, some common motivations emerge. These include an attraction to Islam''s high regard for family and community, its strict moral and ethical standards, and the rationality and spirituality of its theology, as well as a disillusionment with Christianity and with the unrestrained sexuality of so much of Western culture.
Titre :
Women Embracing Islam: Gender and Conversion in the West
Format :
Couverture souple
Dimensions de l'article :
308 pages, 9 X 5.98 X 0.76 po
Dimensions à l'expédition :
308 pages, 9 X 5.98 X 0.76 po
Publié le :
1 août 2006
Publié par :
University Of Texas Press
Langue :
anglais
Les ISBN ci-dessous sont associés à ce titre :
ISBN - 10 :0292713029
ISBN - 13 :9780292713024
Recherche d'articles semblables, par catégorie :
prévisualiser votre critique
Votre critique a été soumise
NON, je ne recommande pas ce produit.
Valeur éducative/de développement :
Merci. Votre critique a été soumise et apparaîtra ici sous peu.
Table des matières
Acknowledgments
Foreword. Conversion and Gender, Two Contested Concepts (Willy Jansen)
Introduction. Gender and Conversion to Islam in the West (Karin van Nieuwkerk)
Part One. Contextualizing Conversion

Chapter 1. The Quest for Peace in Submission: Reflections on the Journey of American Women Converts to Islam (Yvonne Yazbeck Haddad)
Chapter 2. The Shaping of a Scandinavian "Islam": Converts and Gender Equal Opportunity (Anne Sofie Roald)
Chapter 3. Symbolizing Distance: Conversion to Islam in Germany and the United States (Monika Wohlrab-Sahr)

Part Two. Discourses and Narratives

Chapter 4. Gender, Conversion, and Islam: A Comparison of Online and Offline Conversion Narratives (Karin van Nieuwkerk)
Chapter 5. The Shifting Significance of the Halal/Haram Frontier: Narratives on the Hijab and Other Issues (Stefano Allievi)

Part Three. Trajectories and Paradigms

Chapter 6. Female Conversion to Islam: The Sufi Paradigm (Haifaa Jawad)
Chapter 7. African American Islam as an Expression of Converts'' Religious Faith and Nationalist Dreams and Ambitions (Gwendolyn Zoharah Simmons)
Chapter 8. Feminism and Conversion: Comparing British, Dutch, and South African Life Stories (Margot Badran)

Part Four. Transmission and Identity

Chapter 9. How Deborah Became Aisha: The Conversion Process and the Creation of Female Muslim Identity (Nicole Bourque)
Chapter 10. Keeping the Faith: Convert Muslim Mothers and the Transmission of Female Muslim Identity in the West (Marcia Hermansen)

Notes on Contributors
Index