American Journey: My Life in Art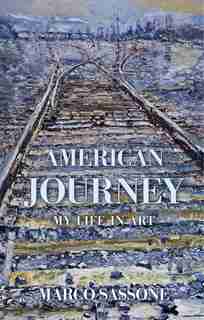 Find In Store
Prices and offers may vary in store
"A captivating autobiography of an extraordinary life, as dramatic as it is accomplished."  —Kirkus Review
"The artist steps forward to disclose why a spiritual journey is required before any great art can be brought to light." —Peter H. Falk, Editor of Discoveries in American Art
American Journey is the vivid, transformational life story of internationally acclaimed American-Italian painter Marco Sassone, who came to California in search of artistic freedom and success. His journey led him through periods of hope and despair and ultimately to the threshold of true self-fulfillment: a deeper understanding of himself and his mission as an artist.
The life he has lived and the people he has known make the memoir of this remarkable artist a wonderful revealing canvas. Dining with Sophia Loren, conversing with Luciano Pavarotti, and joking with Tina Turner at his Beverly Hills opening are all part of his California days during the 1970s.
But what makes this memoir extraordinary is Sassone's vivid recollection of his real-life stories:
His childhood in post war-torn Florence in the 1950s; his beginnings as an artist in the glorious studio of his teacher overlooking Giotto's Bell Tower; and his harrowing experience of survival during the great flood of Florence in 1966;
His first drawing of "Willie" in San Francisco in the late 1980s, and his extensive personal research on the homeless that led to his groundbreaking exhibition "Home on the Streets";
And more recently, his reflections on the forgery of his artwork and the subsequent lawsuit in the Nevada's Supreme Court.
Sassone also offers vivid descriptions of what takes place in his studio during the act of painting: an intimate affair that he reveals for the first time in his memoir.
American Journey is an inspiring, sometimes painful and courageous examination of a life in art. Sassone's story explores the very nature of all human beings and fulfills the inner vision that motivates them.
"'Home on the Streets' is brutal and unforgiving and, accordingly, unforgettable . . . You have done something very important—giving a voice to those who are silenced and dismissed, and giving an image to those of us who would prefer not to see. Thank you." —Amy Selwyn, Associated Press
Title:
American Journey: My Life in Art
Product dimensions:
360 pages, 9.25 X 6.25 X 1 in
Shipping dimensions:
360 pages, 9.25 X 6.25 X 1 in
Publisher:
Arti Grafiche Press
Appropriate for ages:
All ages