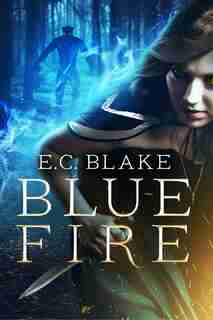 Find In Store
To check store inventory,
Prices and offers may vary in store
From the author of the acclaimed fantasy trilogy The Masks of Agyrima, published by DAW Books, comes another epic YA fantasy adventure.
Centuries ago, the people of Nevyana were forced to leave their old kingdom across the sea after it was devastated by the War of the Twelve Gods. The only three gods to survive that war, Vekrin of the Earth, Arrica of the Sun, and Ell of the Moon, agreed they would thenceforth cease to meddle in the affairs of humans - but first, each of them gave their followers a final magical gift.
In different ways, Vekrin and Arrica gave their followers the gift of Blue Fire, a force that could provide light, heat, and protection - or be turned into a powerful weapon. But Ell, who had fought against the other two in the war, chose instead to utterly transform her followers into the Nightdwellers, nocturnal creatures with fur, teeth, and claws.
Enmity quickly arose among the three groups. Now, the Nightdwellers rule the night, killing any ordinary humans they find after sunset. Vekrin's followers became the Citydwellers, sheltering each night behind stout walls of stone, guarded by the Blue Fire-powered firelances of the priests. And Arrica's followers became the Freefolk, travelling the wilderness, camping within a fence of Blue Fire but always in danger of Nightdweller attack.
When sacred objects for channelling Blue Fire are stolen, three sworn enemies, Petra of the Citydwellers, Amlinn of the Freefolk, and Jin of the Nightdwellers, set out to find them, and their paths converge on a collision course with the truth. Can they bridge the centuries-old divisions among their communities? Or will Blue Fire, turned to destruction, bring Nevyana crashing down in chaos and bloodshed?
"A wonderful YA read" - Book Horde
Product dimensions:
460 pages, 8.5 X 5.5 X 1.02 in
Shipping dimensions:
460 pages, 8.5 X 5.5 X 1.02 in
Published:
January 5, 2021
Publisher:
Shadowpaw Press
Appropriate for ages:
13 - adult