Crazy Sexy Diet: Eat Your Veggies, Ignite Your Spark, and Live Like You Mean It!
by

Kris Carr

Foreword by

Dean Ornish

Preface by

Rory Freedman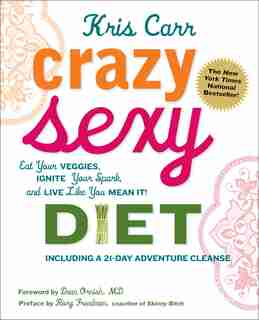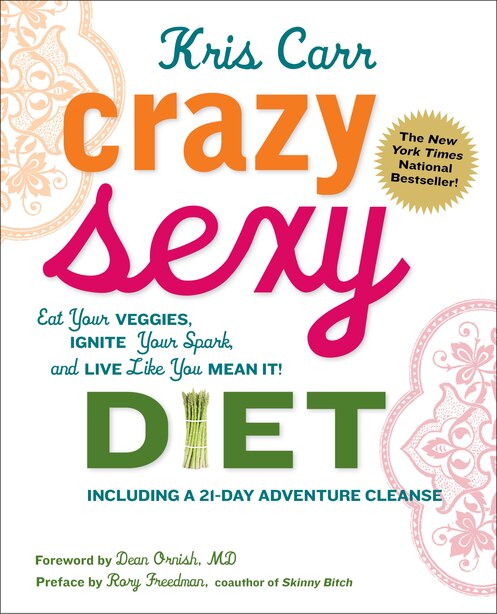 Find In Store
Prices and offers may vary in store
The New York Times bestseller, now in paperback! Kris Carr, author of the best-selling Crazy Sexy Cancer Tips and Crazy Sexy Cancer Survivor, takes on the crazy sexy subject of what and how we eat, drink, and think. Infused with Carr's signature sass, wit and advice-from-the-trenches style, Crazy Sexy Diet is a beautifully illustrated resource that puts you on the fast track to vibrant health, happiness and a great ass! Along with help from her posse of experts, she lays out the fundamentals of her Crazy Sexy Diet: an anti-inflammatory, vegetarian program that emphasizes balancing the pH of the body with lush whole and raw foods, nourishing organic green drinks, and scrumptious smoothies. Plus, she shares the steps of her own twenty-one-day cleanse, and simple but delectable sample recipes. Carr empowers readers to move from a state of constant bodily damage control to one of renewal and repair, making this a must-have for anyone who seeks to be a confident and sexy wellness warrior. Including contributions by: Dean Ornish, M.D. – author and founder and president of the Preventive Medicine Research InstituteNeal Barnard, M.D. – author, founder of Physicians Committee for Responsible Medicine (PCRM), author of Food for LifeKathy Freston – author of Quantum Wellness and health advocateAlejandro Junger, M.D. – author of Clean: The Revolutionary Program to Restore the Body's Natural Ability to Heal Itself, and director of integrative medicine at Lenox Hill Hospital, NYCRory Freedman – coauthor of Skinny Bitch and health advocateMark Hyman, M.D. – author of The UltraMind Solution and pioneer in functional medicineEmily Deschanel – star of the Fox series Bones and health advocateSharon Gannon – author of Yoga and Vegetarianism, and cofounder of Jivamukti YogaWayne Pacelle – president & CEO, The Humane Society of the United StatesStacy Malkan – author and cofounder of the Campaign for Safe CosmeticsDr. Lilli Link – specialist in raw foods and integrative nutrition Frank Lipman – author of Revive: Stop feeling Spent and Start Living Again and founder of the Eleven Eleven Wellness Center Do you have any idea what it's like to feel blissfully whole and comfortable in your skin? You will. The Crazy Sexy Diet and lifestyle will give you the tools to navigate through life with clarity, balance, and flow. Health is more than just the absence of disease; it is the presence of vitality. Health is freedom from obstruction; it's living in a harmonious way that creates both inner and outer peace. . . . The Crazy Sexy Diet is loaded with wisdom, tips and advice from personal experience. If I feel great living and eating this way then you can feel fantastic! What I present to you is what works for me and countless other wellness warriors. This information just might save your life, or at the very least reduce the pesky cellulite. It's an awakening without the disease, knowledge without the price. Changing your mind is the biggest obstacle you face. But once you do, you'll realize that you are the one you've been waiting for. . . . From the Introduction
Title:
Crazy Sexy Diet: Eat Your Veggies, Ignite Your Spark, and Live Like You Mean It!
Product dimensions:
240 pages, 9.13 X 7.5 X 1 in
Shipping dimensions:
240 pages, 9.13 X 7.5 X 1 in
Published:
December 20, 2011