Mystery of the Egyptian Mummy: Adventure Books For Kids Age 9-12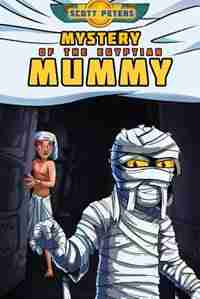 Find In Store
Prices and offers may vary in store
"Action-packed" - Middle Grade Fiction Finder

Something spooky is happening in ancient Egypt!

Can these keen friends unwind the riddle of the moaning mummy?

When Zet comes face-to-face with a mummy, his eyes practically pop out of his head. What's a mummy doing haunting his doorstep? As if that wasn't crazy enough, now a zany rumor is zipping around town -- everyone is whispering that he's cursed! Zet and his kid-sister Kat need to unwind this spooky mystery, fast. But it won't be easy with their two best friends: Hui won't quit horsing around as usual, and Princess Meritamen is forced to stay undercover just so she can sneak out of the palace. But as the spine-chilling figure creeps through the dusty old streets, they need to get down to business and start sleuthing.

Clues send them tiptoeing through ancient Egypt's hotspots and paddling up and down the Nile on a wild mummy chase. Along the way, the four friends learn the secrets of mummification, dodge a quick-tempered medjay police chief, and creep through the creaky gates of an ancient cemetery. But when their backs are against the wall, Zet, Kat, Hui, and the princess rely on the one thing they know best: each other. Because friends, they stick together.

* Watch out! This brain-teaser is infused with magic mummy secrets . . .
* Kid-friendly storytelling woven with mind-boggling facts!
* Strange artifacts abound
* An evil gatekeeper guards the tunnel of truth

What kids are saying:
"This is an awesome series!!!"

What parents are saying:
"My 10 year old is a resistant reader and found these series of 4 books caught his attention so much so that he wanted to read all of them."

Curl up with this old-school yarn from the author the Historical Fiction Society calls 'a natural and gifted storyteller'.

A middle-grade mystery that combines Hardy Boys style sleuthing with heart-warming characters for an exciting puzzle that's a firm favorite for the whole family.

Find the common-core study guide questions at: bit.ly/mummystudy

Set out for adventure!
Title:
Mystery of the Egyptian Mummy: Adventure Books For Kids Age 9-12
Product dimensions:
120 pages, 9 X 6 X 0.28 in
Shipping dimensions:
120 pages, 9 X 6 X 0.28 in
Published:
February 1, 2018
Publisher:
Susan Wyshynski