Old Jewish Folk Music: The Collections And Writings Of Moshe Beregovski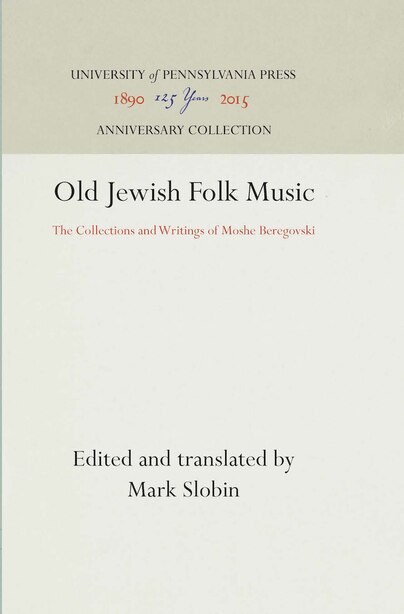 Find In Store
Prices and offers may vary in store
The original publications of the 1930s are scarcely to be found. The posthumous 1962 volume in the Soviet Union was limited to a tiny edition. Yet the work of the man who has been called "the foremost authority on Jewish folk music before the Holocaust," Moshe Beregovski, survives and is now available for the first time to the English-speaking world.
As a member of the Jewish community as well as an ethnomusicologist in prewar Russia, Beregovski had not only the inspiration to preserve the spirit and vitality of the music that filled the lives of his people but also the professional training to document his findings to exacting standards. The first section of SIobin''s book contains translations of some of Beregovski''s responses to Jewish folk music in its living context during the 1930s. He raises important questions about ethnicity in his essay on interaction between Ukrainian and Jewish musical influences. His work on klezmer music. the music of the Jewish folk instrumental bands, is the most authoritative on the subject and includes his complete guide to fieldworkers in folk music. In another essay Beregovski analyzes an unmistakable trademark of Jewish folk music, the "altered Dorian" scale, and its symbolism in Eastern European Jewish culture. The second section constitutes Beregovski''s anthologies of hundreds of folk songs with full Yiddish and English song texts. Each song is carefully notated exactly as it was sung and is accompanied by Beregovski''s notes on origins and variants.
Beregovski''s essays and transcriptions form a pat and a symbol of what was lost in the mass destruction of Eastern European Jewish culture in this century. They form a cultural record of deep significance not only for the Jewish people, but also for folklorists and scholars as evidence of a distinctive music culture that interacted with—and influenced—the folk musics of Eastern Europe.
Title:
Old Jewish Folk Music: The Collections And Writings Of Moshe Beregovski
Product dimensions:
640 pages, 9.21 X 6.14 X 1.31 in
Shipping dimensions:
640 pages, 9.21 X 6.14 X 1.31 in
Publisher:
University of Pennsylvania Press, Inc.
Appropriate for ages:
All ages