The Sleep-easy Retirement Guide: Answers To The 12 Biggest Financial Questions That Keep You Up At Night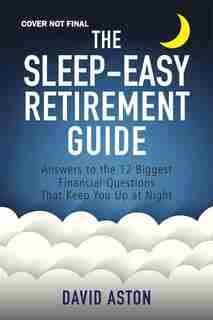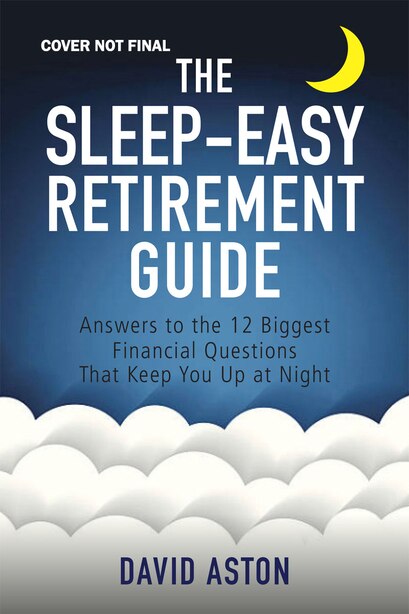 Prices and offers may vary in store
"Dave Aston has written a book that every Canadian over 50 should read. It offers a clear, comprehensive roadmap to a satisfying retirement, no matter what your level of wealth. If you''re seeking a trustworthy guide through the sales pitches, financial jargon and scare tactics that go along with retirement planning, spend a weekend with Dave''s work. You''ll be glad you did." - Ian McGugan, investment columnist for the Globe and Mail, and formerly founding editor of MoneySense magazine

Is your retirement dream in doubt because of big financial questions that keep you up at night?

We all dream about retirement, but surveys show that most Canadians are very concerned about it. How big a nest egg will I need? How long will I have to work? How much can I afford to draw from my portfolio every year? What''s the impact of taking CPP early or late? Can I achieve my retirement dreams given my financial reality?

So many complex, interconnected questions . . . and too many fragmented, conflicting answers. The media and financial institutions bombard us with information and advice, but it often comes at us in bits and pieces and much of it is contradictory. It''s hard to make sense of it all, to see how it relates to your situation, and to see your own complete financial picture in all the piecemeal advice.

Written by an award-winning financial journalist, this book is your frank and trusted guide to the often confusing world of retirement planning.

Covers the major financial questions you''re most likely wrestling with.
Cuts through the noise to provide clear explanations and sensible strategies.
Assesses the pros and cons of your options to help you make decisions that are right for you.
Shows you how to fit the major pieces together to plan for a comfortable and sustainable retirement, no matter how much money you have.
This book will help you: answer the big, burning financial questions that keep you up at night; achieve concrete and practical solutions; and find the peace of mind to live out your retirement dreams with confidence.

"This is a useful, well-written book... Dave asks the right questions, then he provides clear, thoughtful answers. He avoids conventional wisdom that is often conventional but seldom wise. His message is positive: most Canadians can, by applying themselves and acting responsibly, find a path to a comfortable, rewarding retirement. Then he takes your hand and leads you there." - Malcolm Hamilton, retired actuary and senior fellow with the CD Howe Institute

"In a perilous sea of financial misinformation, fluff and hype, David Aston''s book is a much-needed lifeboat. He understands personal finance better than most of the so-called experts and provides clear, useful advice you can take to the bank." - Duncan Hood, business editor at the Toronto Star and former MoneySense editor

"David Aston''s new book provides well-researched answers to the 12 biggest financial questions most will face, whether decades from retirement or already there. Destined to be a well-thumbed reference book in every retiree''s personal library, and those who hope one day to be retired." - Jonathan Chevreau, Financial Independence Hub, author of Findependence Day, co-author of Victory Lap Retirement

"Everyone should have a simple retirement plan they can stick to. The book shows how everyone can maximize retirement strategies and income flows to achieve the ideal retirement they aspire to even on the most modest of incomes." - Julie Cazzin, Executive Editor at MoneySense.ca and author of MoneySense''s Family Profile feature from 1999 to 2018

"David shares common-sense retirement strategies for average Canadians. Knowledge is power for retirees and David shares it in a way that can help everyone sleep well at night." - Jason Heath managing director of Objective Financial Partners Inc., a firm of fee-for-service financial planners based in the Toronto area, and a personal finance columnist for the Financial Post and MoneySense.ca
Title:
The Sleep-easy Retirement Guide: Answers To The 12 Biggest Financial Questions That Keep You Up At ...
Format:
Paperback
Product dimensions:
240 pages, 8.98 X 6.02 X 0.55 in
Shipping dimensions:
240 pages, 8.98 X 6.02 X 0.55 in
Published:
January 15, 2020
Publisher:
Milner & Associates
Language:
English
The following ISBNs are associated with this title:
ISBN - 10:1988344190
ISBN - 13:9781988344195
Look for similar items by category: