Whining and Dining: Mealtime Survival for Picky Eaters and the Families Who Love Them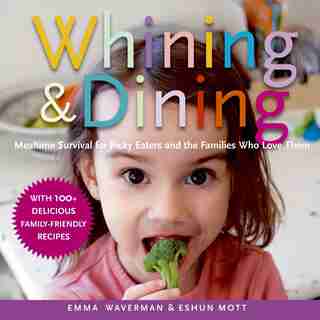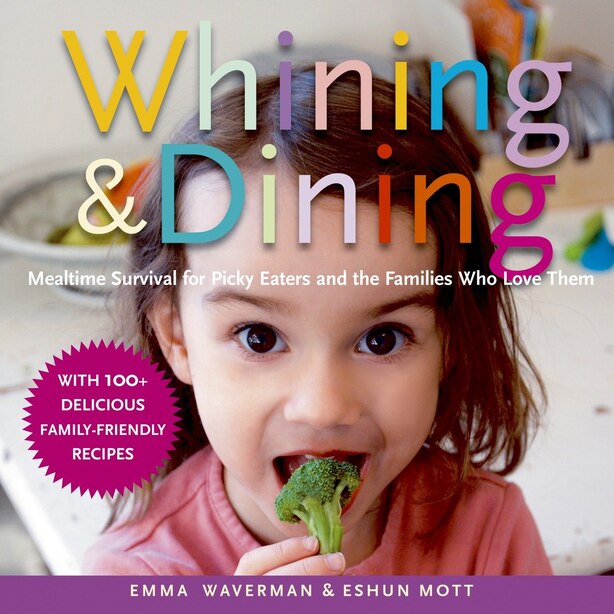 Find In Store
Prices and offers may vary in store
Part cookbook, part parenting manual, Whining & Dining – from two food lovers who are also mums of picky eaters – will bring sanity to every family's table.

Your kids are happily sitting at the table. As you deliver tonight's meal, they all murmur their approval and dig right in. They reach eagerly for the vegetables and even agree to try your new kid-friendly dish of chicken curry. They ask for seconds and don't even mention dessert until it arrives at the table. STOP THE MUSIC! If this is your house, then you don't need this book.

However, if your dinner experience is full of chaos and whining; if you are constantly worrying that your children are not getting the basic building blocks for a healthy life; if the path between the table and the fridge is worn from making separate meals for each child; if the word "YUCK!" is being used far too often, then Whining & Dining is for you.

Like many parents, Emma Waverman and Eshun Mott, both food professionals, have dumped plates of food in the garbage, they have lied and cajoled and they have also capitulated and served their kids only the foods they like. They have seen other preschoolers eating broccoli and tofu as snacks and have silently cried in the corner. They have called ice cream a meal and bacon a protein – more than once.

Feeding a family day after day can be exhausting and emotionally draining. All parents want their kids to be healthy, of course, but we can make ourselves crazy trying to ensure they get the recommended daily amount of protein or vegetables or omega-3s. Emma and Eshun believe that there is a way to feed your kids healthy foods that they will eat, and that they will learn to trust their bodies and start choosing foods that are delicious and good for them.

Through trial and error, the authors have developed 100+ recipes that are a hit with kids and adults alike. And the numerous tips and tricks they offer for getting your picky eater to start enjoying mealtime are ones that have evolved over the years from their own experiences and those of their friends.

Whining & Dining is a breath of fresh air, a creative, realistic approach by parents for parents to teaching your child the pleasures of eating. "Pass the green beans, please" may be in your future.

Includes family-friendly
recipes such as:
-Beyond Boxed Macaroni & Cheese
-Multigrain Buttermilk Waffles
-Mushroom & Spinach Fritatta
-Carrot & Ginger Soup
-Soupy Asian Noodles
-Green Beans with Pecans & Brown Sugar
- Just a Wee Bit Healthier
-Chocolate Chip Cookies

Ritualize It

Kids are built for rituals – that's why they so easily fall into habitual food patterns. But one ritual worth encouraging is the special weekly family meal. It can be tied to a religious meal or it can be a Tuesday night or a Sunday breakfast. Choose what works best for your family. But once a week, pull out the tablecloth, light the candles and start making up some family traditions. That's what good eating, and good memory-making, are all about.
Title:
Whining and Dining: Mealtime Survival for Picky Eaters and the Families Who Love Them
Product dimensions:
224 pages, 8.05 X 7.97 X 0.59 in
Shipping dimensions:
224 pages, 8.05 X 7.97 X 0.59 in
Publisher:
Random House of Canada
Appropriate for ages:
All ages