A Matter of Honour: The Life, Campaigns and Generalship of Isaac Brock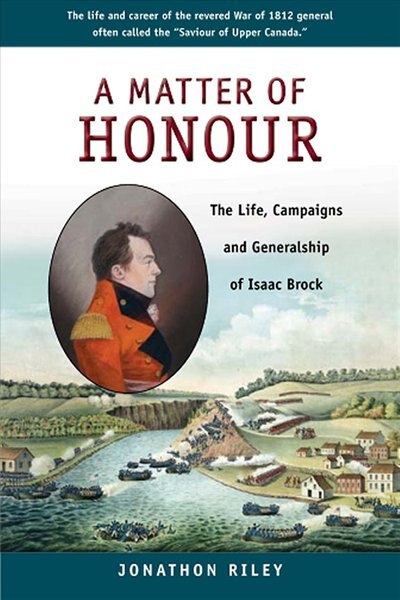 Find In Store
To check store inventory,
Prices and offers may vary in store
On the morning of 13 October 1812, in one of the first major actions of the War of 1812, the general in command of all troops opposing the American invasion of Upper Canada was killed doing the job of a captain, leading a company in a counter-attack on the American lodgement atop Queenston Heights. How this came to be is a question that has long intrigued author Jonathon Riley. Although Brock died and his uphill charge against the American muskets failed, the invasion was repulsed soon afterwards. Brock is famous not just for this action but for his remarkable victory at Detroit. His monument, as high as Nelson's column in London, stands on Queenston Heights today, and he is also commemorated by a monument in St. Paul's Cathedral.
The book's focus is on Brock's qualities and successes as a military commander and as a civil administrator, since he was also responsible for the government of Upper Canada. Early chapters deal with his early life and military experience, including service in the Low Countries and at Copenhagen, before his arrival in Canada in 1802.
The final section of the book homes in on Brock's preparations for war and his command of troops in the early period of the conflict with the United States, from September 1811 to October 1812.
Brock proved to be a leader who demanded much of his men but inspired their devotion. He faced a difficult situation in Upper Canada, being responsible for defending a long frontier with meagre forces, and he had to employ his diplomatic skills to bring the native peoples into alliance with the British. He was a resourceful field commander who believed in offensive measures to keep his opponent off-balance and managed to cow U.S. General William Hull into surrendering Detroit to the British, to that general's eternal shame. Jonathon Riley's text describes in detail the events of the capture of Detroit as well as the Battle of Queenston Heights, which cost Brock his life but from which he emerged as a major historical figure.
Jonathon Riley brings his own considerable experience as a general and field commander to bear in assessing Isaac Brock's accomplishments as a general.
Title:
A Matter of Honour: The Life, Campaigns and Generalship of Isaac Brock
Product dimensions:
9 X 6 X 0.68 in
Shipping dimensions:
9 X 6 X 0.68 in
Publisher:
Robin Brass Studio
Appropriate for ages:
All ages