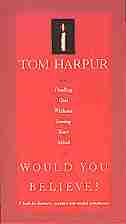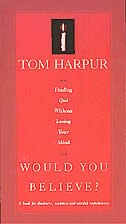 Find In Store
Prices and offers may vary in store
A hundred years ago, most people accepted without question what their priest or rabbi or imam taught them about God, but many people today, educated to think for themselves, find that the concepts of God taught by the world's major religions either insult or contradict their intelligence. At the same time they find that having no faith has left a yawning spiritual void in their lives. In Would You Believe?, Tom Harpur deals with the tough questions raised today by real people, such as how to reconcile the presence of evil, pain and suffering with belief in a loving God.

The challenge we face, Harpur writes, is not to find a substitute but to rediscover God under the encrustation of ritual and doctrine that the various faiths have built up. We can go beyond all narrow-minded claims of being the only true religion, the only correct interpreter of God, he says, when we understand that all faiths are simply routes towards God that humans have been inspired to create. We can use our intelligence to believe in God, rather than deny it in order to swallow notions devised for a different people and a different time.


From the Hardcover edition.
Product dimensions:
240 pages, 8 X 4.5 X 0.75 in
Shipping dimensions:
240 pages, 8 X 4.5 X 0.75 in
Published:
September 1, 2000
Publisher:
McClelland & Stewart
Appropriate for ages:
All ages